Bonnie Lautenberg Merges Art, Jewishness and Politics
For photographer, writer and artist Bonnie Lautenberg, expressing what's on her mind through art is second nature. Now, her outspoken views on everything from politics to women's issues to Hollywood are on display at the Jewish Museum of Florida-Florida International University in Miami.
"Lady Liberty: A Bonnie Lautenberg Retrospective," which runs through March 26, showcases 30 pieces of her digital and photo collages and photography taken from different series, most of them of powerful and impactful women. The exhibit includes work from the past two decades as well as a number of fresh artworks.
Among the timely new pieces is Tears of Roe, an image of the Statue of Liberty with tears running down her cheeks that is part of Lautenberg's pop-art inspired "Lady Liberty" series. The six-foot-tall pink-and-green collage is set on a lightbox and presides over the exhibit space. Lautenberg created Tears of Roe in June 2022, she said, to channel her emotional reaction after the overturning of Roe v. Wade.
"I was devastated and wanted to cry," noted the Hadassah life member, "and knew that many women felt the same way."
Lautenberg sees the iconic symbol both as a muse and a call to action. "Lady Liberty, the first image you see arriving in New York Harbor," she said, "represents freedom to all who come to our shores."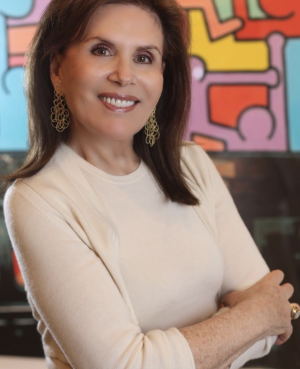 Lautenberg, the widow of Senator Frank R. Lautenberg of New Jersey, who passed away in 2013, is no stranger to the intersection of art, activism and politics. Her marriage (a second one for both her and the senator) allowed her access to Congress, resulting in the 2012 photo series, "How They Changed Our Lives: Senators as Working People."
The artist spoke with Hadassah Magazine immediately after her return from a tour of sites important to the civil rights movement in Selma, Montgomery and Birmingham, Ala., organized by the Jewish Federation of Palm Beach County.
"Seeing the exact location in Montgomery where Rosa Parks boarded the bus as well as the museum dedicated to her was amazing," said Lautenberg, who splits her time between homes in New York City and Palm Beach.
While Lautenberg has not depicted Parks in any of her series—yet—among her collages at the Florida exhibit is one focused on slave-turned-abolitionist Harriet Tubman. The artwork, titled Wanted, includes a recreation of a wanted poster that slave owners used to advertise a reward for capturing Tubman, who helped slaves escape through the Underground Railroad. It also includes images of Tubman and stills from the 2019 film starring Cynthia Erivo as the freedom fighter.
In a lighter vein, Lautenberg's "Art Meets Hollywood" digital collage series brings together barrier-breaking cinematic depictions of women with works of art. Barbra Streisand in Yentl next to an untitled 1983 photo from acclaimed Jewish artist Cindy Sherman is one selection now on view.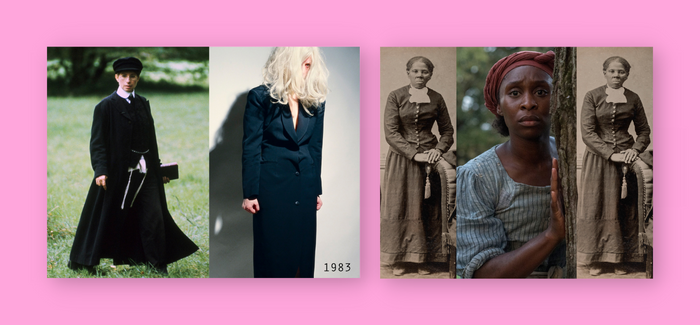 "Bonnie's works cause us to stop and think about the issues facing our world today," said Susan Gladstone Pasternack, executive director of the Florida museum. "While the content of her work is not specifically Jewish, her subject matter, especially Tears of Roe, manifests the Jewish concept of tikkun olam."
"I'm proud to be Jewish," said Lautenberg, who was appointed in 2022 to the President's Advisory Committee on the Arts and is now collaborating on a biography about her husband, due out in 2024, that will showcase her photography. "I'm honored to be offered a solo exhibit at the Jewish Museum of Florida at a time when women's issues are front and center."
---
Jan Engoren is a freelance writer and former newspaper reporter originally from New York who is now enjoying the South Florida lifestyle.