Lavie Tidhar's Genre-Defying 'Maror'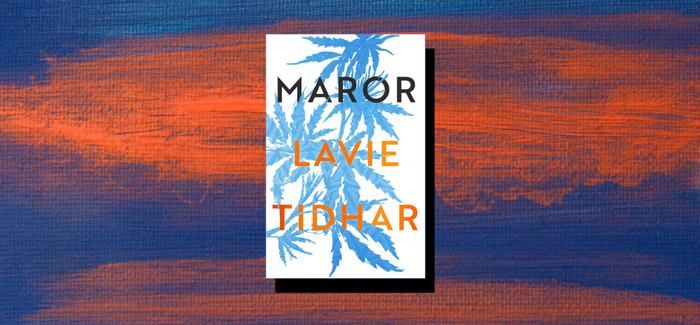 Maror
by Lavie Tidhar (Head of Zeus, London; in audiobook, W. F. Howes Ltd)
Famed poet Hayim Nahman Bialik once said that a proper Jewish state could only come into existence when it boasted its own cops and criminals. Israeli-born, London-based author Lavie Tidhar's latest novel, Maror, shows that Israel is very much a proper state as Bialik described as it explores the bitterness of the country's criminal underbelly and violent past and present.
Indeed, the title itself comes from the Hebrew term for the bitter herbs Jews consume during the Passover Seder to recall the slavery in Egypt. It also might reference the aftertaste that the book will leave among those who unduly idealize the country.
Tidhar is best known internationally for his award-winning science-fiction novels and collection, so readers familiar with that body of work may be forgiven for assuming that Maror will be just another fabulist fable. The genre-defying novel—it is at once a noir thriller, historical saga and investigation of Israeli realpolitik—spans the aftermath of the 1973 Yom Kippur War through the early 2000s.
Maror, explained Tidhar in an interview with Hadassah Magazine, "is not so much a crime thriller as a novel about crime, a way of telling the story of a history and a culture through the lens of both normalized crime and systemic corruption."
The book opens in modern times, with a car bomb that explodes outside of a South Tel Aviv shawarma joint, killing five passersby including two children. Pill-popping, cocaine-snorting police detective Avi Sagi, the son of a vaunted if corrupt former chief inspector, is summoned to the scene by one of his late father's mentees, Chief Inspector Cohen (readers are never told his first name). The enigmatic, Bible-spouting Cohen informs him that the car bomb had been directed at Aryeh Rubenstein, a prominent crime lord. Cohen instructs Sagi to do whatever he might deem necessary to head off a "criminal war of terrorism."
Nevertheless, observes the Zelig-like Cohen, "Some things are impossible to stop."
From Avi's ruthless attempts to prevent gang war, Tidhar moves back and forth in time, through different points in Israeli history. Cohen serves as the thread that connects the narrative, popping up throughout to solve crimes like finding a serial killer or a rapist. Cohen himself is described as moving "silently through the years, a man for whom, perhaps, the land of Israel was created. Cohen with a gun and Cohen with a quote."
Describing the crime and drugs, the dark underbelly of Israeli society that he deals with as a cop then a chief inspector. "These can be managed," Cohen says about himself and his fellow law enforcement agents. "This is what we do. We hold the line."
That line, Maror suggests, invariably lies at the juncture of commerce and ideology, duty and convenience. Land, money, political influence, power—everything is up for grabs, always has been.
"We got the Golan Heights from Syria," says a land speculator in the book. "The whole Sinai Peninsula from Egypt. And the West Bank from Jordan. That's a lot of land. A land of opportunity. The opportunity to make a lot of fast money."
Mixing dark humor with bleak violence, Maror is a triumph that draws on real details and personalities in Israeli history. Indeed, those who grew up in Israel, or lived there for any length of time will be amazed at the extent to which this Dickensian saga draws on actual people, places and events.
---
Sheldon Teitelbaum is a Los Angeles-based writer and editor and is co-editor of the sci-fi anthologies Zion's Fiction and More Zion's Fiction.