This Hebrew Root Is All About the Bread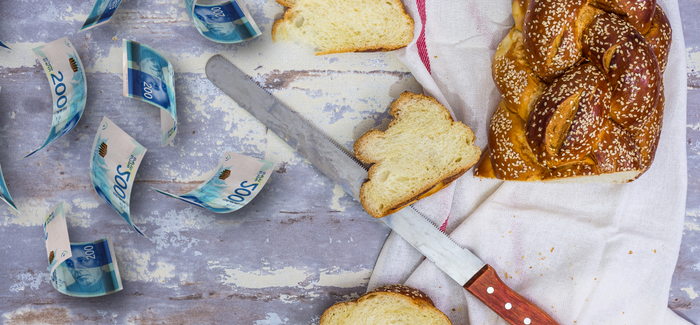 Often, a Hebrew word will have more than one meaning, and that meaning can be difficult to convey in a single word or short phrase without losing nuance. Take, for example, the root ב–צ–ע (bet-tsadi-ayin); in one scenario it means to cut or break off; in another, to profit. But that is not the end of it. Within those meanings, context will give our root a wealth of nuance, from attaining and giving blessings to committing an injustice or getting something done.
The biblical story of Joseph suggests a commercial usage for the root. After Joseph is thrown into a pit by his brothers to die, Judah, one of those siblings, saves Joseph's life by offering a better deal. His sales pitch begins with, מַה בֶּצַע כִּי נַהֲרֹג‭ ‬אֶת אָחִינוּ (mah betsa ki naharog et ahinu), "What does it profit us to kill our brother?" The word בֶּצַע (betsa), which also means lucre or greed, foreshadows a later development in the Joseph story, when he was sold to Ishmaelite slave traders on their way to Egypt. Exodus 18:21 rules that only שׂנְאֵי בֶּצַע (son'ei betsa), literally, haters of money, but more figuratively, those not subject to bribery, are to be appointed as judges. The prophet Isaiah uses our root to add an important nuance, assuring his followers that God יְבַצַּע (yivatsa), "will accomplish successfully," all His initiatives.
A second major usage of the root is seen in the word מָבְצֵעָה (mavtseah), a utensil for slicing bread. Our sages speak often of slicing the Shabbat loaf in a figure of speech that suggests more than its strict definition. In one example, the host who בּוֹצֵעַ עַל הָחַלָה (botse'a al ha-hallah), literally, breaks apart the challah, is reminded implicitly to do more—perform a ritual handwashing, recite the ha-motsi blessing and distribute challah to those assembled.
A רוֹדֵף בֶּצַע (rodef betsa), literally, one who runs after money, may refer to a wheeler-dealer who, offered a shady deal, asks מָה בֶּצַע (mah betsa), "What's in it for me?" A philosopher on the way to an ethics conference might rejoinder mah betsa?, using the same phrase to mean, "Why seek profit in an immoral way?"
Today, the word מִבְצָע (mivtsa), operation, may be applied to a military campaign or, if appearing on signs in store windows, announce a sale on goods. One can also congratulate a friend who עָשְׂתָה מִבְצָע (astah mivtsa), has successfully accomplished an important activity. In popular Israeli slang, that person may be praised, without subtext or nuance, as a בִּצּוּעִיסְט (bitsu'ist), one who handily gets things done.
---
Joseph Lowin's columns for Hadassah Magazine are collected in the books HebrewSpeak, Hebrew Talk and the recently published Hebrew Matters.