If 'The Pages' of a Book Banned By Nazis Could Talk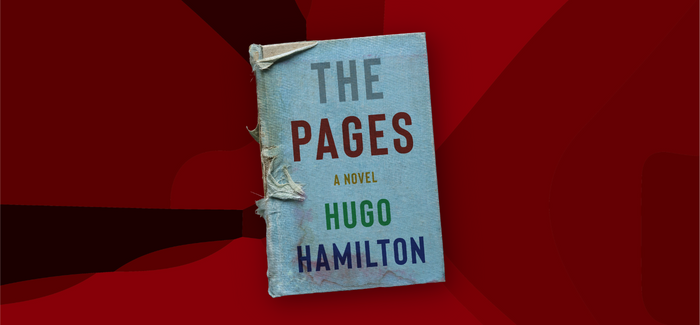 The Pages
By Hugo Hamilton (Knopf)
A prolific writer whose books have been translated into 15 languages and been awarded prestigious prizes in France and Italy, Hugo Hamilton is in a perfect position to ask the question at the heart of his 10th novel: What would happen if a book could talk? The Pages, with its unusual book-within-a book narration, is Hamilton's answer.
Using what may appear to be a complicated literary device that nevertheless successfully addresses the central question, The Pages weaves fact and fiction over a multilayered plot that journeys through almost 100 years of history up to the political events of today.
"I have the urge to contribute," the narrator says early in The Pages. "A book wants to get out there and speak up. I spent two years on the shelf right next to a small book on insects.
"It was full of warmth, that book. We became great friends. It was the happiest time of my life, living with all that buzzing, like a constant summer.
"But this is absurd," the book adds.
Perhaps.
The narrator, the center of this complex yet entertaining literary expedition, is a copy of the real-life novel Rebellion, first published in Germany in 1924 by celebrated Austrian Jewish journalist Joseph Roth.
Rebellion is the story of Andreas Pum, a veteran who lost a leg in World War I and who makes a living as a barrel-organ player. On a tram, Pum gets into a dispute with a businessman and another passenger. The organ grinder raises his crutch in anger, and a policeman is called. One of his accusers says Pum "is probably a Jew"; he is arrested and jailed, eventually losing his right to earn a livelihood as a musician.
In 1933, the Nazis banned Rebellion, after which college students stole copies from libraries, bookshops and homes to be thrown onto bonfires. The students passed the books from hand to hand in a chain before throwing each book into the flames. "This was their moment," Hamilton's narrator explains. "Their revenge on learning. This was their chance to step outside received wisdom and take part in a glorious act of self-vandalism. Returning to a time before knowledge. The right not to know."
One copy of Rebellion—the narrator—is smuggled inside the cover of another book and saved from the inferno. (Hamilton paraphrases remarks by Heinrich Heine, the German Jewish writer: "Wherever they save a book from burning, they will end up saving human beings.")
The narrator relates its own history and how it has "accumulated the inner lives of my readers. Their thoughts have been added in layers underneath the text, turning me into a living thing, with human faculties." The work passed from person to person in Germany before ending up in the United States in the hands of artist Lena Knecht.
Lena, of Irish and German descent, becomes fixated with the half-map, half-illustration that had been drawn on one of the book's blank pages by the copy's original owner, a Jewish university professor. She believes it to be a guide to some treasure and decides to return with it to Germany and find where it leads.
In unraveling the mystery of the map, Lena encounters the same forces that swept across Europe in the 1930s and ultimately led to war and the Holocaust: the rise of the far right, racist hatred and little tolerance for immigrants. In Berlin, Lena is mugged, and the thief steals her copy of Rebellion, though he soon tosses it aside in a park.
The book is found and returned to Lena by Armin, an orphaned Chechnyan refugee who lives with shrapnel in his body from a bomb that exploded during the war in his native land. His sister, Madina, who lost a leg in that war, now plays accordion in a Berlin band—an echo of the events in Rebellion.
Hamilton, in this multifaceted tale, is highlighting the interconnectedness of time and history, the roots of nationalism and identity. That history repeats itself, perhaps nowhere more brutally than in the acts of nationalistic dictators and despots, is a potent reminder. It is not a coincidence, Hamilton—and his narrator—is telling us, but a warning.
---
Stewart Kampel was a longtime editor at The New York Times.