Pam Jenoff's Thrilling 'Code Name Sapphire'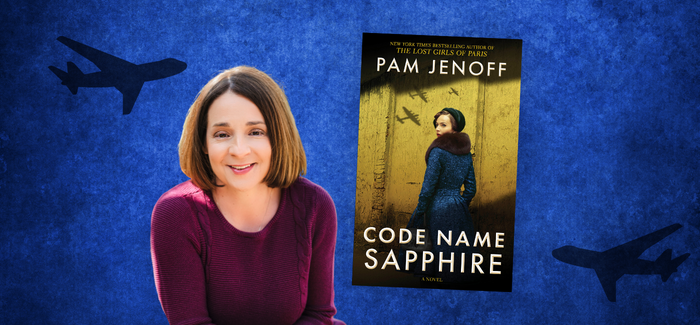 It should come as no surprise that Pam Jenoff has produced another page-turner with her newest novel, Code Name Sapphire. Weaving together little-known stories of resistance during the Holocaust, the historical thriller illuminates the role of women in a secret network that rescued downed Allied airmen during World War II.
Jenoff, whose previous best sellers include The Lost Girls of Paris and The Woman With the Blue Star, is well-qualified to explore these events. She has a master's in history as well as a law degree and has worked at the Pentagon and at the United States Consulate in Krakow, Poland, focusing on, among other issues, the restitution of property taken by the Nazis.
Code Name Sapphire introduces us to a trio of compelling women: German cartoonist and satirist Hannah Martel, whose tragic backstory includes a narrow escape from Nazi Germany; her wealthy cousin Lily Abel, who hides Hannah in her home in Nazi-occupied Brussels; and strong-willed, secretive Micheline, who, with her brother, Matteo, runs the Sapphire Line, a dangerous underground resistance network.
The fast-paced story alternates between the viewpoint of the three women, each trying to survive under an increasingly restrictive occupation. Desperate to leave Nazi territory for safety in the United States, Hannah is forced to help Micheline smuggle Allied pilots to safety through Brussels, Holland and France.
Lily, however, is determined to keep to her daily routines: "Stay silent, Lily thought…that was the lesson of the war and the only way to survive it." She pretends that life will continue much as it had before the occupation, even as her husband, Nik, is deprived of his medical practice because he is Jewish.
Nevertheless, Hannah and Micheline's clandestine activities draw Lily and her family into danger—and a heart-pounding conclusion—as the women must choose between family and freedom, safety and resistance.
Set against the backdrop of love, lost and found; complicated family relationships; and secrets and betrayals, Code Name Sapphire most of all explores the bravery of women under siege. As Hannah acknowledges to herself, "No one bestowed courage or freedom or self-determination—one simply decided to take it."
An author's note describes the true stories that inspired the novel, from an attempt to liberate prisoners on a train to Auschwitz by three men from the Jewish Defense Committee to the work of the Comet Line, a Belgian network that used 3,000 civilians to help 775 Allied airmen escape occupied Europe.
Through her new novel, Jenoff writes, she is highlighting the unsung heroines of the resistance movements, as "so many stories of women have been lost to a history that ignored them."
Around 70 percent of the operatives in the Comet Line were women; not all of them survived the war. Code Name Sapphire is a testament to their bravery.
---
Stewart Kampel was a longtime editor at The New York Times.