Deborah Lipstadt Is Fighting Antisemitism From a New Pulpit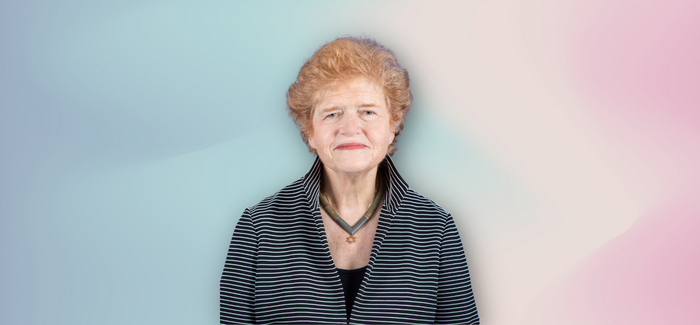 Ambassador Deborah Lipstadt has devoted her entire career to studying, teaching and decrying antisemitism and Holocaust denial. Now, as the Biden administration's special envoy to monitor and combat antisemitism, she's got a new platform from which to tackle what she describes as "one of the longest, oldest hatreds."
Nearly a year into the job, the author of several books, including History on Trial: My Day in Court with a Holocaust Denier, about her legal battle against David Irving, and Antisemitism: Here and Now, has been traveling around the world to strategize how best to confront the alarming rise of Jew hatred. As part of that mission, the longtime Emory University professor accompanied Second Gentleman Douglas Emhoff, the husband of Vice President Kamala Harris, on a trip to Germany and Poland in January, which included a stop at Auschwitz.
In a Zoom interview with Hadassah National President Rhoda Smolow during Hadassah's National Assembly meetings in January, Lipstadt spoke about her new role. That interview, excerpted here, has been edited for brevity and clarity.
What is fueling the current rise in antisemitism in the United States, globally and especially online?
There is no easy answer. Antisemitism has the dubious distinction of being one of the longest, oldest hatreds, dating from ancient times, yet the forms it takes keep evolving. So it's hard to fight.
Second, antisemitism is ubiquitous. It comes from all places on the political spectrum, also from Christians, Muslims, atheists and it even comes from Jews. It comes from countries that have large Jewish populations and those with very small Jewish populations.
And today there is a delivery system of unbelievable speed and reach through social media. Ideas that once would only reach a limited number of people now can reach a large community in no time.
The final reason is that we've seen a rise of extremist ideology, white supremacy, racial and ethnic violent extremism, which at the moment is one of the—not the only—primary sources of antisemitism.
How can we fight antisemitism masquerading as criticism of Zionism?
Criticism of the State of Israel's policies or actions is not antisemitism. It's very important to distinguish between when a person is expressing a view that you think is politically wrong or unjustified and when that person is engaging in antisemitism. Some who are very critical of Israel and oppose the existence of Israel, for example, are antisemites but recognize that if they couch their antisemitism in criticism of Israel, it is more acceptable.
How do the United States' efforts to combat antisemitism compare to other nations?
There's a very serious effort going on right now, with all relevant agencies meeting together to say: What can we do to fight this scourge? The government alone cannot solve the problem. It calls for a whole-of-society approach.
I am finding tremendous support within our administration, and one of the people who has taken the lead is Second Gentleman Doug Emhoff. He reached out to me and said, "I want to work with your office and be vocal on this," and of course his willingness to be vocal has greatly enhanced attention to the issue.
How can Hadassah members best contribute to fighting antisemitism in all its forms?
Speak up, speak out! Silence is not an option. You can't fight hatred in silos. You can't say I only care about antisemitism, but I don't care about any other hatred. Haters don't stop with one group. The killers in Buffalo, in Pittsburgh and Poway were all far-right extremists who hate Black people, but they blame the Jews for allowing them to advance. It's interconnected and we've got to fight them all.
I've been really encouraged by the increased recognition that this is not a niche issue only for Jews. Antisemitism has broader implications in that it is also the canary in the coal mine for democracy. No society, no country has tolerated the existence of antisemitism and stayed a healthy democracy. That's something to keep in mind—when you're fighting for the welfare of Jews and Jewish communities, you're also fighting for the future of democracy.