The Prettiest Picture Books For Kids This Passover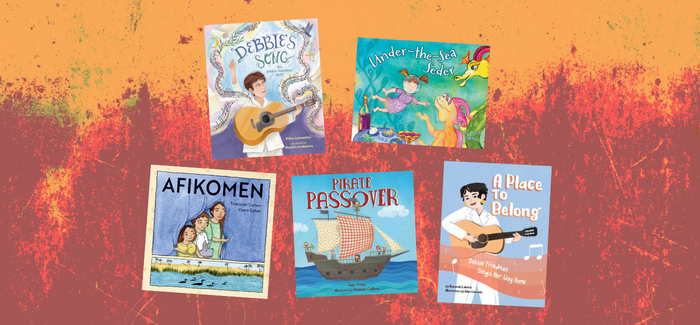 Among the many tunes that bring us to a Passover state of mind—from "Dayenu" to the ditty about that one young goat—Debbie Friedman's "Miriam's Song" stands out. A catchy folk anthem that describes Miriam leading the women's-only dance and sing-along after the parting of the Red Sea, the song inspired generations of campers to sing about the Exodus.
The famed singer-songwriter's joyous reimagining of Jewish texts befits every seder. And that is why two picture books about Friedman's life and music top this selection of new children's reads for the holiday, a list that reverberates with joy, magic and whimsy.
Both Debbie's Song: The Debbie Friedman Story by Ellen Leventhal, illustrated by Natalia Grebtsova (Kar-Ben), and A Place to Belong: Debbie Friedman Sings Her Way Home by Deborah Lakritz, illustrated by Julia Castaño (Apples & Honey), focus on how Friedman, who passed away in 2011, brought foot-stomping joy and a passion for music into Jewish liturgy and texts. Debbie's Song includes her time on a kibbutz in Israel and a helpful Hebrew glossary.
Joyful reinvention and silliness infuse books that showcase Passover on the high seas. In Under-the-Sea Seder, written and illustrated by Ann D. Koffsky (Apples & Honey), Miri's mother and father attempt to stop her boisterous activity during the seder in scenes likely familiar to many parents. Miri and her cat then slip beneath the table into an imaginary "seder submarine," which carries them to a Passover celebration with colorful sea creatures. How is this night different from other nights? Because on this night, Miri says, "there are three sea monsters."
Meanwhile, holiday preparations take over a pirate's ship in Pirate Passover by Judy Press, illustrated by Amanda Gulliver (Kar-Ben). In lilting rhymes, the diverse crew led by red-haired Captain Drew cleans and preps for seder night only to have a storm disrupt their plans. Chaos erupts, complete with "matzah balls rolling along the ship's plank" and sinking into the ocean depths.
Afikomen by Tziporah Cohen, illustrated by Yaara Eshet (Groundwood Books), is another magical adventure that starts under the seder table, where three siblings, looking to hide the afikomen, are brought back in time to ancient Egypt to help a young Miriam hide baby Moses on the Nile. Beautifully illustrated, the wordless picture book will allow children to weave their own voices and interpretations into the story as it develops from page to page.
---
Leah Finkelshteyn is the Senior Editor of Hadassah Magazine.