The Root of Passover Obligations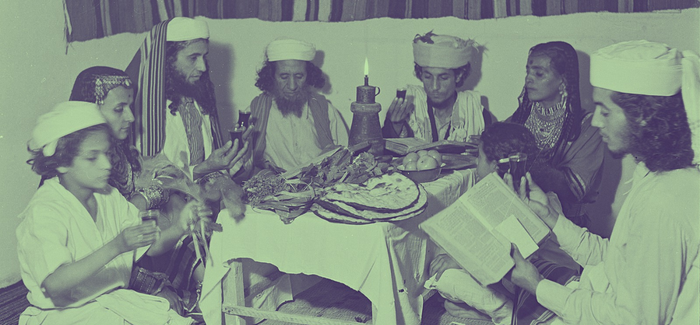 How is the Passover seder like, and unlike, the tenth commandment, "Thou shalt not covet"? In his 2011 book Beginnings, Israeli author Meir Shalev points out that the Bible does not prescribe a punishment for people who covet. Looking at two related roots for the word obligation—ח–י–ב (het-yod-vet) and ח–ו–ב (het-vav-vet)—a similar issue might exist in the Haggadah.
According to the Haggadah, "In every generation, חַיָּב‭ ‬כָּל‭ ‬אָדָם (hayyav kol adam), everyone must imagine having participated in the Exodus from Egypt." What is the punishment for not doing so? As with coveting, the text doesn't say. However, the Haggadah does record an obligation using ח–ו–ב (het-vav-vet), a root that implies that the failure to act has consequences, even if the punishment is not mentioned explicitly. If a seder participant fails to pronounce three words—Pesah, matzah, maror—that person לֹא‭ ‬יָצָא‭ ‬יְדֵי‭ ‬חוֹבָתוֹ (lo yatsa yedei hovato), "has not fulfilled the obligation" to tell the Passover story.
Each of these roots is found only once in Scripture. In the Book of Daniel, having been taken into captivity to prepare for military service in Nebuchadnezzar's army, Daniel pleads with his guard to serve him only vegetarian food. The guard agrees after eliciting Daniel's promise to maintain military vigor. If not, says the guard,‭ ‬וְחִיַּבְתֶּם‭ ‬אֶת‭ ‬רֹאשִׁי‭ ‬לַמֶּלֶךְ (ve-hiyyavtem et roshi la- melekh), "As punishment, the king will have my head." The prophet Ezekiel uses the root for business ethics, suggesting that Israelite lenders חוֹב‭ ‬יָשִׁיב (hov yashiv), return for the night a poor debtor's only garment, rendered here as a חוֹב (hov), security.
A Talmudic case study uses one of our roots. A scholar immersed in learning while walking in a forest looks up to admire a tree. The Sages, fearing that this closeness to nature will lead to idolatry, decree that he מִתְחַיֵּב‭ ‬בְּנַפְשׁוֹ
(mit-hayyev be-nafsho), "puts his soul in mortal danger." This story inspired Cynthia Ozick's award-winning 1971 novella, The Pagan Rabbi, about a rabbi whose deep connection to nature leads him to fall for a wood nymph.
There are many usages of both roots in Hebrew: While הִתְחַיּבוּת (hit-hayyvut) and מְחוּיָבוּת (me-huyavut) both mean commitment, the first often refers to a legal obligation and the second to being compulsively benevolent. In Israel, 5 is the age for גַּן חוֹבָה (gan hova), compulsory kindergarten, and 18 for גִיּוּס חוֹבָה (giyyus hova), compulsory military service. Today, the Israel Defense Forces' formal positive response to an order, חִיּוּבִי (hiyyuvi), "Affirmative!," has become Israeli slang for "Yes."
But can this benevolence and positivity become antidotes to negativity implied in the eating of the seder's bitter herbs? That's the Fifth Question.
---
Joseph Lowin's columns for Hadassah Magazine are collected in the books HebrewSpeak, Hebrew Talk and the recently published Hebrew Matters.