8 Fun Facts About Israeli Farming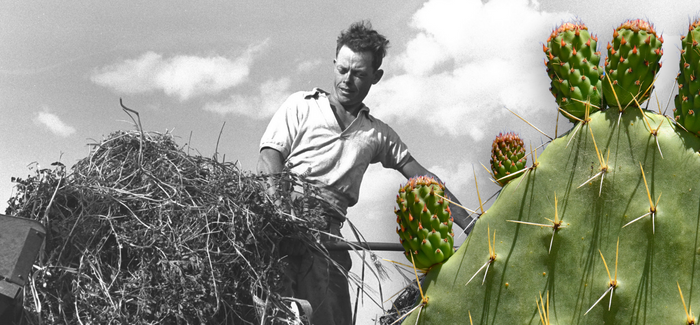 The Yishuv, or prestate Israel, began exporting Jaffa oranges in the 1920s. How has Israeli farming changed since then?
How did Israel reclaim the desert to allow farming?
Israel developed drip-irrigation technology; increased supply of underground well water; diverted and utilized scarce water resources; and planted shrubs, trees and crops that improve the soil.
What main ingredients appear in the typical "Israeli salad"?
Also called Jerusalem salad or Arab salad, the primary ingredients are tomatoes, cucumbers, red onions, fresh parsley, lemon juice and extra virgin olive oil.
What is the country's newest farming frontier?
Space! Twenty-eight chickpeas were sent to the International Space Station in 2022 as part of an Israeli-led experiment into the viability of growing the legume in space.
What are some of the nation's top exports, derived from Israeli-grown crops?
Olive oil, date syrup (silan), za'atar spice blend, tahini and halva.
What are some of the flowers most commonly grown for commercial export?
Roses, carnations, irises, gladiolas and lilies.
What is the state of the dairy industry?
Israel's 135,000 Holstein cows produce more milk per cow than in any other country.
What non-food crop thrives in the Negev?
Jojoba shrubs, whose oil is used in cosmetics. Israel claims to produce 50 percent of the jojoba sold on the global market.
What is Israel's national fruit?
The prickly pear, aka the sabra.
Now you've had… a taste of Israeli farming!