The Also Marvelous Alex Borstein
April is a poignant month of endings and beginnings for Emmy-winning actress Alex Borstein: The fifth and final season of her hit comedy, The Marvelous Mrs. Maisel, premiered April 14 on Amazon Prime and her very first musical comedy special, Alex Borstein: Corsets & Clown Suits, will stream on April 18th.
Mrs. Maisel has been a breath of fresh air for Jewish representation, showcasing a variety of nuanced, multilayered characters. Borstein, who also voices matriarch Lois Griffin on Fox's long-running animated series Family Guy, says she can't help but be sad to finish her run as Susie Myerson, Midge Maisel's wise-cracking, long-suffering manager.
"It's devastating that it's ending," Borstein, 52, acknowledged in an interview with Hadassah Magazine. "It really feels like a funeral in some ways, it's like a death…. It's hard because you're saying goodbye to your character and then you're also saying goodbye to all these people you worked with. So it's a double whammy."
However difficult the experience is, Borstein said, she is thrilled about the work that she and everyone else on the cast contributed.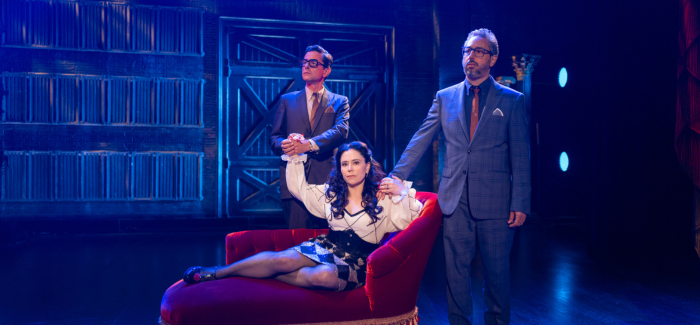 "I'm very proud of it," she said. "I liked that we brought Jewish families and Jewish traditions into the homes of some people who were not familiar with it. I was living in Spain at the time the show became a really big hit in Barcelona, which does not have a large Jewish population. And so it was really interesting to me and I felt wonderful that it found this audience."
Borstein often highlights her own Jewish background on her social media accounts. And in her acceptance speech for the 2019 Emmy for Best Supporting Actress in a Comedy Series for her work in Mrs. Maisel, she acknowledged the bravery of her grandmother, a Hungarian immigrant who survived the Holocaust. "I want to dedicate this to the strength of a woman," Borstein said, describing the story of her grandmother's miraculous survival: She has been among a group of Jews lined up to be shot and thrown into a pit, "She stepped out of line," Borstein related. "And for that, I am here and my children are here, so step out of line, ladies. Step out of line."
Beyond its Jewish appeal, Mrs. Maisel has struck a chord with people from all kinds of backgrounds.
"I think that the throughline of what people respond to is this awareness of family in general," said Borstein, "this respect and the feeling that you kind of owe something to your elders and your children. I think a lot of different cultures have that same value system." This interview has been edited for brevity and clarity.
Can you share a few favorite memories from your time on Mrs. Maisel?
There's that pivotal moment in the pilot episode where I sit with Midge at The Gaslight—where Midge does her comedy routines—and I tell her I think she should be doing stand-up and talking about not wanting to be insignificant in this world.
That hit very close to home and I think so many people are feeling or have felt that in their lives. So that's a really strong memory.
I also loved the swimming scene in Miami from the third season (a now-iconic scene where Midge teaches a reluctant Susie to swim), which was torturous, but also fun and ridiculous…. That's a big, big shiny memory!
You mentioned that the last few days of filming were equally meaningful.
You know, I'll never forget looking Rachel (Brosnahan, who plays Midge) in the face and saying things like "tits up"—an inspiring expression the duo say to each other so that Midge can feel confident performing onstage—and knowing it's going to be for the last time. That was emotional.
What are some of the topics you discuss in your new comedy special?
It is as a deeply personal and wildly fictitious picture of one woman's life after divorce.
For people in the latter part of their lives, I would warn them that it's a little bit like a filthy TED Talk! My parents live in a senior building and they are like, "Oh, we can't wait. We're gonna use the theater and we're gonna screen your show." And then they thought, "Wait a minute! This is a filthy show!"
Your father was raised in an Orthodox family in Atlanta and your mother is also a Holocaust survivor. Can you tell us a bit more about your Jewish background?
My mother was extremely Jewish in a spiritual way, but not Orthodox in any way. The two of them came together and we were raised Conservative, attending Conservative temples, and those are all the tunes I know. I went to a private Jewish day school and it was 24/7 Judaism for a while. We were kosher but not Orthodox. This was what was right for us.
I am raising my two children within the Reform community. They're culturally and traditionally extremely Jewish little kids. But it's not the same structure that I had.
You often express your love for your Jewish heritage in hilarious social media posts. Can you describe what it is like being a visibly Jewish Hollywood celebrity on social media amid the current wave of antisemitism?
For each of us, sharing on that kind of tiny personal level—where someone looking at their phone late at night and sees someone who celebrates this or is doing Shabbat, or someone whose work they like, and then they find out they also happen to be Jewish—that's really the strongest thing you can do, I think, to combat the ugliness of antisemitism or hate of any particular people.
You have to humanize each person and, and kinda educate just by sharing.
---
Susan L. Hornik is a veteran entertainment and lifestyle journalist.