Celebrating the Miracle of Israel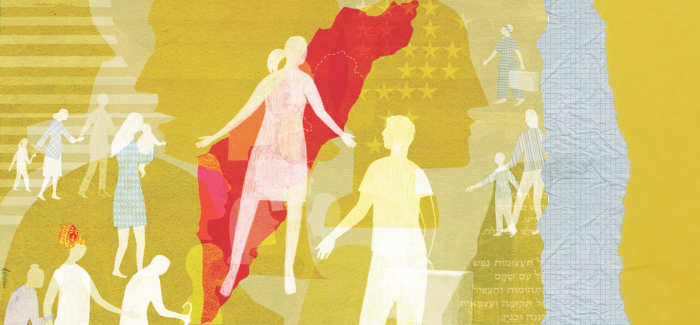 Each night on broadway, Leo Frank, played by Ben Platt, is lynched again. As I recently watched this indelible part of Georgia's and Jewish American history unfold before me in the musical Parade, the message was clear: The security of Jews is not something to be taken for granted.
As we celebrated Yom Ha'atzmaut this spring, we recited liturgical additions for the holiday that address this concern for the safety of Jews. The special Al Hanisim prayer is based on traditional texts from Hanukkah and Purim, holidays that recall times when Jewish survival was not guaranteed. The contemporary prayer incorporated by some religious movements extols the creation of an independent Israel as a modern miracle after a long history of expulsions, inquisitions and genocides.
It praises God "for the miracle of our revival and the rebuilding of our lives in our homeland" (from Tfilat HaAdam: An Israeli Reform Siddur).
Israel won its independence so that it could welcome Jewish refugees to their one true homeland. The mission of providing refuge for Jews and facilitating their full citizenship in Israel remains a priority today.
Within the same Reform version of Al Hanisim lies a message about the kind of country Israel should strive to be: "Our lives will be founded on the basis of freedom, justice, and peace, in keeping with the vision of Israel's prophets; for the faith and the hope, the striving for peace between the children of Sarah and the children of Hagar."
Leaders have a choice. They can inspire their governments to lead ethically, or they can be like Israel's ancient and present-day enemies, acting with cruelty and injustice. With this prayer, we express hope that Israel is destined to be morally courageous as it builds a home for the Jewish people.
---

Missed our webinar? Watch the recording here.

---
Yet, as Israel turns 75, these idealized descriptions can ring hollow. Fissures that have been neatly covered over in Israeli society are now on display as deep chasms. Ministers in Israel's coalition government freely spout racist beliefs. Political, diplomatic, financial, military and religious leaders both inside and outside of Israel warn of a potential path of destruction and even civil war.
The damage inflicted by proposed policies is not to Israel alone. Along with the birth of Israel as an independent state in 1948 came the birth of its twin—Jewish peoplehood, the extent to which world Jewry had never before experienced. The State of Israel would become the beating heart at the center of the Jewish people.
How did Israel contribute to our supercharged experience of Jewish peoplehood? First, the young state raised our awareness that we are indeed one beautifully diverse nation. As waves of refugees made aliyah, arriving by foot, boat and plane, Jews around the world became fascinated and proud of how multiethnic our people are. The mix of cultures and heritages that make up Israeli Jewish life today has enriched all aspects of society and contributes to the innovation the country is known for.
Second, Israel's founders showed us that after 2,000 years without sovereignty, Jewish values can guide a nation in the establishment of a democracy in which all its citizens are declared equal.
And finally, Israel has taught the Jewish people not only to take pride in military prowess, but also that the greatest victories come from achieving peace, the kind that came through treaties with Egypt, Jordan and the Abraham Accords' signatories. Prizing peace, we pray that one day Israel will have a partner for peace among its closest neighbors, the Palestinians.
Even as we celebrate our peoplehood, we worry about the distance between North American liberal Jews and Israel that has been exacerbated by the recent turmoil. For years, surveys have reported that Jews—especially younger ones—feel less connected to the Jewish homeland.
We must act to bridge this distance. Let's begin by identifying our ideological partners in Israel and lending them our support. Let's teach the fundamental importance of Israel as the cradle of Jewish civilization and embrace our roots there. Let's visit the land often and engage with our Israeli brethren as we seek to understand and value our similarities along with our differences.
The State of Israel, as the most powerful expression of Jewish peoplehood, has indelibly transformed world Jewry. This year, as I celebrate Israel's milestone, I am honoring the Jewish and democratic values upon which the nation was founded and remembering how pursuit of these ideals has inspired and strengthened the Jewish people.
As I recited the Al Hanisim prayer on Yom Ha'atzmaut, officially observed on April 26, I recalled both the miracles of Israel's past and prayed for the "miraculous deliverance of God's people Israel" (from the Conservative movement's Sim Shalom Siddur) to achieve our vibrant future.
May our prayers be answered.
---
Rabbi Tracy J. Kaplowitz, Ph.D., is the Marilyn G. and Joseph B. Schwartz Israel Fellow at Stephen Wise Free Synagogue in New York City, where she staffs the Amplify Israel initiative, a hub for liberal Jews to reclaim their connection to Israel. She is coordinating the Re-CHARGING Reform Judaism conference May 31 to June 1.