Benny Safdie on Intermarriage and 'Are You There God?'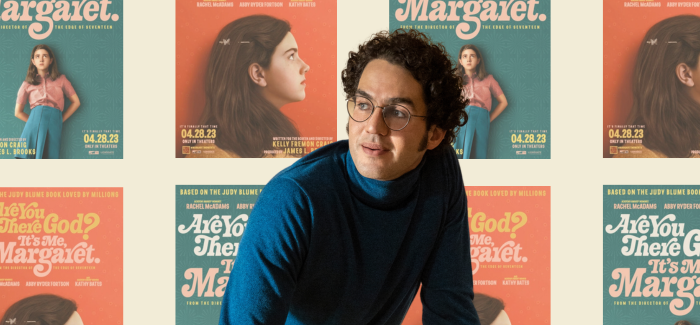 As a Judy Blume fan, just two minutes into watching Are You There God? It's Me, Margaret, I was instantly transported back to the 1970s and the classic book upon which it was based. The novel continues to capture the essence of growing up for generations of readers, and now the film beautifully embodies its coming-of-age innocence and 1970s vibe.
And from the moment Benny Safdie appears onscreen, it's clear he's perfect for the role of Herb Simon, Margaret's supportive, compassionate Jewish dad.
Safdie, 37—remember him from another '70s-themed film, Licorice Pizza?—brought his appreciation for the classic book and its author to the set while working on the film adaptation.
"It was incredible," he said about working with Blume. "We really got along. Just talking to her was really amazing. That this person had the ability to kind of shift into so many different…psyches, different people's imaginations and feelings. She's just so open and caring and funny."
Among the many threads in the book and movie, Margaret—portrayed superbly in the film by Abby Ryder Fortson—explores her heritage and religious background. Her mother, Barbara (played by Rachel McAdams), is a lapsed Christian. Herb and she have decided to raise Margaret without either Judaism or Christianity.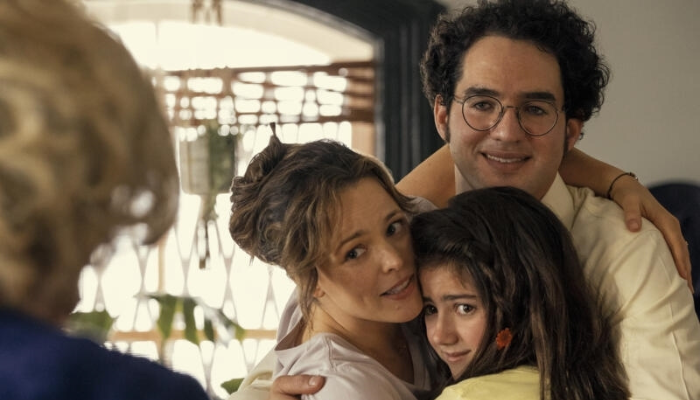 Safdie, whose mother is an Ashkenazi Jew and father is Syrian Jewish, grew up in a Jewish community in New York City. Herb's complicated Jewish identity as well as his marriage to a non-Jewish woman were among the primary reasons why Safdie was attracted to the role. In an interview with Hadassah Magazine, he discusses intermarriage, antisemitism and his inspirations in playing the father of one of literature's most well-known pre-teens. (In real life, Safdie and his wife have two sons.) This interview has been edited for brevity and clarity.
Fifty years have passed since Blume published Are You There God? It's Me, Margaret. The book was a milestone for many young girls, but as a male adult, what did you think of it?
It's an incredible book. And of course, when I told my grandmother and my aunts and everybody about it, their jaws dropped to the floor! They couldn't believe it—it was such an important book for them. And so, I was proud to be associated with this project, in any way, shape or form.
Talk to me about the moment in the movie when Herb confronts Barbara about her parents' antisemitism?
What I thought was interesting—in the movie and in the book—is this level of antisemitism that is there. I felt something like, 'OK, this is something from the '70s that I can't imagine happening today.' It was a very complicated emotion to have to work through.
I had to imagine that her family didn't accept me. Herb has to live with this idea of people not liking him just because of his religion, which is crazy, but that's real! I was like, 'OK, how can I actually show that and feel that?' It created all these complicated feelings within me.'
And then fast-forward to the antisemitism that is indeed happening today, and you think, 'Oh wow, some of these things just don't go away.'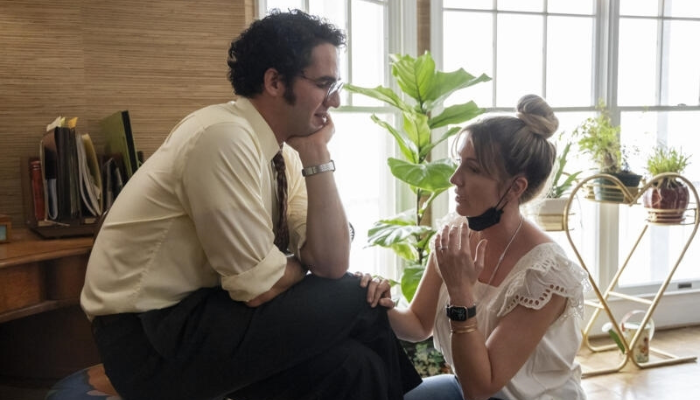 What's so interesting about period pieces in general is that certain things that you would like to think of as history are always going to pop up in some way, shape or form. Just by reenacting it in a movie, it somehow causes a ripple in the consciousness, of awareness, in the world.
I didn't feel a lot of antisemitism growing up. But my mom did, even though she was born in New York and grew up in a relatively Jewish community in Long Island. My dad was from Italy, raised in France and then moved to New York. I also have a stepfather from Minnesota. He is Jewish and grew up in an area where there weren't that many Jewish people.
Your wife, Ava, is not Jewish. Do you think there is more acceptance today of interfaith marriage than there was back in the 1970s?
Ava's family was extremely welcoming, which is how it should be. But it is a weird thing, because in my experience in the Jewish community, intermarriage is not really something you talk about.
I remember it was very difficult to find a rabbi to officiate at our wedding in 2013. This was in Austin, Texas, and there was only one rabbi there who oversaw interfaith marriages. I didn't expect finding a rabbi to be so difficult.
Because I'm like, 'I don't know why I want to have a Jewish wedding. I just like stomping on the glass! I like what that means!' Just the idea that a religion has a break the glass so that in this moment of happiness, you will remember that there's a possibility of sadness—that's an incredible thing.
Your parents divorced when you were young, and your mother remarried. You mentioned that your stepfather inspired your portrayal of the father in the film. How so?
There was a level of comfort and safety that my stepfather imparted; he didn't overdo it. If you needed him, he was there, and that was very helpful. And I thought, 'I can relate to the idea of being that kind of rock for somebody.'
What's interesting with Herb is that he's not overbearing and in Margaret's life all the time, but if she did ever have any issue, you know he's the first person who's going to drop everything to make that situation right.
Can you relate to the scene in which Margaret is taken to temple for the first time by her grandmother (played by Kathy Bates), and Margaret feels underwhelmed and even bored?
I went to a Reform temple with my grandmother. It's not too dissimilar to what Margaret experiences in the film. Going to temple is boring for a kid; everyone understands that. And the fact that Herb feels that, too, is kind of funny, because you never really hear that as a kid.
When you go to temple, it's supposed to be a big, important thing. You don't really hear anyone verbalize, 'I don't quite know what's going on right now or what everybody's saying, but I'm gonna be here because I know I have to be!' You don't hear anybody say, 'Yeah, this is boring, but it'll get better, or you'll understand it more later on in life.' It's nice to have my character be able to say things like that.
---
Susan L. Hornik is a veteran entertainment and lifestyle journalist.