Israeli Women Who Led the Way, in Government and Beyond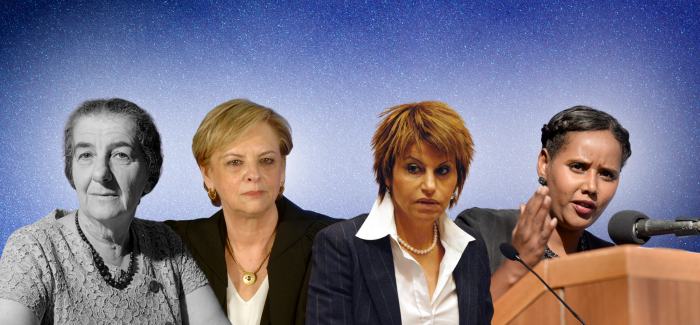 One wonders what Golda Meir would make of women's advancement 75 years into Israel's existence.
As the country's first and, so far, only female prime minister, from 1969 to 1974, Meir famously never declared herself a feminist, although she is known for having legislated a system of maternity leave that allowed women to more easily enter and remain in the workforce. Due in part to her family-friendly policies, nearly 60 percent of Israeli women currently work outside the home.
Among them is the current attorney general, Gali Baharav-Miara, who is entangled in the ongoing judicial reform battle playing out in Israel. She is the first woman to hold that office. Her legal colleague, Esther Hayut, is the president of the Supreme Court, the third woman to serve in that position.
They are among a wide array of women who have set standards, broken glass ceilings and been instrumental in helping shape the country throughout its first three-quarters of a century.
Some of them feel gender had little to do with their path while others consider it a key to their success. Even as challenges for women remain, these "firsts"—just a select sample among many—focus on women who have made their mark across society, from politics and business to sports, the arts and medicine.

Pnina Tamano-Shata, the first Ethiopian-born woman in the Knesset and the first of Ethiopian descent to serve as a government minister, was just 3 when she immigrated to Israel in 1984. The traumatic period included a nearly yearlong separation from her then-pregnant mother and older sister who got stuck temporarily in Sudan.
She remembers the Operation Moses flight aboard a Hercules aircraft with her father and other siblings where they were given bananas and candies. "I'll never forget the bananas," she said.
She also recalls the hardships of those early years in Israel, including her family's financial struggles and missing Ethiopia as well as the blatant racism she says they faced from Israeli society—alongside feeling "a lot of love for Israel."
"It was an emotional immigration," said Tamano-Shata, 41. "We came with nothing, and we had to find our own way."
---

Missed our webinar? Watch the recording here.
---
As she grew up, Tamano-Shata decided that she wanted to be able "to fix things," she said, and not just accept the difficulties experienced by her community.
"We had to expose it, the racism and poverty, and that exposure had to come from someone inside the community," she said. But "it couldn't be the generation of my parents."
And so, Tamano-Shata, armed with a law degree from Ono Academic College, was elected to the Knesset in 2013 as a member of the Yesh Atid Party. In 2020, she was appointed Minister of Immigrant Absorption.
Now, having switched to the National Unity Party, which is part of the Knesset opposition, Tamano-Shata chairs the Committee on the Status of Women and Gender Equality.
"Before I'm Ethiopian, I'm a woman first," she said.
Tamano-Shata has said her priorities for the committee are to address violence directed against women, including domestic abuse, which is on the rise in Israel, as well as create better working conditions for women and help boost their socioeconomic standing.
Currently, of the 120 members of the Knesset, only 31 are women, with just nine in the governing coalition. Of the 32 ministerial positions, six are held by women.
Tamano-Shata credits her mother and her six sisters (she also has one brother) with giving her the strength to keep pushing forward.
"We were the first generation of Ethiopian Israelis to receive an education, and I needed that education to understand my rights," she said. "But I'm formed from all of this: I'm a Jew, I'm a woman, I'm Ethiopian, I'm a mother. We're built from so many circles, and I don't give up on any of it."

Dorit Beinisch: Former Supreme Court president

Who she is: First female president of Israel's highest court; she was the ninth president, voted in unanimously, and served from 2006 to 2012.
Background: Age 81, born in Tel Aviv, served for 28 years in the Ministry of Justice, where she was the first woman to hold several senior positions.
Little-known fact: Beinisch told late United States Supreme Court Justice Ruth Bader Ginsburg and National Public Radio's Nina Totenberg—in 2014 at an event at the 92nd Street Y in Manhattan—that while serving as attorney general, she would sometimes run out of meetings for 15 minutes to pick up her daughters from school.
Recent accomplishment: Beinisch has been active in her opposition to the government's proposed judicial overhaul, appearing regularly on radio and television programs, podcasts and panels to explain the need for an independent judiciary in a democratic country.
Quote: "We [women] are more sensitive to certain issues because it's the experience you bring to your office," Beinisch shared with Ginsburg and Totenberg. "You bring your education, your experience, your personality, and being a woman is one of those qualities."

Dalia Itzik: Former speaker of the Knesset

Who she is: First female speaker of the Knesset, from 2006 to 2009; also served as acting president of Israel in 2007, part of a long career in politics.
Background: Age 70, born in Jerusalem to an impoverished Iraqi family, one of eight children mostly raised by her "strong and determined mother" who "always showed compassion to others."
Little-known fact: Despite her impression of strength and power, Itzik has many fears and has always worked hard to not let these fears take over, but rather allowed them to help her be more thorough and exact in her endeavors.
Recent accomplishment: In May 2021, she was appointed chair of the board of the Hadassah Medical Organization.
Quote: "I am a proud Israeli and a proud Jew and I think that Israel, with all its complexities and challenges, is no less than a miracle."
RELATED READING
Israeli Women Who Led the Way in Sports
Israeli Women Who Led the Way in Science
Israeli Women Who Led the Way in Business
Israeli Women Who Led the Way in Arts and Culture
The 'First' Women of HMO
---
Jessica Steinberg is the arts and culture editor at The Times of Israel.