My Daughter Hadassah, the Haredi Diplomat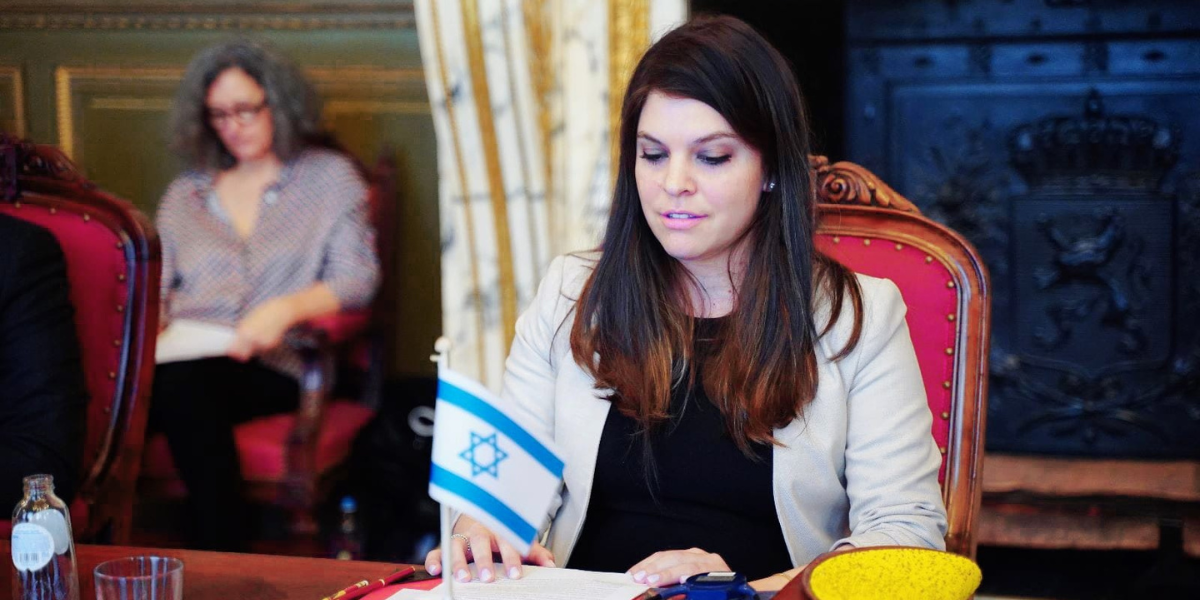 It was Friday, and Hadassah was cutting potatoes for the cholent and preparing pistachio salmon and chicken schnitzel for Shabbat dinner. I had flown to Belgium from Israel the night before, and I had expected some socializing. Instead, Hadassah seemed to be on her phone an awful lot while dipping the schnitzel in breadcrumbs.
My daughter, Hadassah Aisenstark, is Israel's deputy ambassador to Belgium and Luxembourg. (Idit Rosenzweig Abu serves as ambassador.) It soon became apparent that the texts and urgent calls were part of her job. That coming Sunday—November 11, 2022—there would be a vote in the United Nations regarding the legal status of Israel's "prolonged occupation" of certain territories. Hadassah was attempting to start a conversation between a Belgian representative and Israeli President Isaac Herzog, who were both attending a United Nations climate conference. Could a friendly schmooze tip the vote in Israel's favor?
Apparently not. Belgium went on to vote for the anti-Israel measure. But the cholent must go on—and Hadassah, a 30-year-old haredi wife and mother of five, had to finish cooking before sundown.
Four years ago, Hadassah, the second of my seven children, applied for the foreign ministry's diplomatic training course. She passed a number of psychological exams and took part in a six-month program in which she studied the consular services, read cases from the United Nations and political crises and took part in simulations with the media.
---

Missed our webinar? Watch the recording here.

---
Just as America is interested in diversity, so is Israel. Along with a Druze, an Ethiopian and representatives from other minority groups, Hadassah was chosen to become the first haredi deputy ambassador. Hadassah, her husband and their children moved to Belgium last August for her three-year appointment to the embassy. Her husband, Binyomin, still works for his Israeli business and travels back and forth between the two countries.
On Sunday morning, Hadassah and I nibbled our kosher Belgian pastries and sipped our coffee in her spacious living room. Over breakfast, she told me about her new posting.
"Ambassadors have three main roles," she told me. "Dealing with the media, promoting Israeli business and culture and being pro-active in local Jewish issues."
In December, Hadassah planned a black-tie affair in Antwerp for 450 politicians, business leaders and other influential Belgians to publicize Israel's success as the "startup nation." For the event, she brought in representatives from Orcam, the creator of MyEye, a device that aids the blind and visually impaired, and ReWalk, the company behind a wearable robotic exoskeleton that enables individuals with spinal cord injury to stand and walk. When the companies presented their products, they apparently wowed the audience.
And in a presentation at the University of Antwerp on March 8, International Women's Day, Hadassah included the pioneering work of Henrietta Szold among the "contributions of strong Jewish women throughout history."
"Henrietta Szold was a leader in the Zionist movement," she told the gathering at the university's Institute of Jewish Studies, "and she founded the Hadassah women's organization in 1912…. Hadassah funded hospitals, a medical school, dental facilities, X-ray clinics, infant welfare stations, soup kitchens and other services for Jewish and Arab inhabitants."
On the Monday evening of my visit, Hadassah returned home from the embassy, kicked off her heels, hung up her suit jacket and exchanged her wig for a scarf. Then came a call from the bathroom.
"Mama, I'm finished!"
Hadassah rolled up her sleeves and went in to help her 3-year-old. The tumult continued.
"Mama, I have homework!" announced another child.
"Mama, I'm hungry!"
Hadassah plopped down next to me on the couch.
"Mama, he's bothering me!"
"But he took my ball!"
Hadassah shook out a fluffy blanket. "Hey guys," she said to all the kids, neutralizing their individual complaints. "Come cuddle with Savta and me."
That's my daughter, always the diplomat.
---
Linda Hirschel is a freelance writer living in Beit Shemesh.