A Hebrew Root for Butchers and Architects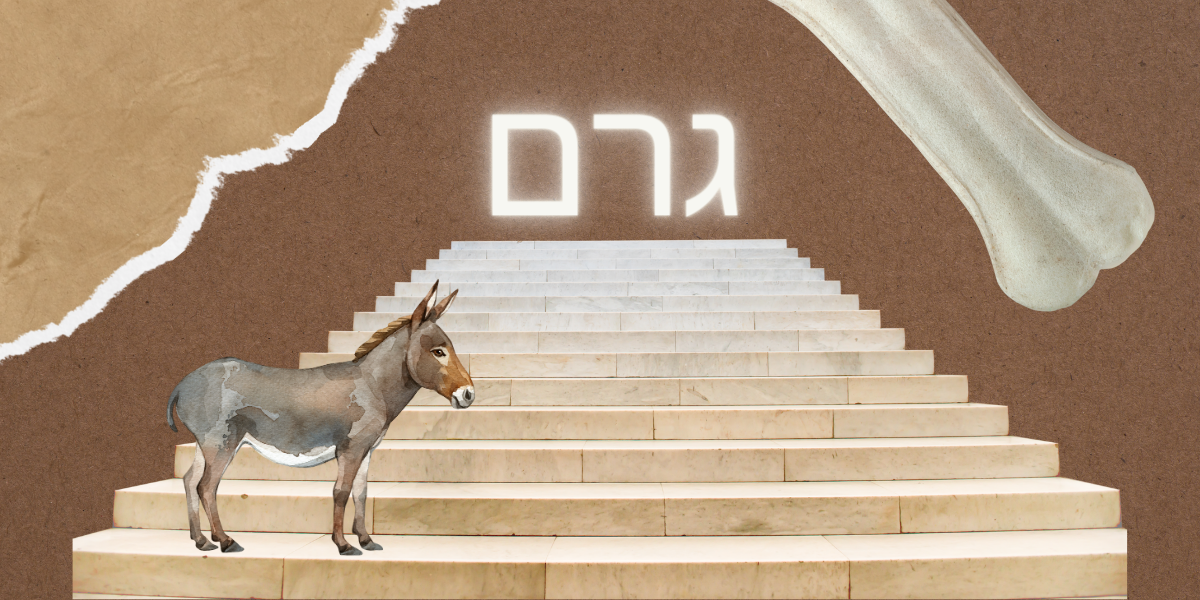 Searching for the root cause of a contemporary political issue? Regrettably, this column is licensed to speak only about Hebrew roots, such as ג–ר–ם (gimel-resh-mem), which means causation and gives us a number of related words, including bones, frameworks and a mitzvah-exemption for Jewish women.
In Job 40:18, God makes a small point using our root. He argues that it was He who created the behemoth, such a huge beast that גְּרָמָיו (geramav), "its bones," are as strong as iron bars. The prophet Zephania compares the corrupt judges of his time to rapacious foxes who have gnawed the meat from the carcasses of the shepherd's flock, but, לֹא‭ ‬גָרְמוּ‭ ‬לַבֹּקֶר (lo gormu la-boker), "come dawn, did not leave them even the bones." In Genesis, foremother Leah's fifth son, Issachar, receives a prophecy from his father that he will be a חֲמֹר‭ ‬גָּרֶם (hamor gorem), "strong-boned donkey," i.e., fit for carrying heavy burdens.
A rabbinic midrash is puzzled by this expression and emends our root, giving us the sentence חֲמֹר‭ ‬גָּרְמֵיה (hamor garmei), "A donkey caused him." One night, so the story goes, Jacob's scorned but resourceful wife Leah is awakened by Jacob's donkey screeching outside. This noise gives Leah an excuse to rush out to welcome her husband home. Nature takes its course and—thanks to the braying animal—Issachar is born.
During the Feast of Booths, a woman is not required to use the sukkah because it involves a positive mitzvah שֶׁהַזְּמַן‭ ‬גְּרָמָא ‬(she-ha-zeman geramah), "in which time is a factor," from which generally women are exempt. Our sages use the root when, for example, they discuss the case of הַגְרָמָה (hagramah), a minute slide of the knife during a ritual slaughtering. Moving from the physical to the spiritual, the rabbis suggest that הַשֵּׁם‭ ‬גּוֹרֵם (ha-shem gorem), one's name causes a person's character and fate.
Then as now, a goodwill gesture offered by butchers to their favorite customers is called גֵּרוּמִים (gerumim), "a few grams extra." And among the important גּרְמִים (gormim), factors, for a building being awarded an architecture and design prize is the style of its גֶּרֶם‭ ‬מַדְרֵגת (gerem madregot), array of steps, i.e., staircase.
Israeli slang today adopts the biblical hamor gorem as an idiom to call someone stupid. To motivate us to use kinder language, let us rather learn Proverbs 25:15, which uses our root in the phrase, לָשֹׁון‭ ‬רַכָּה‭ ‬תִּשְׁבָּר‭ ‬גָרֶם (lashon rakkah tishbor gorem), "A gentle tongue will shatter a bone."
---
Joseph Lowin's columns for Hadassah Magazine are collected in the books HebrewSpeak, Hebrew Talk and the recently published Hebrew Matters, available at gcrr.org/product-page/hebrew-matters.