Elderly Falls Aren't Accidents. Here's How to Prevent Them.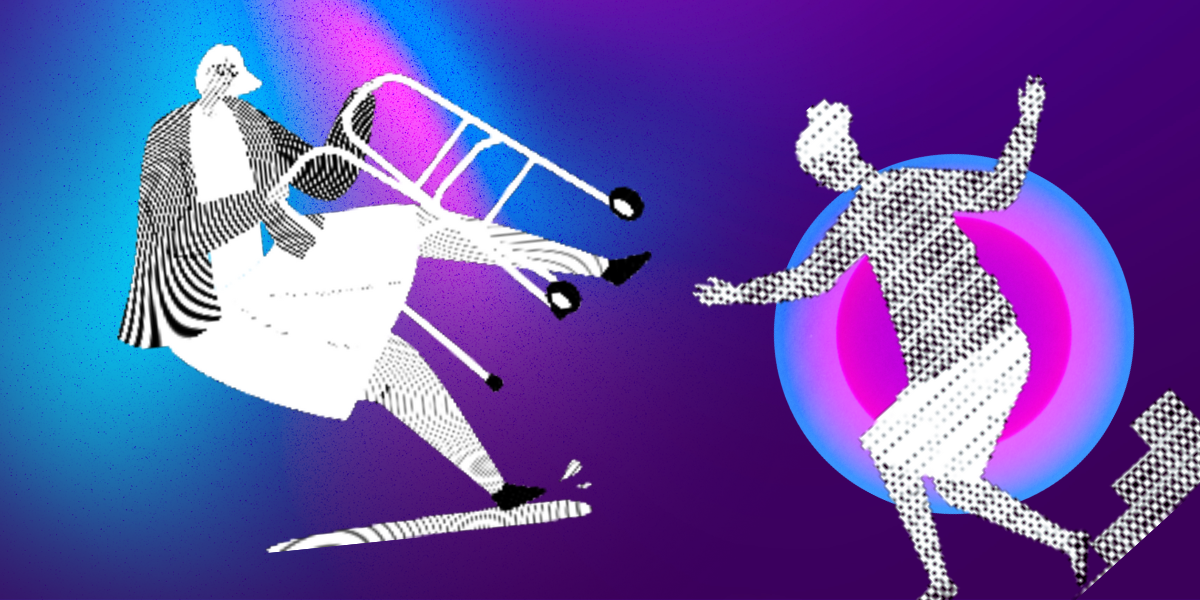 On a bright autumn day in October 2021, Sue Loeb arrived at a storage facility to meet with a vintage furniture dealer and purchase a midcentury-modern piece for her new apartment. The active 70-year-old left her car, turned sharply to greet the furniture dealer and tripped on an uneven piece of sidewalk.
She hit the ground headfirst—as she describes it, like a door released from its hinge. "The first thing I felt was embarrassment," she recalled. "I felt like a stupid old lady, falling over." Embarrassment was the least of her problems. She'd broken her nose, fractured her elbow and suffered a frontal lobe concussion.
To compound her problems, Loeb (who asked that her real name not be used because she is currently in litigation over the fall) was about to move from a large house to an apartment. Her husband has Parkinson's disease and heart issues and could offer little assistance.
"All I wanted to do was lie down and rest," she said, "but I had to orchestrate this enormous move. I was having headaches and losing my balance. I'd get dizzy and my legs would buckle. It was a nightmare."
Sadly, it still is. She's had several stints of physical therapy and after every discharge, the headaches and balance issues return. She needed reconstructive surgery to repair the broken bones in her nose, but she still can't breathe properly and is scheduled for a second operation.
The worse part has been the promises of recovery that just don't materialize. "In the beginning," Loeb said, "the doctors and the physical therapists tell you, 'Wait a few weeks and this or that will improve.' Then it's a few months. After almost two years, I still have several headaches every day. If I turn too quickly, I lose my balance. This fall has just sucked the oxygen out of my life."
As soon as humans can stand up, they fall down. Toddlers tumble, you give them a lollipop and they're fine. Teens break a bone playing sports and they usually heal in a few months. But when an older adult falls, life frequently collapses into catastrophe.
According to the United States Centers for Disease Control and Prevention, every 11 seconds, an older adult is treated in the emergency room for a fall. And every year, one in four Americans over 65 falls—more women than men.
---
Hadassah is supporting Representative Frankel's fall prevention awareness resolution (H. Con. Res. 67) and is mobilizing support for the measure to help ensure older Americans can age with dignity and security. Click here to take action.
---
One out of every five falls results in a broken bone or a head injury. More than 95 percent of all hip fractures in seniors are caused by a fall, and 30 percent of those patients die within a year—higher than the mortality rate of most cancers.
Too often, falls are shrugged off as a normal part of getting older when, in fact, they are more likely to happen due to a sedentary lifestyle that hastens the decrepitude of aging. The root cause of a tumble can be lifestyle, according to Dr. Mike Cirigliano. "People who live alone"—like many older adults—"tend to be sedentary," said the internist, who practices at the Penn Health System in Philadelphia. "The less they move, the weaker they get. The more deconditioned they become, the more they're prone to falls."
Falls should not be considered accidents, Dr. Cirigliano cautioned. "There is almost always an underlying reason," he said. "It may be a symptom of a neurologic disorder like Parkinson's disease or a medical disorder like a stroke, dementia or osteoporosis."
Bones become weaker, more brittle and more likely to fracture with age. Indeed, Dr. Andrea Singer, medical director of the Bone Health & Osteoporosis Foundation, a national health organization located in Arlington, Va., advises anyone over 50—particularly those who have fallen—to get a bone density test to check their bone health.
Representative Lois Frankel had no idea of the physical, emotional and financial effects of a bad fall until her 95-year-old mother slipped in her bathroom and broke her hip last year.
Today, Frankel, a Democrat from Florida, is a leading voice in Congress on the issue of fall prevention, where she has managed to get a variety of fall prevention programs funded. Currently, she is working to expand Medicare coverage to include assessments on fall-proofing homes before a fall transpires (Medicare will often pay for an assessment after a fall that had serious consequences) and the installation of modifications like grab bars in showers.
"This is not a glamorous issue," acknowledged the congresswoman, who has introduced bipartisan legislation to recognize a week in September as National Fall Prevention Awareness Week. Support groups and advocacy organizations, such as the National Council on Aging, have also designated September as a time to focus on fall prevention awareness, revolving around the first day of the fall season. "Doctors and federal agencies have to take this problem more seriously," said Frankel. "Everybody falls, and it's critical that people become more aware of how to protect themselves."
Protecting yourself in your residence is step one, since, according to the CDC, 60 percent of falls happen at home. A top priority, say medical professionals, is not to walk around the house in socks unless they have non-slide treads. Better still, always wear shoes with good soles. Next, do a home inspection for potential hazards. Does the tub or shower have grab bars? Are there throw rugs to slip on? (See "Tips" box for resources.)
Men and women start to lose muscle mass around age 30. Several decades later, consider scheduling a fall-assessment appointment to measure your strength, balance and flexibility, suggests physical therapist Heather Cianci, a geriatric clinical specialist at the Dan Aaron Parkinson's Rehabilitation Center in Philadelphia. Typically done by a certified physical therapist, this targeted evaluation includes assessment of muscle strength and gait.
There are also fall prevention programs offered nationwide through hospitals and community centers. Call your state or local agencies to learn about them; most are underwritten or sponsored, so there is little or no cost.
Jennifer Rubin, an injury prevention specialist, recommends A Matter of Balance, a national program developed by Maine State Health that she supervises at University of California, Davis Medical Center in Sacramento, Calif. This two-hour, eight-week course covers fear of falling, gives strategies for prevention and introduces mild exercises.
Indeed, in any conversation about fall awareness and prevention, the key word is exercise, preferably with the advice of a balance and gait specialist. People in good shape are less likely to suffer dire consequences from a fall. You can also condition yourself to avoid falls by developing a minimal fitness regimen at home. (See sidebar for exercise suggestions.)
Research shows that addressing the reasons for a fall can significantly reduce the risk of future injuries. Unfortunately, the typical 20-minute doctor visit barely allows time to go beyond discussing any stumbles you had within the last three months. For-get about exploring the latent causes.
"Don't depend on your doctor to bring up a discussion of fall prevention," cautions Lyndon Joseph, Ph.D., a program director at the National Institute on Aging. "If you feel weak, fatigued or dizzy, or are worried about falling, it's up to you to initiate the conversation."
Bottom line: The best way to avoid falling on your face is to take matters into your own hands.
REDUCE YOUR RISK
Physical therapist Heather Cianci of the Dan Aaron Parkinson Rehabilitation Center suggests a number of daily exercises:
Stand on one foot with the other foot off the ground for at least 10 seconds, increasing the time you hold the foot off the ground until you can do this on each foot for 30 seconds without holding on. Start with holding the foot slightly raised and work your way up to holding it up with your knee at 90 degrees.

Sit on a chair or stool, cross your arms over your chest and stand up and sit down 10 times.
Using a stair or low stool, step up and down 10 times on each leg.
To improve posture, raise your arms in front of you with bent elbows in a "don't shoot" position and squeeze your shoulder blades together 10 times.
Get a minimum of 4,000 steps daily, the more the better. However, walking by itself, without balance exercises, is not considered enough for fall prevention.
Do some kind of brain exercise, like word games or board games.
Resources for further tips:
National Council on Aging
National Institute on Aging
A Matter of Balance
---
Carol Saline is a journalist, speaker and author of the photo-essay books Sisters and Mothers & Daughters.