War in Israel, Once Again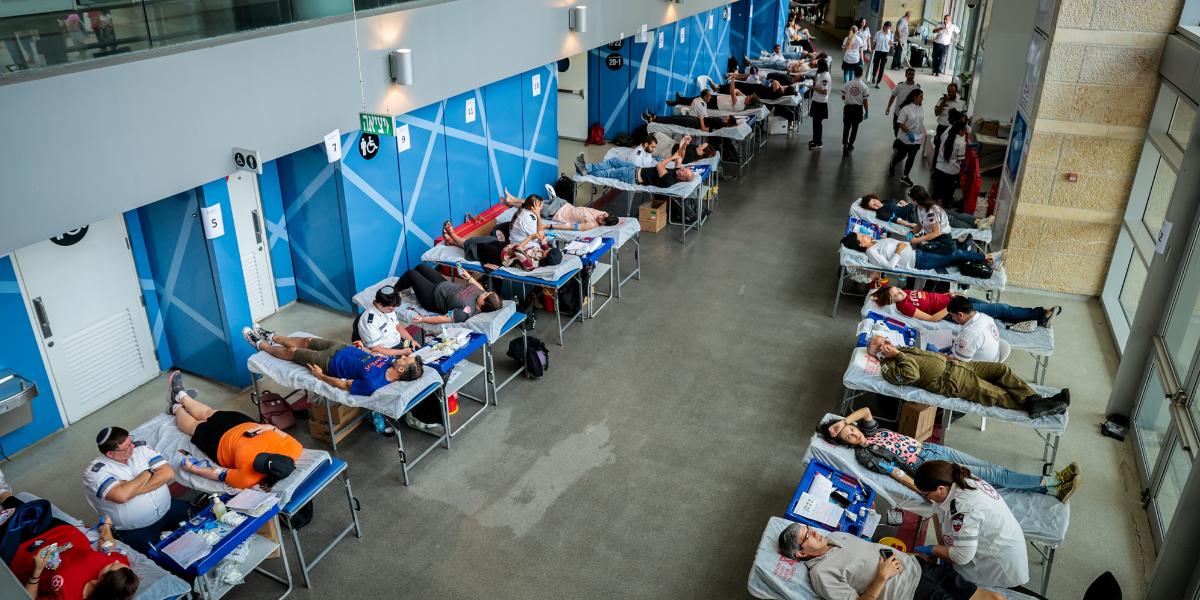 My daughter's call woke me up at 7:50 in the morning. It was Shabbat—and Simchat Torah. She should have been sleeping.
"It looks like war in the South."
Once again, a phone call pierced the holiday quiet exclaiming "War!"
Once again, a surprise attack. Breached borders.
Once again, men called out of synagogues to battle.
I was thrown violently back to the earliest moments of the Yom Kippur War exactly 50 years ago.
Here, however, the comparisons to that war ended. Like all Israelis, like all decent people everywhere, I was stunned as I began to watch the videos of Hamas blowing up the border fence, of hundreds of terrorists cheering as they invaded Israel. This couldn't be happening. Where was the army? Where were the gunships? Why was no one stopping them?
And this time, rather than being a brand-new mother protecting her first born when the war broke out, I and my generation are sitting home, worrying about all of Israel's children and grandchildren. My eldest granddaughter would have reported for reserve duty if she could have found a way home from a trip abroad. During the Yom Kippur War, I was protecting her mother. Today, it is my granddaughter texting me, "Please stay home, Grandma!"
"Did we learn nothing from 50 years ago?" one television news commentator—and I—asked in unison.
During the Yom Kippur War, I worried about my husband and our friends after they joined their reserve units. I grieved when two members of our moshav were killed in battle. Back then, we were praying for and mourning our soldiers.
Now, Hamas terrorists have swarmed into our kibbutzim and border towns, murdering and kidnapping not just soldiers but civilians. Lucky ones found safety in reinforced security rooms. They expected to be saved within minutes.
There were more scenes on the television and social media. Hundreds of young partygoers ran for their lives through kibbutz fields where they had attended a music festival. Hamas was shooting at them, targeting them.
Desperate phone calls reached a live news program, and I listened in agony to one mother fighting for her family's lives.
"Save us! I'm alone with my three children," the woman whispered, sobbing, pleading. "I'm trying to keep them quiet, so the terrorists won't hear us."
The anchor, a news veteran, had no words.
At home, my own sobbing filled the stillness—sobs for the people in the South who trusted our country's ability to keep them safe, and who were betrayed. I cried from the depths of anger and frustration.
I am haunted by the voices of civilians. This is not the Yom Kippur War. This is an invasion of our country by a ruthless army that wants only to terrorize, kill and kidnap.
I, like so many Israelis, cannot comprehend the catastrophic, systemic failure that let this happen. Our elected government, military and intelligence branches should have known the plan, but apparently didn't.
I cannot process the rising numbers: As of now, more than 900 murdered civilians and security forces; 2,600 wounded; and over 100 military personnel and civilians—from babies to the elderly, including a Holocaust survivor—kidnapped and carried off into Gaza. Those innocent people now brutally swept up by savage Hamas terrorists and whose faces and names populate our social media feeds as their families and loved ones plead for their return.
Israeli society has witnessed staggering divisiveness since the last election. Now, at last, in the face of immense slaughter and grave, existential danger, there is talk of a unity government. Is it too much to hope that this willingness to work together will remain when the war is over? Because one day, it will be over.
There is hope.
A man on the radio today related the horror story of how his sister, her husband and their three children were kidnapped and brought to Gaza. "In spite of all this," he said at the end of the report, "we are a strong and resilient people, and we will persevere."
This is the Israeli spirit that keeps me going.
---
Galia Miller Sprung moved to Israel in 1970. She was a founding member of Moshav Petza'el in the Jordan Rift Valley, where she lived for 10 years. She now resides in Tzufim and is writing a memoir of her moshav years.