The Psychiatrists Treating Israel's 'Collective Trauma'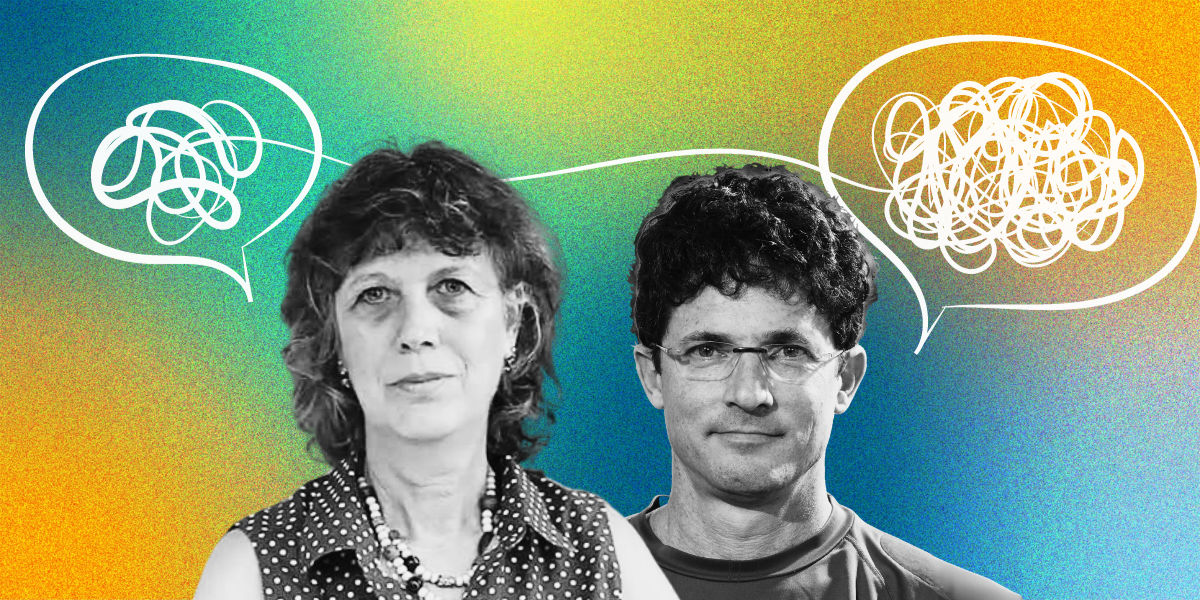 On October 1, after 30 years as head of the Herman Dana Division of Child and Adolescent Psychiatry at Hadassah Medical Organization, internationally renowned psychiatrist Dr. Esti Galili-Weisstub retired from the position and was succeeded by Dr. Amit Shalev. Then came October 7 and Hamas's assault on the Jewish state. The two physicians and the rest of the staff at the psychiatry center are now confronting what Dr. Galili-Weisstub called the nation's "collective trauma."
She has brought her expertise to countless trauma victims worldwide, including training mental health
professionals in Pittsburgh after the 2018 Tree of Life synagogue shooting. Dr. Shalev, an Israeli army elite forces veteran, specializes in pediatric trauma and suicide prevention therapy and research.
Now, in a nation reeling with shock, fear, grief and anger, their focus is emergency mental health first aid. Sometimes, a single consultation is enough to address some of the anxiety that young people are coping with, they explained. A few days after the terror attacks, Dr. Galili-Weisstub gave basic routine support to a 10-year-old Jerusalem boy who was experiencing an acute stress reaction. Following her meeting with the pair, the boy no longer panicked when sirens sounded, and he agreed to venture from his house.
"After the consultation," Dr. Galili-Weisstub recalled, "the boy said to me, 'I'm O.K. now. I can let my mum go to work." This interview has been edited for brevity and clarity.
With Israel at war, what mental health challenges are to be expected?
AS: With the shock and unprecedented barbarity of this war, we're seeing Israelis summon enormous reserves of mental strength. But, ahead, we're clearly looking to a great wave of mental health struggles. People with pre-existing mental conditions are likely to deteriorate, while those previously healthy are being pushed to their limits. Many are already directly impacted by loss, and in our small country, everyone knows someone who's lost someone.
EGW: People will need help in regaining their inner sense of security and trust as well as their belief in ultimate goodness—something we can't start working on, because there's still no stability. We're only at the beginning of our collective trauma. It took a full generation to recover from the trauma of the Yom Kippur War. What we're experiencing now is far worse.
Is the extreme youth of so many of those injured, kidnapped and killed having a particular impact?
AS: For youngsters, the fact that infants and children have been attacked, abducted and slaughtered brings the terror very close, amplifying many times over normal fright. They feel threatened and vividly imagine themselves as victims. Adults need, therefore, not only to deal with their own distress and horror but must try to reassure their children as well.
EGW: The cruelty and brutality of the images and videos on social media add to mental health challenges experienced by youngsters. These are sufficient in themselves to trigger PTSD. If parents can't stop their children watching, they should talk with them about what they're seeing.
How can the mental health struggles of younger children be addressed?
AS: From the war's second day, we've streamed webinars to pediatricians, social workers and psychotherapists, tutoring them how to give parents tools to help them and their children. We've opened a hotline and a crisis intervention clinic where psychologists and psychiatrists provide mental first aid face to face, and via Zoom for those too afraid to come. We've been going to kibbutzim near Jerusalem, where traumatized refugees from the South are being housed, and conducting group and individual interventions. We're working round the clock. We're short-staffed—many of our team have been called up for military duty, others are bereaved—but we're using our decades of experience in treating post-trauma and acute stress to support this newly distressed population.
EGW: As in air safety, where adults don oxygen masks before helping their children, we bolster parents. Themselves worried, fearful and perhaps bereaved, adults are crucial in delivering the reality and emotional experience to children, and we're helping them do so as positively as possible.
---
Wendy Elliman is a British-born science writer who has lived in Israel for more than five decades.