A Hebrew Root With Divine Implications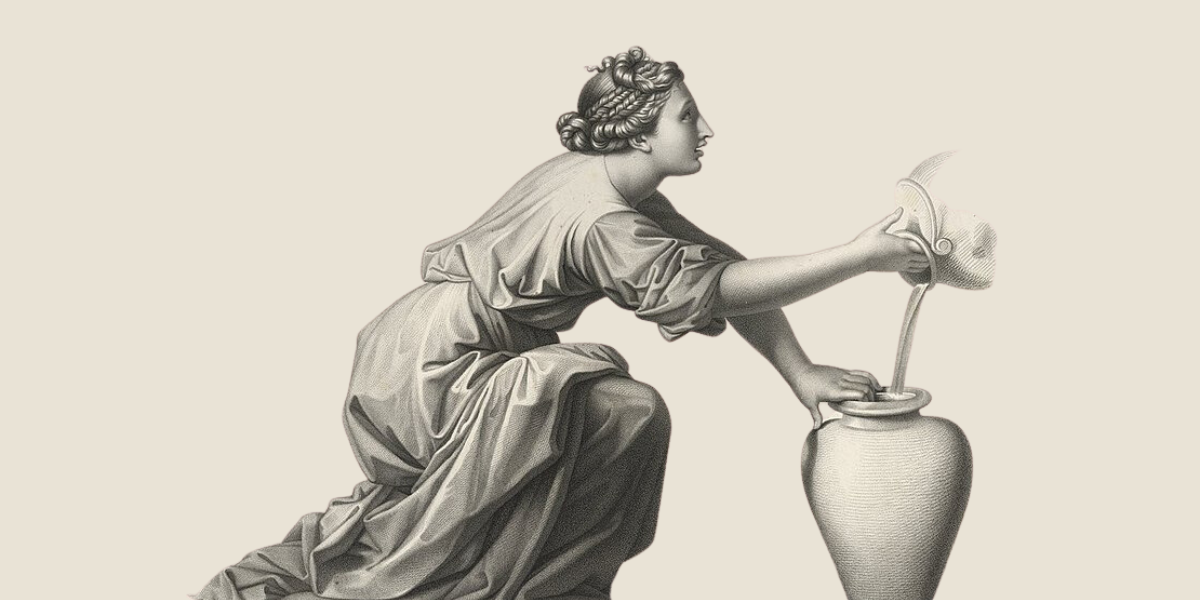 What does the ineffable name of God have to do with the Virgin Mary? Like other theological תַּעֲלוּמוֹת (ta'alumot), mysteries, they are both connected to the Hebrew root ע–ל–מ (ayin, lamed, mem), whose wide range of meanings relates to the world, eternity, mystery and youthful vigor.
In Samuel I, when King Saul witnesses young David overpower Goliath, the astonished king asks בֶּן‭ ‬מִי‭ ‬זֶה‭ ‬הָעָלֶם (ben mi zeh ha-alem), "Whose son is this strong young man?" Earlier in the Bible, when Abraham sends his servant, Eliezer, to find an appropriate wife for his son, Isaac, Eliezer encounters an עַלְמָה (almah), "young maiden," who gracefully serves water to both him and his camels. Rebecca's act of graciousness assures the servant that he has found the perfect bride for Isaac.
The word almah is also found in the Book of Isaiah, in the phrase עַלְמָה‭ ‬הָרָה (almah harah), "young woman who is pregnant," who, Isaiah prophesizes, will give birth to a son named Immanuel. In the 3rd century BCE, the Septuagint, the Greek translation of the Bible, uses the Greek parthénos, which can mean virgin, for the Hebrew almah. And when Christianity connects the phrase in Isaiah to the Virgin Mary, a doctrinal mystery is born.
The Yom Kippur mahzor enjoins us not to profane עִלּוּם‭ ‬שְׁמֶךָ (illum she- mekha), "Your hidden name," i.e., God's Ineffable Name. Psalm 90:8 stretches our meaning even further, with עֲלֻמֵנוּ (alumeinu), "our hidden sins," which implants the word sins within our root.
The noun עֹולָם ‬(olam), world, is likely derived from our root, and Exodus 21 tells how a Hebrew slave can choose to become indentured לְעֹולָם (le-olam), "for life," which means, in halachic reality, "until the Jubilee." In the Aramaic Mourner's Kaddish, our root is also given a time frame of sorts, לְעָלַם‭ ‬וּלְעָלְמֵי‭ ‬עָלְמַיָּא (le-alam u-le-olmei olmayah), "forever, and to all eternity."
In modern Israeli discourse, an interviewee may use the root to ask to speak בְּעִלּוּם שֵׁם (be-illum shem), "anonymously." When you want to emphasize your negative answer to the question "Have you ever…?" just say, מֵעלָם לֹא (meh-olam lo), "No, not ever!"
Have you ever had a piece of jewelry that נֶעֱלַם (ne'elam), mysteriously disappeared? It is perhaps wise לְהַעֲלִים עַיִּן (le-ha'alim ayin), to turn a blind eye, to the occurrence rather than mistakenly accuse another of theft. On the other hand, is it not wrong that, when faced with social ills, society responds with הִתְעַלְמוּת (hitalmut), willful blindness? Indeed, an irritated commentor on Facebook or Instagram may grumble, "What did I expect?," עֹולָם גלָם (olam golam), "The masses are asses." When one is feeling irritable about our world's tendency to groupthink, this may be an appropriate complaint.
---
Joseph Lowin's columns for Hadassah Magazine are collected in the books HebrewSpeak, Hebrew Talk and the recently published Hebrew Matters, available here.