Rising Tide of Anti-Israel Sentiment in Britain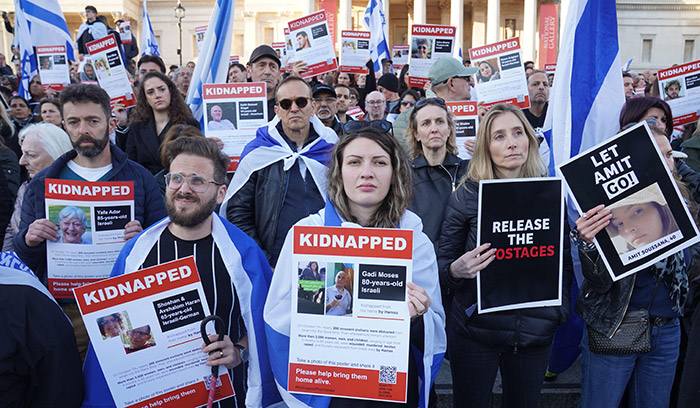 Every Diaspora community is agonized about the October 7 Hamas terror attacks in Israel, and that sentiment applies powerfully in Britain. A new survey by the Institute for Jewish Policy Research, an independent group that researches contemporary Jewish communities in Britain and elsewhere in Europe, reveals that 71 percent of Jews have family living in Israel and almost 90 percent have visited the country at least once.
The tragedy is deeply personal for the United Kingdom's more than 280,000 Jews, of whom close to 180,000 live in or near London.
Almost a month into the war, British Jews are by turns defiant, fearful and angry. Pro-Hamas rhetoric has ramped up to deafening levels at massive rallies and in some media, though support for Israel from the Conservative government, led by Prime Minister Rishi Sunak, and the royal family has, for the most part, been a source of strength.
Just days after Hamas murderers swept through southern Israel, Jews in London staged a swiftly organized vigil. It was held on October 9 opposite 10 Downing Street, the seat of government, and politicians from across the political spectrum addressed the crowd of close to 2,000.
But at the end of that week, pro-Palestinian supporters—consisting of a strong core of British Muslims as well as an overwhelming number of people who support far-left Labour politician Jeremy Corbyn—took to the streets in numbers easily dwarfing the Jewish turnout at the vigil. Since October 14, rallies of more than 100,000 demonstrators have flooded central London every Saturday.
Liverpool Street Train station, where ironically many European Jewish children arrived on the Kindertransport in 1939, was occupied on October 31 by hundreds of flag-waving Palestinian supporters chanting the contentious slogan "From the river to the sea." Jewish commuters took one look and left the station.
At that first Jewish gathering on October 9, the community was in shock. Chief Rabbi Sir Ephraim Mirvis asked a question that has echoed throughout the discourse for the last four weeks: Why won't the BBC, the national broadcaster, call the Hamas attackers "terrorists" when the British government has officially designated the group a terrorist entity? (Public support of Hamas is liable to prosecution.)
The BBC has tied itself into tortured linguistic knots trying to explain that, while it will quote other people calling Hamas "terrorists," it will not do so itself in order to maintain neutrality in its reporting. This has enraged people who already hold grievances against the BBC, including the fury provoked by a BBC reporter who was quick to ascribe the October 17 bombing of Gaza's Al-Ahli Hospital to Israel. Each time there is such misreporting, or what many in the Jewish community perceive as biased journalism, it adds to Jews' anxiety and jumpiness—and fuels verbal and occasional physical assaults from pro-Palestinians.
Indeed, antisemitic attacks—verbal, physical and online—have spiked by 1,350 percent since the Hamas terror attacks, according to data collected by the Metropolitan Police. Days after October 7, six Jewish schools in London closed for a few days out of fear for their pupils' safety; others told their students not to wear kippot in the street or wear uniforms that could identify them as students at a Jewish school. To combat the rise in incidents, the government announced an additional $3.7 million funding of the Community Security Trust to help maintain safety at Jewish communal buildings and events.
Jews have been buoyed by support from Sunak and Sir Keir Starmer, leader of the opposition. The prime minister made a solidarity visit to Israel on October 18, and a little over a week later, he met with British Jewish leaders and denounced October 7 as "an abhorrent act, an act of terrorism, an act of pure evil."
"The antisemitic demonstrations and call for jihad are not only a threat to our Jewish community," Sunak went on to say of the roiling protests in Britain, "but to our democratic values, and we will not stand for it. Not here, not in our country, not in this century. A threat to you is a threat to all of us, and I will do whatever it takes to keep you safe."
Days later, Paul Bristow, an MP who co-chairs the all-party parliamentary group on British Muslims, was sacked as a ministerial aide for calling for a ceasefire in Gaza. The Conservative government says that it supports "humanitarian pauses" but not a ceasefire, and Downing Street stated that Bristow had been fired "in response to comments deemed not consistent with the principles of collective responsibility."
Labour's leader Starmer is visibly struggling to keep his party in line. Many opposition MPs disagree with his support for Israel and are calling for a ceasefire. He also suspended, pending investigation, a Labour MP who was said to have chanted "from the river to the sea." Starmer's wife is Jewish, a fact often referenced by those attacking him on social media.
Meanwhile, Home Secretary Suella Braverman, whose husband is Jewish, has described the pro-Palestinian rallies as "hate marches" and wants to ban them altogether—something unlikely to happen.
A the same time, the Metropolitan Police, tasked in cracking down on antisemitism by London Mayor Sadiq Khan—a practicing Muslim and a friend of the Jewish community—seemed to have problems in assessing what was, and was not, a hate crime. The police and the Crown Prosecution Service have agreed on a definition of hate crimes as they pertain to race or religion: "Any criminal offense which is perceived by the victim or any other person to be motivated by hostility or prejudice, based on a person's race or perceived race; or religion or perceived religion."
There have been publicized arguments about whether the display of a Palestinian flag is sufficient to qualify as a hate crime. The police have issued a new advisory stating that "the expression of support for the Palestinian people, including flying the Palestinian flag, does not, alone, constitute a criminal offense." However, the Metropolitan Police assistant commissioner now says that there are "some situations where the presence of a flag or banner or the use of specific words or phrases could be seen as intimidation…intending to cause harassment, alarm or distress."
The international initiative of putting up posters of the kidnapped hostages quickly took off in London. It didn't last long: Social media was soon full of videos of people gleefully ripping the pictures down. In one video, a Sikh passerby, filming the encounter, asked the perpetrators: "Have you no humanity?" Unfortunately, in a misplaced effort to dilute Muslim-Jewish tensions, some posters were ripped down by police, too, in London and Manchester.
In sport, the governing body of soccer, the Football Association (FA), sparked anger by refusing pleas from fans to light up the arch of the national stadium, Wembley, in tribute to the Israeli victims. In protest, the chair of the FA's Faith in Football group, Rabbi Alex Goldberg, resigned. The FA's Premier League told its clubs not to allow Israeli or Palestinian flags into games: Pro-Palestinian supporters in Liverpool promptly announced they were ignoring this advice, displayed their flags, and no action was taken by the club or police.
Jewish university students, often in the forefront in facing antisemitic attacks, are having a tough time. According to a statement from the Union for Jewish Students, students have reported "a year's worth of antisemitic incidents on campus in just three weeks." So far, the attacks have not been physical, but the UJS said there has been worrying signs such as posters around central London carrying the slogan "Intifada until victory!" and showing a soldier aiming a rifle at a Palestinian supporter. The posters were attributed to University College London's Marxist Society, a student group that has since been suspended at UCL.
And it has been unnerving for many Jews to discover during debates in Parliament that at least two men, said to be active Hamas operatives, are living openly in London not far from Jewish neighbors. Labour MP Christian Wakeford identified the men as Muhammad Sawalha, first named in a newspaper investigation, and Zaher Birawi, who had been designated a senior Hamas operative by Israel in 2013. A publicly available video shows Birawi hosting a 2019 event in London titled "Understanding Hamas."
But despite the tensions and vitriol, British Jews have taken some comfort in the response of the royal family. Any doubt about their opinion was quickly dispelled with warm messages of support from King Charles, who met Chief Rabbi Mirvis on October 12, and from the Prince and Princess of Wales. William and Kate's message, posted on social media, said they were "profoundly distressed by the devastating events that have unfolded in the past days." The couple "utterly condemned" the "horrors inflicted by Hamas's terrorist attack upon Israel" and added that "their Royal Highnesses hold all the victims, their families and their friends, in their hearts and minds."
Jews also found comfort at an October 22 rally, when some 15,000 people gathered in central London's Trafalgar Square for an emotional pro-Israel rally that featured addresses from family members of some of the Israelis taken hostage. Many present were in tears as they chanted "Bring Them Home" in a show of support for the approximately 240 hostages held by Hamas.
And the annual UK Jewish Film Festival, due to run from November 9 to 19, will still go ahead—not least because many of the Israeli film actors want the gala to take place in a spirit of solidarity.
---
Jenni Frazer is a veteran Jewish journalist and was assistant editor of the Jewish Chronicle. She is now freelance and writes for many publications in Britain, the United States and Israel.