The Economic Fallout of War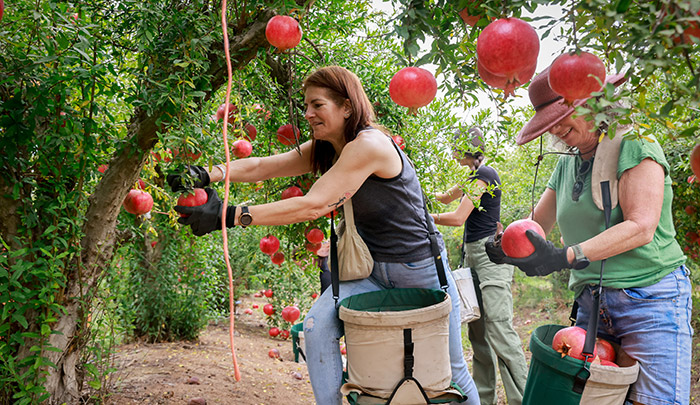 In normal times, David "Dudu" Michaeli is a busy man. The owner of a family farm near Karmiya about two miles from the Gaza border, Michaeli supervises a workforce of about 120 laborers and coordinates the growing, harvesting and delivery of parsley, celery, tomatoes and about 40 other crops on his 110-acre farm.
But since Hamas's October 7 massacre and the outbreak of war, Michaeli's business has fallen apart.
Nearly all his Thai laborers left after 32 Thai nationals were killed and 24 taken captive in Hamas's initial attack. His Bedouin Arab workers stopped showing up. One of them is mourning the loss of five of his family members killed by Hamas.
A rocket or artillery shell from Gaza sparked a blaze in Michaeli's storage shed, causing millions of shekels in damages to equipment and fencing, and his automatic irrigation system is wrecked. Michaeli believes he'll eventually qualify for government compensation, but he says he's still waiting for a $100,000 payment the government approved for damages he suffered during a previous round of fighting with Hamas.
To keep his farm afloat, Michaeli is recruiting volunteers to plant and pick. But he's not getting nearly enough, he said, and they are far less efficient than his regular laborers. Plus their work is frequently interrupted by air raid alerts requiring everyone to rush to shelter. Michaeli estimates he's operating at less than 15 percent of his normal capacity.
"I'm doing nonstop volunteer recruitment every day," said Michaeli's son, Dror. "We're three weeks behind schedule with harvesting. The pressure is relentless. My father asks me already at 10 a.m.what I have lined up for the next day. Even if I get 100 for tomorrow, who will come the day after? Every day I have to recruit anew and I need 150 people a day just to catch up."
"We need financial aid immediately," Dror Michaeli concluded. "If we don't get it soon, the farm could fail, even with the volunteers."
The Michaelis are among hundreds of farmers and countless other Israelis suffering economic fallout from what's become a very expensive war. In October alone, the war ran up a bill of 30 billion shekels (nearly $8 billion), according to Israel's Finance Ministry, not counting the costs to businesses and families like the Michaelis.
That breaks down to a daily price tag of about $250 million. Two-thirds of that is direct military spending—everything from bombs and fuel for tanks to deployment costs for 500,000 active-duty soldiers, including 360,000 reservists. The remaining one-third includes reduced tax revenues, since Israelis are earning and spending less than usual, and ancillary expenses such as the government's payments to house and feed over 125,000 internal refugees at hotels around the country. Some reimbursements are also being made to another 125,000 Israelis who have had to evacuate their homes in the war zones but who are not entitled to the full slate of benefits based on a set of governmental criteria—for example, if you left your home of your own volition and if you have a bomb shelter in your apartment.
Despite these large numbers, Israel should be able to absorb the war's economic repercussions if it takes the right mitigating steps, said economist Zafrir Asaf, a board member at the Israel Forum for Impact Economy.
"We're a rich and strong country. There's no real deep hit to the state," Asaf said. "Buildings aren't falling. Electricity grids aren't crashing. There is no real physical damage to Israel's production capacity or work capabilities. Even some of the factories in the area around Gaza have returned to work." In one example, Osem, which manufactures the popular snack foods Bissli and Bamba, has reopened its factory in Sderot.
The real question, Asaf said, is whether Israel's political leadership will recalibrate its priorities to deal effectively with the war's economic ramifications or whether partisan political interests will dominate decisions on spending. So far, the government's performance has been sufficiently worrisome that a coalition of 300 economists, including former senior leaders from the Finance Ministry and Bank of Israel, took the unusual step of sending Prime Minister Benjamin Netanyahu and Finance Minister Bezalel Smotrich a letter on October 30 warning that the government wasn't acting quickly or decisively enough in reconsidering spending prorities.
"The severe blow that has befallen the State of Israel requires a fundamental change in the order of national priorities and a massive diversion of budgets to deal with war damages, aid to victims and rejuvenation of the economy," the coalition wrote. "In our estimation, the expected expense of the war will be on the order of tens of billions of shekels, and possibly more."
For the first few weeks after the start of the war, restaurants, entertainment venues and event halls were shuttered. Even now only some are operating—and at significantly reduced levels. Retail chains like the Israeli fashion giant Fox have announced mass furloughs. Because so many working adults have been called up for reserve duty in what is the Israel Defense Forces' largest mobilization of reservists since the 1973 Yom Kippur War, many businesses simply don't have enough staff to open or operate near full capacity.
A staggering 37 percent of Israeli companies have 20 percent or fewer employees working, and only one-quarter of Israeli businesses are operating at 80 percent capacity or higher, according to a late October survey of 1,680 businesses by Israel's Central Bureau of Statistics. The numbers in southern Israel are worse: 59 percent of business are minimally operating.
At Verbit, a Tel Aviv-area technology company that uses artificial intelligence to provide translation and transcription services, about 23 percent of its 1,000 employees have been called up to military duty. CEO Tom Livne said the absences have slowed down research and development but do not represent an existential threat to the company. He noted that Verbit also has lost revenue from universities in the United States that stopped using Verbit's services after the war began—something he attributes to the strident anti-Israel climate on American college campuses.
In the immediate aftermath of October 7, Livne, who over the years successfully raised hundreds of millions of dollars in investments for Verbit, worked his connections to raise a few million dollars in donations to help equip Israel's soldiers.
"This is the biggest contribution I can make," Livne said. "Thank God everybody is safe in Verbit. I've heard from CEOs whose employees were killed."
In the areas near Gaza and Lebanon where residents have been evacuated, commercial activity has ceased almost entirely.
Arik Fahima runs an eight-employee wellness products company in Kiryat Shmona, the northern Galilee city of 23,000. When the city was evacuated amid growing attacks by Hezbollah from nearby Lebanon, Fahima closed his company, Zuf Globus, and relocated to Tel Aviv. He's still paying his employees even though he can't manufacture his beehive-derived products or keep up with exports because the war has disrupted shipping into and out of Israel. He's worried about the long-term damage to his business.
"The global market doesn't like instability, and Israel now represents instability par excellence—whether for production, supply or relationships," Fahima said. "We're going into a deep freeze."
The worst part of it, Fahima said, is that it's unclear how long the war will last or exactly how much government aid he'll receive.
"There's nothing we can rely upon," Fahima said. "We don't know if the war will be one week or one month or many months. Personally, I continue to pay my workers their regular salary. I can't just leave my employees in the lurch. God will help."
Israel's economy, after being ranked in 2022 by The Economist magazine as the fourth-best-performing economy among all countries in the Ogranisation for Economic Co-operation and Development grouping of Western nations, is expected to shrink more than 10 percent on an annualized basis in the last three months of 2023. The shekel's value, which slipped in the months before the war, fell in late October to 4.07, its lowest level against the dollar in over eight years, before recovering slightly.
S&P Global Ratings has downgraded its economic outlook for Israel from stable to negative as well as its ratings to negative for three of Israel's top five banks: Mizrahi-Tefahot, Discount and First International Bank of Israel. The Tel Aviv 125, an index fund of the top 125 companies on the Tel Aviv stock exchange, was down 11.5 percent for October. Israel is now running a large fiscal deficit.
Israel's hardest-hit industries are construction, events, food services, restaurants and tourism. Few foreign airlines are flying to Israel, and hotels, while full with evacuees from the war zones, aren't earning as much in government reimbursements as they would from regular guests.
Debbie Zimelman is among many sole proprietors who makes a living from tourism. She works as a photographer for tourists' simcha celebrations in Israel and owns an Airbnb unit in her hometown of Modiin. Within 10 days of the war's start, almost all her upcoming gigs and bookings were canceled.
"Exactly what happened to me in Covid is happening to me now," said Zimelman, who moved to Israel more than 40 years ago from Potomac, Md., and who is the author of Women on the Front Lines, a photography book on female Israeli soldiers. "I should have learned the first time around, but who thinks things will happen twice in three years?"
Indeed, over 50,000 Israelis filed for unemployment in October, a level not seen since Covid.
Rotem Sela operates a now-idle construction crane business in Kiryat Shmona, a town in the North that has been affected by Hezbollah rockets fired from Lebanon. Though his children, parents and siblings all heeded evacuation orders to leave the city, Sela has stuck around, volunteering to distribute hot meals to shelters, supplying goods to soldiers deployed in the area and caring for his own pets as well as those of neighbors.
"I'm not really scared—the fighting here isn't really serious," Sela said. "I don't know what will be with my business. At least for one or two months I won't be able to generate income, and I have monthly expenses. But it'll be alright."
Israel's construction sector, which relies largely on Arab labor, has been frozen not just because West Bank Palestinians with work permits are currently not allowed into Israel but also because many Israeli Arabs are scared to come into work or have been told to stay home to avoid possible conflict with jittery or hot-tempered Israeli Jews.
The biggest unanswered question affecting the economy is the war's duration. The longer it lasts, the higher the costs and the slower Israel's economic recovery will be.
"How many businesses will lose orders? How many people will get laid off and how long will it take them to go back to work? How many tourists won't come to Israel?" said Asaf, the economist and board member of the Israel Forum for Impact Economy. "How quickly will we be able to rebuild?"
The good news is that Israel is a resilient nation adroit at adapting to adversity and turning hardships into strengths.
"There is a very strong drive here," Asaf said. "Part of the story we tell ourselves is that the economic recovery will be part of our victory over Hamas. This is critical. People wake up in the morning eager to rebuild."
---
Uriel Heilman is a journalist in Israel. He works for the Jewish Telegraphic Agency and has written about Israel's current war for the Los Angeles Times, Salon and USA Today.