Season to Taste: The Kosher Innovator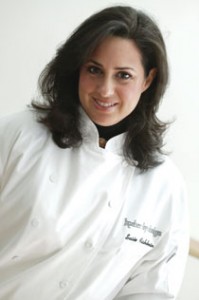 When kosher markets from Woodmere, New York, to Washington, D.C., began fielding requests for kosher-certified pomegranate syrup just before the 2003 High Holidays, it wasn't a health craze fueling the demand. The culprit was a chicken recipe from Kosher by Design: Holidays & Every Day by Susie Fishbein, released that year. "Everyone was running around looking for that syrup," recalls Adina Lipson, a mother of four from White Meadow Lake, New Jersey, who owns and uses Fishbein's three books published by Mesorah.
Fast-forward to 2006, when it's not just Pomegranate Chicken readers clamor for. It is the Roasted Beet Salad, Asparagus Shiitake Loaf, Braised Rib Roast with Melted Tomatoes and dozens of other recipes—all served up by a former teacher-cum-stay-at-home mom from Livingston, New Jersey. With her focus on presentation and recipes that depart from standard Shabbat fare, Fishbein (at right) has become a bona fide phenomenon.
Fishbein's Kosher by Design volumes—Holidays & Every Day; Entertains; and Kids in the Kitchen—are nearing an unprecedented combined sales of 200,000, and a fourth is in the works, due out next Hanukka. (She had earlier collaborated on a yeshiva fund-raiser, The Kosher Palette.)
"Her books outsell other Jewish cookbooks by a ratio of three to one," says Lee Stern, head cookbook buyer for Barnes & Noble. "It's a combination of great packaging and great promotion."
Fishbein has carved herself a niche within a niche: cooking and entertaining for the Modern Orthodox community, which has adopted her as a slightly more heimish Martha Stewart. They fill shul social halls for her cooking demonstrations, spread the word about her books and prepare her menus on weekends and holidays. So how did she do it?
As a child in an observant home in Long Island, "I was always making centerpieces for our table and trying to recreate the dishes I saw at affairs," says Fishbein, 38. After getting married and having children, she became a serious entertainer. A voracious reader of cookbooks, Fishbein felt something was lacking in Jewish titles by the likes of Joan Nathan and Gil Marks. "I loved the books and cooked from them, but no one had really looked at people like us," she explains, referring to the Modern Orthodox community.
"This is a crowd that gives dinner parties in the form of Shabbat meals twice a week," she says. Her friends— tired of potato kugel, cranberry crunch and chicken doused in duck sauce—wanted themed entertaining, tabletop settings and new recipes: Fishbein offers them Salmon Mousse with Horseradish Aïoli, Mini Chicken Wellingtons and Melon Granitas.
She has even created innovative tablescapes—for instance, napkin rings made out of halla for Shabbat and covering a dining surface with an old-fashioned quilt or scarf for Simhat Torah. She also provides a guide to "The Well-Dressed Table," a photographic cheat-sheet on assembling a proper place setting, from the dessert spoon to the brandy snifter.
The pages of each Kosher by Design—as well as their boldly colorful covers—are a fantasy of gracious entertaining and helpful hints. For example, Entertains features a back-of-the-book resource guide, which includes a recipe-adjustment chart for Passover as well as tips on tracking down hard-to-find ingredients.
Fishbein's goal is simple: To convince kosher home cooks to edit their menus. "Some of the recipes are ambitious, but they are all doable," she promises.
This Passover, serve this inspired take on the traditional matza ball, sure to enliven a bowl of chicken soup at your Seder.
---
Stuffed Matza Balls
Yields 6-8 large matza balls
For the cooking liquid:
-5 cups water
-5 cups chicken soup
-1 tsp kosher salt
For the matza balls:
-3 large eggs separated plus 1 extra egg white
-1 tsp kosher salt
-1 TB baking powder
-1/4 tsp black pepper
-1 1/3 cup matza meal
-Thin carrot shavings
-Thin celery shavings
-Fresh parsley, roughly chopped
1. Place the 4 egg whites and 1 tsp salt in a bowl. Let them come to room temperature as you bring the water, chicken soup and salt to a boil in a large wide pot.
2. With mixer at medium speed, beat egg whites until fluffy peaks form. Add in yolks, baking powder and pepper. Beat on low. Sprinkle in the matza meal and continue beating. Let the batter sit for 3 minutes to firm up.
3. Wet your hands with cold water. Scoop up batter and roll between your hands to form golf ball-size ball. Rewet your hands between forming each ball. While rolling balls, stuff in some carrot and celery shavings and parsley, rolling the batter back over them.
4. Gently place the balls into the soup. Reduce heat to a simmer, cover and cook for 25 minutes. The balls will double in size; you can roll them smaller, but cook them for the same amount of time.