"Ess, Ess" Meets "Shalom Y'all"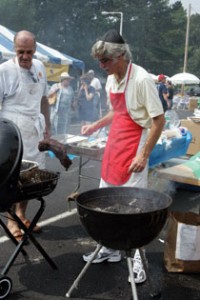 Few things say "summer" like barbecue. When served with a pitcher of ice-cold lemonade, a crisp salad and some fresh fruit or blueberry cobbler, you've got the makings of a great warm weather get-together.
But before you dust the cobwebs off that backyard grill, a little background: According to BBQ expert Steven Raichlen's comprehensive BBQ USA: 425 Fiery Recipes from All Across America
(Workman), Taino Indians from Puerto Rico created the first known barbacoa by alternating wooden sticks in a latticework pattern and roasting meats over an open fire. Today, barbecue generally refers to the process of cooking tougher cuts of meat for long periods of time over low, indirect heat, which softens taut connective tissue and tenderizes the final product.
The type of cooking most of us actually perform in our backyards is grilling—the use of high, more direct heat to cook items relatively quickly (think chicken pieces, hot dogs, hamburgers and steaks sizzling over hot coals). This form of cooking became popular in America after World War II with the invention of the Weber kettle in 1951, and today more than 80 percent of Americans own a grill of some sort.
The Jewish-barbecue continuum is slightly fuzzier. Of course, a beloved pastime in Israel is searing meats over the hibachi-like mangal, a fixture at picnics and Independence Day celebrations alike. Stateside, Jews aren't particularly identified with barbecue, with one notable geographical exception: the South. In her well-researched history of Southern cooking, Matzoh Ball Gumbo: Culinary Tales of the Jewish South
(University of North Carolina Press), author Marcie Cohen Ferris describes the "Southernized kashrut" of her Arkansas upbringing, where pork products were often avoided at home but enjoyed without guilt at barbecue joints and restaurants. "The art and folklore of Southern barbecuing," Ferris says, "is a place where we can learn much about regional and religious identity and about Jewish life in the South."
In Memphis, one of the most prominent 'cue capitals below the Mason-Dixon line, the most popular (and decidedly nonkosher) barbecue joint in town is Corky's, owned by the Pelts family, active philanthropic members of the Jewish community. A few years back, when Corky's built a new kitchen, they produced one giant batch of kosher barbecue as a fund-raiser, soliciting orders from around the world. Those ribs and brisket are still the stuff of legend. Folks in Memphis claim that aside from the incredible effort it would take to re-kasher Corky's, there are not enough kosher ribs available to meet the demand for another special order.
Luckily, more observant barbecue lovers now have an outlet for their passion: an annual kosher cooking contest (left) that draws around 30 teams with names like the "Alter-Cookers" and "Holy Cow Memphis Barbecue" to the parking lot of Anshei Sphard–Beth El Emeth Synagogue, where they compete in the categories of brisket, ribs and baked beans. Fifteen hundred people attend the cook-off each year, and local dignitaries, newscasters and chefs rub elbows with a wide cross-section of the Memphis community.
"It's a great day for Memphis barbecue whether you're Jewish or not," says Iris Harkavy, a regular finalist who was kind enough to share her secrets for fall-off-the-bone beef ribs. Like a lot of authentic ribs, these are first cooked in a savory-piquant liquid, then rubbed with spices and finally baked in the oven with a spicy-sweet sauce (if you like spicier ribs, add a tablespoon of Tabasco to the sauce). The process essentially meets the slow-cooking conditions that qualify it as authentic barbecue. They can be finished on the grill for a delicious, smoky accent.
---
Barbecued Beef Ribs
Recipe courtesy of Iris Harkavy
The barbecue sauce can be made up to a week in advance and kept, tightly covered, in the refrigerator. The first step—boiling the ribs—can be done up to a day in advance. Serves 6
4 pounds beef ribs (flanken), in 4- or 5-rib sections
Barbecue Sauce
-1/2 cup red wine vinegar
-1 cup brown sugar
-1 cup ketchup
-2 TB cooking sherry
-2 tsp garlic salt
-2 tsp Worcestershire sauce
Boiling Liquid
-8 cups beef stock
-1 cup tomato paste
-1 cup red wine vinegar
-1/4 cup honey
-1/4 cup Tabasco
Spice Rub
– 2 TB ground cumin
– 2 TB chili powder
1. To make barbecue sauce, combine 1/2 cup red wine vinegar, brown sugar, ketchup, sherry, garlic salt and Worcestershire. Bring to a boil, reduce heat and simmer 5 minutes. Remove from heat, cool, cover and store in refrigerator until use.
2. Bring beef stock to a boil. Add tomato paste, 1 cup red wine vinegar, honey and Tabasco and return to a boil. Lower ribs into liquid, cover and simmer for 1 hour. Remove ribs from liquid and cool to room temperature. Combine cumin and chili powder and rub on both sides of ribs. Chill in refrigerator at least 4 hours or up to 24 hours. Cut ribs into 1- or 2-rib sections.
3. Place ribs in one layer in a roasting pan and brush liberally with barbecue sauce. Cover with aluminum foil and bake at 350° for at least an hour. Finish over indirect heat on the grill, about 10 minutes per side. Serve with additional sauce, if desired.