Season to Taste: Fear of Frying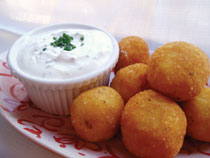 Who says fried food is bad for you? Truth be told, pretty much everyone. Even diets preaching everything in moderation do not leave much room for French fries, jelly doughnuts or tempura.
A few years back, the left-leaning Center for Science in the Public Interest further stirred the pot, urging the Food and Drug Administration to limit suggested intake of fried foods based on Swedish research alerting consumers to the presence of acrylamide, a carcinogenic compound in certain starchy fried foods. Steven Milloy, editor of the equally skewed, right-leaning Junksci ence.com, fired back, claiming that the average consumer would have to eat about 62 pounds of potato chips every day to be vulnerable to the affects of acrylamide.
Conventional wisdom would dictate that the truth lies somewhere in the middle. But with Hanukka falling this month, most of us won't be relinquishing the pleasures of frying anytime soon. While the Jewish diet could use caloric streamlining, submerging food in hot oil is not something we do with regularity. There's nothing like a perfectly fried morsel, and besides, it's part of the tradition of the Festival of Lights. Since I'm all for religious customs with delicious implications, here's my recommendation: Fry now, then hit the gym when the menora gets packed away.
Still, there are certain steps you can take toward healthier frying. For starters, use trans fat-free oil, says Ellie Krieger, a registered dietician and host of the Food Network show Healthy Appetite. (Trans fat has been shown to raise cholesterol levels, thereby increasing the risk of coronary artery disease.) That rules out shortenings such as the original Crisco (there is now a trans fat-free version) and any other partially hydrogenated oils, meaning liquid oils rendered solid through a chemical process.
Frying in smaller batches helps better regulate oil temperature, and draining on paper towels immediately after frying siphons away a bit of extra grease. (For other tips, see opposite page.)
When considering potato latkes this year, I wanted to create a recipe that would take full advantage of the art of frying. These Potato-Parmesan Puffs start with mashed, as opposed to grated, potatoes. When submerged in oil, the forgiving, almost gnocchi-like dough develops a marvelously crisp exterior that is further helped by the addition of grated Parmesan cheese. If you prefer a more traditional pancake, form patties instead of balls and fry an additional 1-2 minutes using 2 cups of oil.
---
Mini Potato-Parmesan Puffs
Makes 20 puffs

This recipe makes great use of plain mashed potatoes. If you can find it, use Parmigiano-Reggiano cheese; you will taste the difference. Puffs may be kept warm for up to 1 hour in a 200° oven.

– 4 medium Idaho potatoes (about 1 1/2 lbs), peeled
– 1 cup (about 1 1/2 oz) grated Parmesan cheese
– 2 eggs, beaten
– 1 tsp salt
– 1/4 tsp fresh ground black pepper
– 4 cups canola oil for frying

1. Scrub potatoes and place in a 4-quart stockpot. Cover with cold water and bring to a boil. Boil until potatoes are easily pierced with a fork, about 20-25 minutes. Drain and let cool.
2. When potatoes are cool, place in large bowl. Mash until smooth, making about 3 cups total. Add eggs, salt, pepper and Parmesan and mix to incorporate. 
3. Heat oil in a cast-iron skillet or frying pan over medium-high heat until hot but not smoking, about 360-375°. Using about 2 TBs at a time, roll potato mixture into round balls. Working in batches, drop balls into oil and fry approximately 2-3 minutes, until golden brown and crispy.
4. Remove with a slotted spoon and drain on paper towels. Serve with Lemon-Chive Crème Fraiche (recipe below).

Lemon-Chive Crème Fraîche
– 1 cup crème fraîche (or sour cream)
– 1 TB minced chives plus more for garnish
– grated zest of 1 lemon (use a fine grater, like a Microplane)

Mix all ingredients in a small bowl until well incorporated, then snip chives on top as garnish.
---
Hanukka Gelt Cookies
Makes 24-30 cookies

A whimsical take on the classic Hershey Kiss cookie, these eye-pleasing sugar cookies are adorned with decorative chocolate coins and crystallized Turbinado sugar.

– 2 2/3 cups all-purpose flour
– 3/4 tsp salt
– 1 1/2 sticks plus 1 TB unsalted butter, softened
– 3/4 cup sugar
– 1 large egg
– 1 tsp vanilla
– 2 TB Turbinado sugar (like Sugar in the Raw)
– 24-30 pieces foil-wrapped milk or dark chocolate coins, plus more for decoration

1. In an electric stand mixer, beat together butter and sugar until pale, about 2 minutes. Add egg and vanilla. Lower speed and add flour and salt, mixing until just combined.
2. Form dough into a ball and flatten into a disk. Wrap in plastic wrap and chill at least 1 hour, or up to 24 hours.
3. Preheat oven to 350°. Cut dough in 2 pieces, rewrap 1 piece and return to refrigerator. Roll out dough on a well-floured surface with a well-floured rolling pin into a 9-inch circle. Cut out as many cookies as possible with a 3-inch round cookie cutter and transfer to ungreased large baking sheets. Sprinkle the Turbinado sugar over the cookies.
4. Bake cookies, 1 sheet at a time, until edges are lightly brown, about 10-12 minutes. Remove from oven and immediately press an unwrapped chocolate coin, stamped-side up, into the surface of the cookie, applying slight pressure to affix coin. Repeat with remaining cookies. Transfer to racks to cool completely.
5. Gather scraps and chill until dough is firm enough to reroll. Make more cookies with remaining dough and scraps and bake.
---
Miracle of Delights: Tips for Frying
To keep stovetop clean, use a splatter screen while frying and disposable burner covers to protect surfaces from oil.
A Chinese "spider," or wire spoon, available at ethnic markets and kitchen supply stores, makes a wonderful replacement for a slotted spoon.
To regulate oil temperature, use a candy/frying thermometer.
Keep frying oil at a consistent temperature. Overcrowding items in the frying pan will lower the oil temperature, causing items to absorb more oil.
Frying oil can be used twice. Once totally cooled, strain oil through a fine-mesh sieve or triple layer of cheesecloth and keep in refrigerator. Don't use more than three or four times—the oil will break down.
While frying, remove any burnt bits from the pan to prevent smoking and bitter-flavored oil.