Season to Taste: Decoding Family Recipes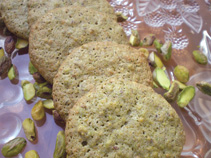 Maybe it's a unique form of separation anxiety, but getting relatives to part with beloved family recipes can be a challenge.
"If they share anything at all, they leave something out on purpose," jokes Jennifer Felicia Abadi, a New York-based cooking instructor and chef who also consults with individuals on how to preserve their family recipes (her Web site is www.fistfuloflentils.com).
Abadi's experiences with her late Syrian Jewish grandmother, Fritzie, inspired her to help others interested in decoding the mysteries of the family kitchen.
Abadi grew up eating Fritzie's Syrian delicacies, both after school and at elaborate dinner parties complete with seating charts and written records of menus (to avoid serving guests the same thing twice).
There were also sambusak-making sessions with Fritzie and Abadi's great-grandmother, where all available relatives (female, of course) were enlisted to crimp the tiny, meat-filled delicacies by the hundreds.
Still, the method for making the dough and filling remained under wraps, and eventually Fritzie's family sought ways to preserve her recipes. That's when Abadi's mother, Annette, unearthed a tattered three-ring binder of old recipes and handed it to her daughter. It was the beginning of a dozen-year journey to unlock the secrets of Fritzie's kitchen, with countless days spent listening, watching and taking notes on cooking times, temperatures, techniques and, perhaps most importantly, those elusive extra shakes of salt, pepper and spice that even the best cooks tend to forget in translation.
Abadi's work culminated in A Fistful of Lentils (Harvard Common Press), a Syrian Jewish cookbook filled with easy-to-follow recipes and savory stories that form a priceless chronicle of her extended family's heritage.
As soon as the book came out, people began to approach her at book signings and cooking demonstrations. "I wish I could do what you did," they would tell her enviously, "but no one is around to show me how."
Realizing there was an untapped market for a "family recipe sleuth," Abadi now helps people unlock the secrets to recipes.
One time Abadi was approached by a family interested in preserving recipes passed down from their Hungarian najdmama (grandmother). By researching and reformulating everything from cherry pastries to chicken paprikash, Abadi helped them fulfill their dream of tasting these dishes.
"It's never too late to preserve what you have," Abadi adds. "Think of it as a starting point for what you're going to pass on to your children and grandchildren." These Passover recipes, from Abadi's cookbook, are an example of just how delicious family history can be.
---
Ka'ik ib'Fis'dok
(Flourless Pistachio Cookies)
Makes 24 large or 36 medium-size cookies.

– 1 1/2 cups shelled, raw pistachios
– 2 large egg whites
– 1-2 tsps orange flower water, to taste
(optional)
– 3/4 cup granulated sugar
Confectioners' sugar (optional)
Pulse pistachios in a food processor until finely ground, but not pasty, 30-45 seconds. Reserve.
Beat the egg whites on high speed using an electric mixer until stiff peaks form. (If using orange flower water, fold it into the beaten egg whites.)
Gently pour the sugar over the stiff egg whites and fold in with a wooden spoon. Fold in the ground pistachios until fully mixed into the egg-white mixture.
One TB at a time, spoon the pistachio "dough" on baking sheets lined with parchment, leaving 1 inch between each cookie.
Bake at 350° until lightly golden around the edges, about 15 minutes. Allow to cool for half an hour before removing from the sheet. (Cookies may be stored in an airtight container between layers of parchment paper and kept frozen for up to 3 weeks.)
To make kosher-for-Passover confectioners' sugar, process 1/3 cup plus 2 TB potato starch and 2/3 cup superfine sugar in a food processor for about 2 minutes.
Dust cookies with confectioners' sugar and serve with mint tea.
Haroset
Serves 10 (3 cups).

– 12 large Medjool (or 20 regular-size) dates, pitted and coarsely chopped
– 10 dried figs (preferably Calimyrna), coarsely chopped, stems discarded
– 10 dried Turkish apricots, coarsely chopped
– 10 pitted prunes, coarsely chopped
– 1 1/2 cups cold water, plus more if necessary
– 1/4 cup sweet Passover wine, such as Manischewitz
– 1/4 tsp ground cinnamon
– 1/2 cup coarsely crushed walnuts
Combine the fruit and water in a large saucepan and bring to a boil over medium-high heat. Reduce heat to medium-low and simmer, covered, for about 30 minutes. Stir every 10 minutes or so, making sure fruit is not burning or sticking to the bottom of the pan. (If the fruit mixture starts to boil up again, lower the heat slightly; if it is too dry, add water.)
Once the fruit becomes soft, remove from heat and mix in wine, cinnamon and walnuts.
Serve haroset at room temperature in small dessert bowls at either end of the Seder table.