Season to Taste: Dinner Table Books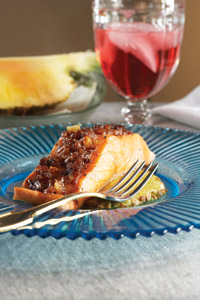 For the most part, the defining kosher cookbooks of previous generations were concerned with helping housewives prepare traditional food for Sabbath and holidays. a However, recent years have seen a proliferation of titles that place Jewish food in a greater cultural and historical context. Of the latest crop of books reviewed here, some wish to broaden our concept of kosher cooking while others aim to simply help us get food on the table. No matter which direction you choose, one result is guaranteed: great meals in good taste.
In a taste of challah (feldheim), Tamar Ansh explains the significance of bread baking in the Jewish tradition and offers insightful tips. For instance, before braiding halla, she suggests flattening each piece of dough into a large circle, then rolling them into individual logs for professional- looking results. The collection also features recipes for centerpieces such as baskets and wine bottle holders made out of halla, quick breads and unusual offerings including Kubaneh and pretzels. Recipes to try: Baked Pitas, Whole Wheat Challah.
Michael Van Straten is one of Britain's best-known experts on alternative medicine and a passionate advocate for Jewish food. For Healthy Jewish Cooking (Frog, Ltd.), he has developed a series of dishes using staples such as nuts, olive oil, vegetables, fish and whole grains that he deems wholesome. Divided by courses, the book places certain ingredients in context in Jewish history while calling out their health benefits. To wit: Did you know that after their expulsion from Spain, Sefardic Jews brought tomatoes to North America and the Middle East, or that Jews were the earliest cultivators of citrus fruits? Recipes to try: Carrot Cake with Coconut, Olive and Orange Salad.
Mama Nazima's Jewish Cuisine (Hippocrene Books) by Rivka Goldman is as notable for its stories of growing up Jewish in Iraq as it is for its recipes. Goldman, born and raised in Basra, shares tales of life by the Tigris and the dishes prepared by her mother and grandmother, including several with feta cheese, which was the most common cheese eaten by Jews in Iraq. Make sure to prepare at least some of her pickle recipes, which make great condiments.Recipes to try: Pickled Lemon, Green Leaves Stuffed with Meat.
Nechama Cohen's Enlitened Kosher Cooking (Feldheim) was born out of a diabetes diagnosis for the author. As impressive as the 250 recipes are, the introductory chapters addressing the role sugar, carbohydrate, soy, whole grain, fat and exercise play in a healthy lifestyle are equally useful. Though tips such as replacing egg yolks with more whites and using chicken stock for flavor may not be revolutionary, the book will appeal to anyone struggling with diabetes—or merely trying to eat better. Recipes to try: Chicken Breasts with Pesto Stuffing in Wine Sauce, Sweet-and-Sour Beef with Cashews.
Laura Frankel's Jewish Cooking for All Seasons (Wiley) left me eager to get into the kitchen. Frankel is the chef of Chicago's upscale, kosher Shallots restaurant, and her dishes reflect a professional's understanding of harmonious flavors and presentation. If you're planning a dinner party and have time to invest, this is your book. The recipes aren't fussy, but they're not quick and easy, either. Her "Basic Recipes" section contains mainstays from homemade chicken stock to Champagne Sabayon, a fluffy, alcoholic relative of zabaglione that will forever remove nondairy whipped topping from the kosher cook's repertoire.Recipes to try: Quartet of Gazpachos, Shredded Lamb Salad with Mint and Fig-Balsamic Reduction.
Kosher by Design: Short on Time (Mesorah Publications) is the latest effort from Susie Fishbein, the kosher world's answer to Martha Stewart. Fishbein's previous best sellers focused on entertaining and more complicated dishes for Shabbat and holidays;Short on Time includes easy-to-execute recipes that use pantry staples and a minimum of pots and pans. While many of the appetizers start with puff pastry, egg roll wrappers or other starches, the soups, main courses and salads balance packaged, storebought foods with fresh ingredients. Recipes to try: Lacquered Salmon (pictured on previous page; recipe below), Giant Zebra Fudge Cookies.
Lacquered Salmon
From Kosher by Design: Short on Time by Susie Fishbein
1/2 cup soy sauce
1/2 cup sugar
1/2 tsp ground ginger
2 cloves fresh garlic, minced
2 tsp whiskey
Olive oil
6 6-oz salmon fillets
Sea salt
Freshly ground black pepper
1 small can crushed pineapple
1. Preheat oven to 375°. Place soy sauce and sugar into a medium pot. Bring to a boil. Add the ginger, garlic and whiskey. Reduce heat to low and simmer for 5 minutes. Put half the sauce in a container to drizzle over the fish after it is cooked. The sauce can be made in advance and reheated.
2. Brush a broiling pan with olive oil. Season salmon fillets with salt and pepper. Place them on prepared pan. Sprinkle 1 TB of pineapple over each fillet. Drizzle 1 TB of soysauce mixture over each fillet.
3. Bake, uncovered, 20-25 minutes, until salmon is pink and slightly firm to the touch. Drizzle with reserved sauce before serving.
Note: If you like your salmon more rare, cook for only 15-20 minutes.