A Whole Menu of Thanksgiving Leftovers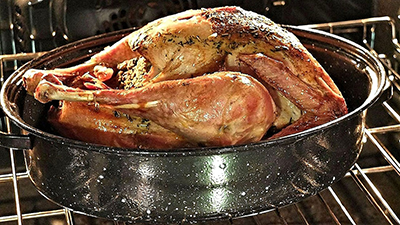 Some people love leftovers, some people hate them. But in a Jewish household, one is better off taking a shine to Tupperware-encased dinner remnants since a proclivity for large portions and cooking for a crowd—even when there isn't one—is practically part of our cultural DNA.
There is even a Jewish prohibition against squandering food called ba'al tashhit (do not waste), a phrase that has its roots in a biblical passage outlawing fruit-bearing trees from being chopped down in wartime. It may explain the guilt we feel in throwing away perfectly good eats, and why we try so hard to repurpose what we have had into inventive new concoctions.
Personally, I love opening the refrigerator, pulling out those foil-wrapped souvenirs of meals gone by and creating a new dish. I'm sure it has more than a little to do with my upbringing.
"Nothing should go to waste," my grandmother would say when we dined out, tucking some piece of food into a napkin to use back home. My mother, a legendary magician with everything-but-the-kitchen-sink soups, would often demur when asked for recipes. Though some assumed she was protecting family secrets, she may have also been protecting guests from the ingredients list.
The upcoming Thanksgiving holiday presents some opportunities for the creative cook. As the American holiday most closely linked to edible bounty, a sideboard groaning with a surplus of food is tradition. It's nearly inevitable, then, that a byproduct of this excess would be a fridge full of leftovers. The largest challenge lies with the turkey.
While some people have done away with the excess by simply roasting a turkey breast, there's something about bringing out a whole, crisp-skinned, burnished bird to the table that completes the holiday tableau—and justifies the pounds of meat typically left on the serving platter. Though the expected uses abound—turkey sandwich, anyone?—the meat can actually become part of several tasty meals.
Since the turkey is already cooked, the key is to consider recipes that either require little time over heat or the meat to be added toward the end to prevent it from toughening. The ideas listed here are just a sampling of the cornucopia of uses of Thanksgiving leftovers.
Mix up an Asian turkey salad with strips of dark meat, julienned snow peas, diced red peppers, rice wine vinegar, sesame oil, soy sauce and crispy fried wonton noodles.
Chopped white-meat turkey can be heated through with white beans, sage, garlic and chicken stock, then tossed with the pasta of your choice.
Line a whole-wheat wrap with turkey, cranberry sauce, wild rice and mashed sweet potatoes for a new composition of Thanksgiving dinner.
Make a turkey curry salad with chopped celery and apple, walnuts, raisins, mayonnaise and curry powder.
Use a panini press or nonstick grill pan to make a delicious toasted sandwich of turkey slices, sautéed onions and wilted greens.
Mix shredded turkey with lightly steamed, shredded cabbage. Mound on moo shu pancakes, drizzle with hoisin sauce, garnish with chopped scallions and fold.
For fajitas, sauté red and green peppers, onions and zucchini in a cast-iron skillet with canola oil. Add cooked turkey, warm through and spoon onto warmed tortillas. Top with salsa, guacamole and hot sauce.
Toss hot-cooked pasta with olive oil, sun-dried tomatoes, roasted garlic cloves, frozen baby peas and turkey meat. Season with salt and pepper.
Combine leftover stuffing with turkey meat and press into a greased glass baking dish. Bake at 350 degrees for 20 minutes. Cut into squares.
Sauté thinly sliced shiitake mushrooms until they release most of their water. Add finely chopped turkey, teriyaki sauce and red pepper flakes and warm through. Spoon into iceberg lettuce leaves and sprinkle with toasted sesame seeds to create lettuce cups.
Or you could try making this Turkey Noodle Soup, which uses up your drippings, too. The skimmed, defatted drippings are a flavorful reduction of the turkey's juices plus any seasonings used during roasting and will form the basis of a rich broth. To my taste, turkey is slightly sweeter than chicken, which you'll notice in this recipe.
Turkey Noodle Soup
2 tsps canola oil
1 cooked turkey wing, skin-on
4 scallions, thinly sliced, greens reserved
4 celery stalks, trimmed and diced
3 large carrots, peeled and diced
3 cups low-sodium chicken stock
4 cups water
1 cup skimmed, defatted turkey drippings
3 sprigs parsley
Salt and pepper to taste
3 cups cooked turkey meat (light or dark)
2 cups cooked egg noodles
Heat oil in a 6- or 8-quart soup pot. Add turkey wing and cook until it begins to sizzle. Add scallion whites, carrots and celery and cook until slightly softened, about 5 minutes.
Add water and chicken stock; bring to a boil, skimming until liquid is clear. Add turkey drippings and parsley, lower temperature and simmer for 10 minutes. Add turkey meat and cook an additional 5 minutes.
Remove from heat, season with salt and pepper and add scallion greens. Divide egg noodles among 8 bowls, then ladle soup into bowls and serve hot.