Profile: Faye Kellerman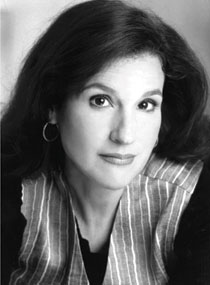 It's no mystery why this Jewish novelist perennially tops the best-seller list: Her crimes pulse with suspense, her characters thrill with passion—and Judaism.
It takes a minute to convince Faye Kellerman to let me treat her to coffee. "Are you sure I can't get this?" she asks as we sit down at a Coffee Bean & Tea Leaf café in Beverly Hills, California.
Maybe it's the firm handshake, the direct eye contact or the gracious offer of a hot beverage, but there's something about Kellerman that is instantly disarming. With her long, straight brown hair, stylish sleeveless top and elegant yet understated diamond jewelry, she could be one of countless Beverly Hills women whose primary avocation is to make looking good look easy.
But as the author of the popular Peter Decker/Rina Lazarus mystery novels, whose works have sold over 10 million copies and have been translated into 10 languages, Kellerman is an accomplished writer with a dedicated following and an impressive number of appearances on The New York Times best-seller list. She is also the wife of fellow mystery writer Jonathan Kellerman, a mother and new grandmother.
For a woman whose self-imposed publishing schedule dictates about a book a year, Kellerman projects an air of preternatural calm.
"The truth is, I'm more disciplined than ever," she says. "At this point in my career, it's a business. And you can't let the details get to you. You have to empty out your head, close the door, and that is that."
A typical day for Kellerman starts with a cup of coffee, the newspaper and maybe a half-hour jog, but then it's time to work, secluding herself in her home office, finishing up in time for a late lunch around 1 P.M. "Any writer knows you can't do it in 10-minute increments," she says.
Her 13th Decker/Lazarus novel, The Mercedes Coffin (William Morrow), will be released in August. The plot centers on the unsolved murder of a beloved teacher and the millionaire former student eager to contribute money to solve the crime. Like all the works in the series, this one takes place in Los Angeles.
"The city is a character in these books, just like Peter and Rina," explains Kellerman.
It was in The Ritual Bath (Perennial), published in 1986, that readers first met Peter Decker, a divorced Los Angeles detective whose latent Judaism is revived when he meets the beautiful, widowed and religiously observant Rina Lazarus in the course of investigating a crime. A romantic interest develops, and subsequent books see them marrying and beginning a family. Their relationship—as well as the rich tapestry of Orthodox Judaism—is at the heart of the series.
"They are a nice contrast between kodesh ve-hol [the holy and the quotidian]," Kellerman says. "Rina represents the sacred and Peter deals with the profane every day." The skeptical Decker and the believing, sharp-witted Lazarus each reflect a different part of Kellerman's own personality.
"Neither of them are entirely me, but they each contain large parts of my personality, as do all of my characters," she notes. The plot of The Ritual Bath revolves around a rape at a mikve; several suspects are members of the yeshiva campus that housed the crime scene. "I don't write to dig up dirty laundry or to expose the people who corrupt religion for their own purposes," says Kellerman, who is modern Orthodox. "On the other hand, I don't feel the need to idealize religion," she continues, citing one book, Day of Atonement (HarperTorch), in which every character—hero and villain alike—was Jewish. "That one was fun to write."
Agraduate of dental school, her forensics training and medical background help imbue her crime scenes with rich detail. And while there may be a top psychologist in the house—Jonathan began his career as a child psychologist and is still on staff at the University of Southern California in Los Angeles—she does her best to do her own legwork. "I may ask Jonathan the occasional psychology question, but other than that I work totally independently," she says.
They used to read one another's books chapter by chapter, but now each reviews the other's work only once they are finished. "I think it's more productive to read a whole manuscript, and it makes the criticism more constructive," Kellerman says.
Last year, she and Jonathan each appeared on episodes of the Court TV series Murder by the Book, which takes an in-depth look at real-life homicide investigations. She recently finished work on her second episode, on the Yom Kippur Murder. It is the tale of two brothers who hired contract killers to murder their parents, Gerald and Vera Woodward. "The family dynamics and dysfunctionality are what particularly interested me," says Kellerman. "Plus, I raised three of my kids just blocks from where the Woodward boys grew up."
In total, she and her husband have four children. Jesse, the eldest at 29, is married, lives in San Diego and is himself an accomplished novelist and playwright with several works in print (his most recent book is Trouble, published by Jove). Rachel, 26—who lives with her husband and baby in Los Angeles—is completing her Ph.D. in clinical psychology. Ilana, 22, works as a research assistant in a child psychology lab at Barnard College in New York. Aliza, 15, is a yeshiva high school student with a penchant for writing poetry.
Sometimes, Kellerman's family life imitates her art. "Rina got pregnant just before I conceived my last daughter," she notes. "I thought, 'Alright—if she is going to have a baby, I am going to have one, too.'" In many ways, Rina's daughter Hannah's maturation mirrored that of Aliza's. "A lot of what I get from Hannah comes from watching my Aliza and her friends."
So how do her kids feel about seeing themselves in their mother's work?
"Being from a family of writers, it goes with the territory," says Jesse. "But I think we get off relatively easy."
In her limited free time, Kellerman likes to read—especially biographies— cook and baby-sit her granddaughter. "As long as I have finished my own work, I am happy to pitch in," she says. "Being a grandmother is the best."
Kellerman surprised many by venturing beyond the comfort zone of the Decker/Lazarus novels in writing two works of historical fiction. The Quality of Mercy (Avon) takes place in 16th-century England. Straight Into Darkness (Vision) is set in Munich between the two world wars; a press tour to Germany in 2001 piqued her curiosity about the country.
Though these two books—as well as a short-story collection, two stand-alone novels and two works coauthored with Jonathan—were pleasant departures, Kellerman knows that the bulk of her fans are loyal to the adventures of Decker and Lazarus.
"Faye writes fast-paced, interesting plots, always with a surprising hook," says Carrie Ferron, her editor at William Morrow. "She is creative, incredibly direct and such a straight shooter—she knows exactly what she wants, and what her audience wants."
Writing about an observant woman may have come naturally for Kellerman, but having an Orthodox Jewish protagonist is certainly not a norm in the mystery genre. "I came out wanting to write about my culture with the specific idea that [if] I am interested in other cultures, maybe someone would be interested in mine," she says.
Readers have certainly responded. "Her books are popular, and the fact that her protagonist is an Orthodox Jew distinguishes her from the pack," notes Ed Kaufman, owner of the M is for Mystery…and More bookstore, in San Mateo, California. "And a large number of the people who buy her books aren't even Jewish."
Not all of Kellerman's novels are equally balanced between her two protagonists. "My fans sometimes complain that there isn't enough Rina in a book," says Kellerman. "But she is not solving the mysteries, and I have to put her in where she fits naturally. Ultimately, [readers] are after a good story."
Kellerman's own story began in St. Louis, the youngest of three children. When she was a child, her family moved to Southern California, where her father ran a variety of retail and wholesale food businesses over the years. "I can remember standing behind the counter helping out selling pastries as a teenager," she recalls. Her father passed away when she was 22.
Raised in what she labels a Conservadox home, Kellerman and her family kept kosher but were considerably less observant than Jonathan's. She took on a higher level of observance when they married. The couple walks to a local Orthodox synagogue in Beverly Hills and keeps a kosher, Sabbath-observant home.
Kellerman met her husband at a University of California, Los Angeles, Jewish mixer; she was an 18-year-old math major, he was a 21-year-old psychology student.
"She was so beautiful, and all the other guys were so timid," says Jonathan. "We struck up a conversation, and that was that." They married in the summer of 1972, when Faye was just shy of her 20th birthday.
As a young couple, it was Jonathan, already pursuing his literary dreams in the spare time his career as a child psychologist allowed, who sparked his wife's interest in writing. She chose mysteries largely because they "appealed to my mathematical mind—beginning, middle and end," Kellerman says. But she hasn't always been interested in the genre. "I didn't read Nancy Drew [as a child]," she says. Instead, she favored The Little House on the Prairie series.
Yet Kellerman's mathematical mind does give way to the spiritual. "I love being Jewish," she says. "I love the rituals, the passage of time that is marked, the continuity."
Her spirituality also informs her commitment to Israel. The Kellermans donate generously to causes including the Israeli Philharmonic. "I felt an instant connection to Israel the first time I went there [in 1972]," she says. "It's a big part of my Judaism."
The financial success she and Jonathan enjoy enabled them to support Jesse in his literary pursuits immediately after he graduated from Harvard University.
"My kids are all very levelheaded, and Jesse would have done the responsible thing and gone to law school eventually if his writing had not taken off," Kellerman says. "Luckily, he didn't have to wait that long. Having a son who is happy with a successful writing career gives me great satisfaction. What more would you want for your kid?"
It is that low-key, easy touch that seems to guide her through life.
"To me, my mother is the embodiment of the famous saying from Ethics of the Fathers, 'Say a little, do a lot,'" Jesse says. "You would never know half of the things she has accomplished." And, he adds, "of my two parents, I have probably learned more from my mother…. [She] pushed me to improve and forced me to look at things in my writing that needed to change."
"I feel blessed to be doing what I love," says Kellerman. "At this point, there isn't really anything I would change."