Season to Taste: Kosher Oasis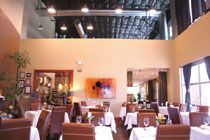 Driving along a nondescript industrial strip in Oxnard, California, about an hour and a half northwest of Los Angeles, the prospect of fine dining seems about as slim as a mirage in the desert.
And yet here at Tierra Sur Restaurant, behind an unimpressive building exterior and a stone's throw from an outlet mall, chef Todd Aarons is turning out some of the best upscale kosher food in the United States. At Tierra Sur (above), he transforms every season's bounty into an ever-changing rotation of surprisingly delicious kosher food.
"Someone walked into the business across the street and said they were looking for the kosher place," says the soft-spoken, retiring Aarons with a smile. "The [business owner] told him he had to be mistaken."
What's no mistake is that Tierra Sur, which is housed at Herzog Wine Cellars (www.herzogwinecellars.com, click on "restaurant" for Tierra Sur), has become a destination dining spot. Aarons's sophisticated, wine-paired tasting menus reflect his classical culinary training—first at the California Culinary Academy, then at some of America's best restaurants, including Zuni Café in San Francisco and Sa­voy in New York. His love for Tuscan, Jewish, Mediterranean and Middle Eastern cuisines as well as the influences of the sizeable Latin American community in surrounding Ventura County informs his cooking.
Aarons's cerebral approach often leads to kitchen innovations. Unable to find kosher-certified sherry vinegar, for example, he fermented his own using Kedem sherry (Herzog is now thinking of producing the vinegar for sale). His lamb "bacon," cured and smoked in-house, is an ode to his love of charcuterie. And he uses toasted, flavored breadcrumbs to replace the Parmigiano-Reggiano cheese that some of his Italian-inspired dishes would normally require.
"I haven't found the kosher restrictions too difficult," Aarons says. "If you're creative, there's usually a way around it."
Growing up, Aarons was not always concerned with kashrut. A desire for more spirituality led him to Israel, where he studied at a yeshiva for a year. After meeting his wife, Nava, and consulting for an Italian restaurant chain in Israel, he returned to America in 2003 to open Mosaica, a kosher restaurant in New Jersey that received favorable notice in The New York Times. Herzog Executive Wine­maker Peter Stern brought clients to eat there and was so impressed with the food that he encouraged the winery's owners to move Aarons and his family (Nava and he now have four children) to California.
As a chef at a winery, Aarons has full access to the portfolio of Herzog vintages. "If an expensive reserve bottle is opened for a tasting and not finished, I get to use the rest," he says. "To be able to work in this kind of environment with this quality of wines really inspires me."
---
Sumac and Za'atar-Grilled Cornish Rock Game Hens with Fattoush Salad
Serves 4. Aarons pairs this dish with Herzog Reserve 2005 Zinfandel Gris.
4 (1 to 1 1/2 lb) Cornish rock game hens*, backbones removed (use kitchen shears or ask your butcher to remove backbone)
4 cloves minced garlic (about 2 TBs)
2 TBs dried sumac**
2 TBs za'atar
1 tsp allspice
1 tsp ground cloves
1/2 tsp kosher salt, divided
1/2 tsp black pepper, divided
3 pita rounds
1/4 cup extra-virgin olive oil, divided
2 cucumbers, peeled, seeded and diced (1 1/2 cups)
1 pint heirloom cherry tomatoes, quartered (1 1/2 cups)
6 scallions (greens and whites), split and thinly sliced (1/2 cup)
1/4 cup pitted kalamata olives, roughly chopped
1/4 cup chopped fresh parsley
2 TBs chopped fresh mint
1/2 cup purslane greens or water- cress
Juice of 1 lemon (1/4 cup)
1. Rinse hens with cold water and pat dry with paper towels. Using your fingers, tuck 1 1/2 tsp minced garlic under the skin of each bird. Com­bine spices and 1/4 tsp each salt and pepper; rub about 1 TB seasoning on outside of each bird.
2. Preheat a gas grill or grill pan over medium-high heat for 5 minutes. Brush each pita with 1 tsp olive oil and toast pitas until charred, 2-3 minutes per side. Remove, cool com­pletely and break into 1-inch pieces; reserve.
3. Place hens skin-side down onto hot grill and flatten as much as possible. Cook until skin is golden brown, about 10 minutes. Flip and cook for 8 more minutes, until leg juices run clear and meat is opaque. Remove from grill.
4. In a large bowl, make the fattoush salad by tossing together tomatoes, cucumbers, scallions, olives, parsley, mint, purslane, lemon juice, olive oil and toasted pita; add remaining salt and pepper.
5. Cut each hen in half and arrange on a large plate. Spoon salad over hens and drizzle with accumulated dressing from salad.
*If you cannot find kosher hens, use two small (2 1/2-3 lbs) cut-up chickens. Grill about 25 minutes total, turning often.
**Sumac can be ordered from www.kalustyans.com. Additional za'atar can also replace the sumac.