President's Column: Staying in Shape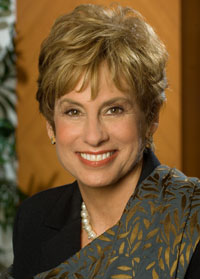 The world has changed dramatically since Hadassah was founded, but our mission is as timely today as it was in 1912.
Our founders decided that the most important thing they could do for the future State of Israel was to open a clinic, then a hospital. By 1948, we had built more than 130 medical installations. In a spiritual sense, our work kept us in shape.
We recognized that we needed not only buildings but also health education. The Henrietta Szold-Hadassah School of Nursing was the first of its kind in Israel, as was the Hebrew University-Hadassah School of Medicine. Today, Hadassah scientists conduct more than 50 percent of all medical research in Israel.
In America, much of our effort has likewise been devoted to health advocacy. We are leading advocates for stem cell research and we were at the forefront in the campaign to enact the Genetic Information Nondiscrimination Act, which prohibits employers and health insurers from discriminating based on genetic information.
We have worked in communities across America on a range of issues, from educating women on the need for regular mammograms to organ donation to the need for medical researchers to study women as well as men.
Though health is a 365-day-a-year concern for us, we make a special effort in October, which is National Breast Cancer Awareness Month. This year, Hadassah in particular has something to celebrate: Last February, physicians at Hadassah Hospital in Jerusalem announced the first-ever implantation of healthy embryos into a woman who carries the BRCA2 gene mutation for breast cancer. Screening the woman's normal embryos from the defective ones through genetic diagnosis, doctors were able to guarantee that she would not pass her faulty gene on to her children.
This month, Hadassah is a proud sponsor of Frosted Pink With a Twist, a television special designed to educate and empower women as health advocates. The program, featuring Olympic champions Shawn Johnson and Mary Lou Ret­ton, should inspire us to stay in shape. Resources on the program's Web site (www.frostedpink.org) include Strength in Knowing: The Facts and Fiction of Breast Cancer Risk, an educational initiative Hadassah launched in partnership with Eli Lilly, Nurse Practitioners in Women's Health and the Breast Cancer Network of Strength.Frosted Pink airs nationally October 12th on ABC.
Public hunger for health information has spurred medical progress, and health insurance is a key issue in the presidential campaign. In the past 25 years, the 5-year survival rate for breast cancer detected early has increased from 74 percent to 98 percent. Progress comes as much from education as from science. In the same 25 years, the number of women over 40 who get regular mammograms has increased from 30 percent to 75 percent.
Despite the good news, the challenge remains great. Many of us in Hadassah know women who have suffered from breast cancer, and there are other diseases on which progress has been much slower. Competition for a National Institutes of Health grant is greater than ever and, as federal funds grow more scarce, much of the gap in funding for research has been filled by philanthropy.
Like an Olympic athlete, Hadassah needs to stay in top form to keep advocating for health. I would like every member to renew her commitment to making sure that she, her daughters, sisters and neighbors perform breast self-exams, see their doctors regularly and live healthy lives. We need to fight for what we believe in, and part of the fight is staying aware of our bodies.
The concern for good health is deeply rooted in Jewish tradition. More than 200 biblical commandments relate in some way to diet or hygiene. When it comes to medical knowledge, we have always believed in large doses.
Our power to change the world begins with the power in each of us. Collectively, Hadassah remains committed to the advancement of medicine through research, treatment and an educated public. May the New Year bring us all happiness and, above all, good health.