President's Column: A Constant in Tough Times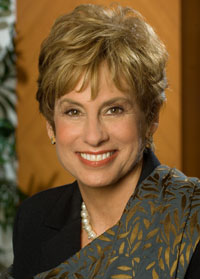 While the financial crisis has caused justifiable anxiety, many of us make the anxiety worse by focusing on short-term uncertainties, like what the stock market will do tomorrow.
But there are certainties that offer comfort, if we would only look at them. I am talking about our record—as Americans, as Jews and as Hadassah—in previous crises.
Many of us remember the mobilization of energy and resources that sustained Israel in 1967, in 1973 and during the wave of terror that began in 2000. More to the point of today's challenge, consider what Hadassah did in the 1930s. We more than rose to the occasion.
In the middle of the Great Depression we broke ground for our hospital on Mount Scopus and took on responsibility for Youth Aliyah, the program to rescue Jewish youth from Nazi-dominated Europe. We saved thousands of lives, provided Israel with productive future citizens and, in the process, strengthened our own resolve. By the end of the Depression, Hadassah was the most dynamic organization in the American Zionist movement.
To paraphrase the cliché, when the going gets tough, Hadassah gets going. We are known for our perseverance, but what really sustains our members during any crisis is a palpable sense of doing things together.
Today, Hadassah is a ship that's still sailing, no matter what storms come our way. Our physicians and scientists in Israel research miracle cures. Our educators help at-risk children in Youth Aliyah villages and centers. Our college trains students for the changing landscape of Israel's economy. And we strengthen Jewish continuity through our Young Judaea programs.
We play a huge role in Jewish destiny and we are not about to pause. As stakeholders in building a nation, we will continue to grow and protect our investments. And in the spirit of our grandmothers, our new medical facility—the Sarah Wets­man Davidson Tower—is under construction in Ein Kerem. Even as the Dow falls, Hadassah rises.
Getting through tough times is not easy, but we have no alternative. Our goals—the health, education and security of Israel, advancing health care in America and fostering Jewish identity—are not luxury items but necessities.
Later this month we will celebrate Hanukka, which re­minds us of the need to work together to overcome great obstacles and safeguard what is most precious to us. With the holiday comes a season of renewal—a new year as well as new administrations in Washington and Jeru­sa­lem.
Just three years from our centennial, Hadassah has a head start on renewal. We have begun to make key changes in our operations, streamlining spending, doing business more efficiently and building a stronger relationship with members and donors. But at Hadassah the most important force is you. I am asking each of you to do what you can now to strengthen our organization—our Hadassah family—that meant so much to those who came before us and is so essential to those who will follow us.
If you do not regularly attend Hadassah events, if you have never gone on a Hadassah mission to Israel, this is your time to experience the sense of shared purpose that has always been the foundation of our success. By participating, you will help shape the Hadassah of the future.
If you are able to donate, remember that by acting before the end of December you can give a two-way Hanukka gift, one that supports our essential work in America and our projects in Israel and also provides you with a tax deduction for 2008. And even if you are not in a position to make a monetary gift, there are other things you can do to fortify Ha­dassah, by giving more time or by bringing in new members.
My thanks to all of you who have sustained Hadassah through good times and bad. You know that in a world of turbulence, our organization is a constant of friendship and of purpose. Working together ensures that we will all be stronger when the storm passes.
To view Nancy Falchuk's monthly podcast, go towww.hadassah.org/podcast