Season to Taste: Why Is This Dessert Different?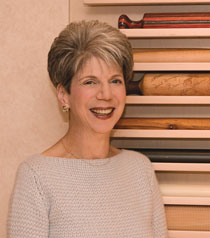 Passover is the holiday of questions, and Flo Braker has a fifth one to add to the Seder's typical four
"Every time this holiday approaches I begin to ask, 'What dessert can I make that's going to wow people?'" she says, thinking like the veteran baker, teacher and dessert cookbook author that she is. She is also expressing aloud the challenge many of us face when trying to transcend holiday clichés to prepare a sweet finish to a Passover meal.
For anyone who has ever been flummoxed by a heavy, leaden cake or dry crumbly cookie, take heart: Braker (right), who has studied in France, baked with Julia Child and has been writing the San Francisco Chronicle's baking column for nearly a quarter of a century, develops a few fantastic Passover desserts for each of her books. That includes her latest, Baking for All Occasions: A Treasury of Recipes for Everyday Celebrations (Chronicle Books), which she calls her most personal work to date.
"It's all the things I have been making my whole life, the types of desserts I love the most," she says. A couple of the recipes were created especially for Pesah, while others have notes for unleavened adaptations.
For Passover, there is "no need to reinvent the wheel," she says in her comforting Midwestern accent. Braker is drawn to desserts that innovate in their technique but whose ingredients please without a lot of exotic fanfare. "I like to use fruits people recognize without too much effort, like berries, apples and citrus."
Always included in her recipes is a focus on flavor and texture. And as much a fan of chocolate as the next person—she shares a recipe for Passover Chocolate Lover's Angel Food Cake in Baking for All Occasions—Braker's imagination has been known to pull her in other directions. "Sometimes, using chocolate just seems like the easy way out," she explains.
Although on one level her delicious holiday recipes are just another feather in a professional baker's cap, for Braker, the creations have become personal. As the grandmother of three, she now celebrates the Seders with a younger audience that she is particularly eager to please. There is also no better way to finish off a spirited retelling of the Passover story than with a sweet finale that reinforces the tale of the breadless Exodus from Egypt.
Following her inclination to use common fruits in her Passover baking, Braker has created this banana chiffon cake, a welcome departure from the typical meringues, macaroons and brownies. The cake gets its moisture from oil and ripe fruit and can be made a day in advance. Delicious plain, Braker also recommends topping it with vanilla-spiked whipped cream if you are serving a dairy meal.
Flourless Banana Chiffon Cake
Serves 12 to 14. If serving the cake within 24 hours, wrap in plastic wrap and store at room temperature. For longer storage, wrap with aluminum foil and freeze for up to 10 days. To thaw, remove foil and leave at room temperature for about 3 hours.
1 cup plus 2 TBs matza cake meal
1/4 cup plus 2 TBs potato starch
1 1/2 cups granulated sugar, divided
1/2 tsp salt
3/4 cup mashed ripe bananas (2
small or 1 large)
6 large eggs, separated
1 large egg
1/4 cup plus 2 TBs canola oil
2 tsps finely grated lemon zest
1 tsp pure vanilla extract
1. Center a rack in the oven and preheat to 325°F. Have ready an ungreased 10 x 4 1/4-inch tube pan, preferably with a removable bottom, and a long-necked bottle or large heat-resistant funnel for cooling the cake.
2. Sift together the cake meal, potato starch, 3/4 cup of the sugar and the salt into a large bowl. Make a well in the center and add the bananas, egg yolks, egg, oil, lemon zest and vanilla. Using a rubber spatula, incorporate the banana mixture with the dry ingredients, stirring until smooth, thick and well blended.
3. In the bowl of a stand mixer fitted with the whisk attachment, whip the egg whites on medium-low speed until soft peaks form, about 1 1/2 minutes. Increase the speed to medium and gradually add the remaining 3/4 cup sugar. Continue whipping until glossy-white, stiff-but-not-dry peaks form, about 2 minutes. Using a clean rubber spatula, fold 1 cup of the whipped whites into the cake batter to lighten it. Then fold in the remaining whites just until combined. Spoon the batter into the tube pan, spreading it evenly with the spatula.
4. Bake the cake until just golden, the top springs back when touched lightly and a round wooden toothpick inserted near the center comes out clean, 55 to 60 minutes. Remove the pan from the oven and immediately invert it over the long-necked bottle. Let cool completely, about 2 hours.
5. To remove the cake from a pan without a removable bottom, slip just the tip of a thin metal spatula or paring knife between the cake sides and the pan, slowly tracing the perimeter. Tilt the cake pan on its side and gently tap the bottom against a counter to loosen the cake. Rotate the pan, tapping it a few more times as you turn it, until the cake appears free from the sides of the pan. Place a wire rack on top of the cake, invert the pan and tap firmly on its bottom. Lift the pan from the cake.