President's Column: Thorns and Roses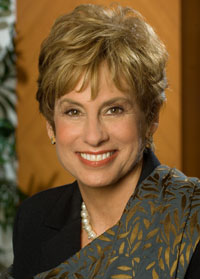 One of John Lennon's most memorable lines is that "life is what happens to you while you're busy making other plans." I doubt he had the High Holidays in mind, but his words came to me as I thought about beginning a new year.
This is the season in which we reflect on the past year and ask ourselves what we can do better. The deep recession that has cast its shadow over the world has prompted reflection, for Hadassah no less than for everyone else. We have worked hard on restructuring and raising money, and our efforts are ongoing. We ask ourselves every day not only how we can advance our mission but how we can do it more economically and wisely.
But surely one of the best guides to how we can improve is looking at the things we got right in the year gone by, learning from the accomplishments that give us pride and that have earned the respect of others.
So even as we work intensely on building a better organization, it's useful to look at what else has been happening at Hadassah in the months since the financial markets nose-dived last fall. While we have been rightly engaged in making new plans for the future, here are some real-life successes we owe ourselves to remember:
The Hadassah Medical Organization, in cooperation with the Hebrew University of Jerusalem and the Israel Defense Forces, established a military medical school. The new program will enhance Israel's ability to deal with large-scale trauma, including casualties of war, terror and attacks using weapons of mass destruction.
Largely in response to a Hadassah-led campaign, Is- rael's Ministry of Health approved the new professional status of "nurse expert," recognizing the increased expertise of nurses and opening new avenues for independent authority and clinical leadership roles.
Determined to keep politics out of medicine, Hadassah is taking a leading role in defending Dr. Yoram Blachar, the Israeli physician who serves as president of the World Medical Association. Dr. Blachar is under attack from a fringe group in the association over the alleged participation of Israeli doctors in torture.
Not only is the Sarah Wetsman Davidson Tower—our largest building project in 50 years—rising in Jerusalem, work has accelerated, with two 10-hours shifts per day.
Hadassah's hospitals are receiving a $1.5-million USAID grant this year, maintaining the increase we received in 2008. In an era of program cuts in Washington, the renewal of this grant was especially gratifying.
The Israel-America Chamber of Commerce, which gives annual awards to businesses promoting bilateral trade, this year included Hadassah. It was a rare recognition for a volunteer organization to receive a business honor.
June 2009 marked the centennial of Young Judaea and the 40th anniversary of the first graduating class from Hadassah College Jerusalem. And we are in full planning mode for the Hadassah centennial in 2012.
These are just a few examples of how Hadassah not only continues to work but flourishes, despite the moment's challenges. Every day, patients are treated in our hospitals, students are educated at our college and in our Youth Aliyah centers, young people are motivated in our Young Judaea programs, and our chapter members join together to advance our goals and to improve themselves.
Every day, our staff and our army of volunteers—270,000 members, 32,000 associates and supporters around the world—are doing the work of Hadassah, supporting projects that advance our core mission of strengthening Israel and the Jewish people. The ground may be shaky, but we are standing firm.
As we engage in the reflection that our tradition requires of us, as we resolve to do better, let us recall the best examples we have set for ourselves. While we are making better plans, let's recognize that life is happening.
A happy New Year to you all. H
To respond to Nancy Falchuk's column or view her monthly podcast, go towww.hadassah.org/podcast.