Arangloska: June Meyer's Authentic Hungarian Coffee Cake
"Come, children," Farkash called out, "let's see if the Arangloska is ready." And he pointed to a wonder pot on the stove and said to me by way of explanation: "Do you know how to make Arangloska? …"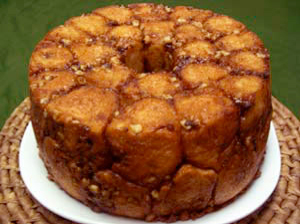 The following recipe for Arangloska was adapted with permission from June Meyer's recipe, where the original calls for dairy butter and cream. We have made a successful pareve version with non-dairy margarine and pareve cream.
10 inch tube pan
1 cup of sour cream (or pareve cream)
1/2 cup melted butter (or pareve margarine)
1/2 cup sugar
1 tsp. salt
2 cakes yeast = 3 tablespoons dry granulated yeast
3 eggs
4 1/2 cups of flour
Mixture to roll dough in
1/2 cup of soft butter (or pareve margarine) melted
1 cup chopped walnuts
1 cup sugar
1 tsp. cinnamon
1. Mix sour cream, sugar, salt and yeast. Stir until yeast dissolves.
2. Add eggs, softened butter (or margarine) and half the flour.
3. Mix well and add rest of flour.
4. Turn dough out on floured board and knead until smooth for about 10 to 15 minutes.
5. Place in greased bowl. Cover and let rise in warm place until double in bulk for about 1 1/2 to 2 hours. Punch dough down. Turn over and let rise again for 45 minutes.
6. After second rising, shape into walnut-sized balls.
7. Melt butter in small cup. Dip each ball in melted butter and roll in sugar and walnut and cinnamon mixture.
8. Place in layers in 10-inch greased tube pan. Sprinkle any remaining sugar-nut mixture or melted butter over the top layer of balls.
9. Cover pan with waxed paper and towel and let dough rise again 45 minutes. Bake 40 to 50 minutes at 375°F or until golden brown. Run spatula around sides of coffee cake and invert onto plate.
To serve, break coffee cake apart with two forks.
As Farkash said: "Peel it with pleasure, piece by piece, circle by circle, dip it into wine and eat. The taste of paradise. Ohh. For you, especially."