The Hadassah Jewish Holiday Cookbook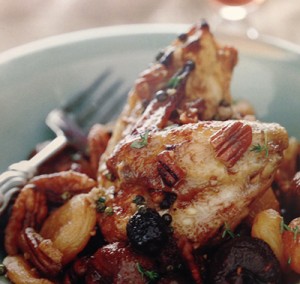 Looking for culinary inspiration this Passover, for Seder meals and every day? These recipes from our popular Hadassah Jewish Holiday Cookbook marry traditional Passover dishes and techniques with unexpected, exotic ingredients. Our Persian Haroset's rich nuttiness comes from a blend of walnuts, almonds, hazelnuts and pistachios. And the inclusion of olives, apricots and figs in Chicken Marrakesh gives the entree a delectable, tangy sweetness. A spicy carrot-apple kugel and mouth-watering beet side dish are two more of our favorite Passover selections from the book. Hungry yet?
Chicken Marrakesh
4 whole chickens (2-1/2 pounds each), each cut into eighths
12 large cloves garlic, finely minced
3 tablespoons dried thyme
1 tablespoon ground cumin
2 teaspoons ground ginger
1 teaspoon salt
1 cup red wine vinegar
1 cup best quality olive oil
8 teaspoons green peppercorns, soaked in water and drained
2 cups whole pitted black olives
3 cups dried apricots
2 cups dried small figs
1/2 cup packed brown sugar
1 cup good red wine
2 cups large pecan pieces
Grated zest of 4 lemons
1. The day before, combine the chicken, garlic, thyme, cumin, ginger, salt, wine vinegar, oil, peppercorns, olives, apricots, and figs in 2 large bowls, dividing the ingredients equally; marinate covered in the refrigerator overnight. Mix several times during the day. Remove the bowls from the refrigerator 1 hour before cooking.
2. Preheat oven to 350 degrees.
3. Arrange chicken in single layer in 2 large, heavy, shallow baking pans. Spoon marinade evenly over both pans. Sprinkle with the brown sugar and pecans and pour the wine evenly between the pieces in both pans.
4. Cover the pans with aluminum foil and bake 20 minutes. Remove foil and bake, basting frequently with the pan juices, 50 minutes.
5. Using a fork and slotted spoon, transfer the chicken, olives, dried fruit, and pecans to a large serving platter. Drizzle with a few large spoonfuls of the pan juices.
Serves about 8
Roselle–Cranford Hadassah, New Jersey
Persian Haroset
1 unpeeled pear, cored and finely chopped
1 unpeeled apple, cored and finely chopped
1 cup finely chopped walnuts
1 cut finely chopped almonds
1 cut finely chopped hazelnuts
1 cup finely chopped pistachio nuts
1 cup finely chopped pitted dates
1 cup chopped raisins
2 teaspoons ground cinnamon
2 teaspoons grated gingerroot
1 tablespoon apple cider vinegar
Sweet wine
1. Combine pear, apple, walnuts, almonds, hazelnuts, pistachio nuts, dates, and raisins in a large bowl, and blend well, being careful not to chop the mixture into a paste. Add cinnamon, gingerroot, cider vinegar, and enough wine to bind.
2. Place on a platter and shape into a pyramid. Cover and refrigerate.
Makes 5 cups
Raquel Segal,
Dix Hills Hadassah, New York
Shabbat Carrot-Apple Kugel
8 carrots, peeled and grated
3 apples, peeled, cored, and grated
1 cup dried cherries
1/2 cup pistachio nuts
1/4 cup grated orange zest
4 eggs, lightly beaten
1 cup matza cake meal
1/2 cup oil
1/4 cup fresh lemon juice
1 teaspoon ground cinnamon
1 teaspoon salt
1/2 teaspoon ground ginger
1/2 teaspoon ground allspice
1. Preheat oven to 425 degrees. Grease two 8 x 4 inch loaf pans.
2. Combine all ingredients and divide evenly between the pans. Cover tightly with foil and bake 20 minutes, then reduce heat to lowest and bake overnight, or at least 8 hours.
Serves 10 to 12
Ruth Sherman,
Boca Raton Hadassah, Florida
Sweet and Sour Beets
4 cups sliced, cooked, or canned beets, drained, 3/4 cup liquid reserved
3/4 cup raisins
1 tablespoon potato starch
1/4 cup sugar
3 tablespoons unsalted margarine
1/3 cup fresh lemon juice
Scallion, chopped, for garnish
1. Combine reserved beet liquid with raisins in saucepan. Bring to a boil, reduce heat, and simmer, covered, 5 minutes.
2. Blend potato starch with 2 tablespoons beet liquid and stir into raisin mixture. Add sugar and margarine. If serving cold, omit margarine. Cook over low heat, stirring constantly, until margarine is melted and sugar is dissolved. Add lemon juice and beets and simmer until heated through.
3. Scatter chopped scallion over top.
Serves 6 to 8
Wepawaug Hadassah, Orange, Connecticut