President's Column: A Great City Hiding in Plain Sight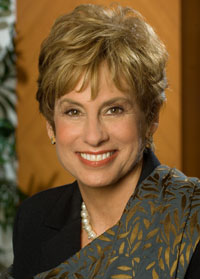 Jerusalem has been in the news lately, and as usual the image much of the media projects bears little resemblance to the city most of us see when we visit Israel. Granted, the details of the tempest over housing construction are newsworthy. But once again the news obscures about 99 percent of Jerusalem's reality.
Most news consumers in the United States have little idea that Israel's capital is a beautiful city, pulsing with commerce, restaurants, theater, music and art. In the real world, the diplomats and journalists who drive the news agenda are dwarfed by the number of Jerusalem's tourists.
Jerusalem is, in fact, more vibrant today than at any time in its history–larger and busier than in biblical times. As the home of three great religious traditions, it attracts attention when adherents of different faiths clash. But the cameras rarely capture the more typical days on which Jews, Muslims and Christians calmly coexist.
The city is also Hadassah's home, and largely because of us it speaks to issues that Americans care about today. Israel offers its citizens guaranteed health coverage and the care provided depends on a medical infrastructure that was established, to a great extent, by Hadassah. Prior to Israel's independence in 1948, we built a network of more than 130 hospitals and clinics, most of which were eventually turned over to state and municipal health authorities. Universal coverage for all citizens was a goal from the moment of the state's birth. The last gaps in the umbrella were closed by the national insurance system approved in 1995.
A steady stream of American political leaders has visited our hospitals to see our work up close. I have fond memories of a bipartisan congressional delegation, led by House Speaker Nancy Pelosi, that came to Ein Kerem in 2008. Members of the delegation asked our medical and administrative personnel how national health insurance worked in Israel. (And, typically, journalists who interviewed Speaker Pelosi focused their questions on the political climate.)
As America enacts, and continues to debate, universal care, people on all sides of the issue can learn something from a small nation that has guaranteed health coverage. And they would surely be inspired to know that the foundations of the healthcare system and the engine that has kept Israel in the forefront of world medicine, is a volunteer organization of American women. But Hadassah's hospitals are about more than medicine. Our medical ethic, informed by Jewish and American values, shows the world–including those diplomats and journalists–what peace can look like in the Middle East.
Hadassah has institutions and projects across Israel, but we made Jerusalem our home because it is the center of the Jewish people. Since our first medical mission in 1913, we have been a pillar of the city's growth. In addition to our hospitals, we have our medical education institutions there, including the Hebrew University-Hadassah School of Medicine and the Henrietta Szold Hadassah-Hebrew University School of Nursing. Hadassah College and our Young Judaea programs are also based in the city.
Our presence makes us the largest nongovernment employer in the Israeli capital. Hadassah is as much in Jerusalem's heart as Jerusalem is in ours. And it is from Jerusalem that our physicians, researchers, scientists and teachers reach out and touch people across the nearest border and around the world.
Together with Israel, we have addressed another issue that parallels a major American concern. Our hospitals, college and Youth Aliyah centers have been in the forefront of immigrant absorption, from the waves of immigrants from Europe and the Middle East in Israel's early years to the Ethiopian and Russian immigrants of more recent times. Many doctors and nurses from the former Soviet Union received advanced training in our institutions and went on to successful careers, at Hadassah or at other hospitals.
And as everyone in Hadassah knows, our presence is growing, quite literally, by the day. I visit the construction site of the Sarah Wetsman Davidson Tower at least once a month and I am constantly amazed at its progress and its promise. When we open the tower in 2012, it will be the most advanced medical facility in Israel–and it will be visible from all over Jerusalem.
So mark your calendars for the dedication ceremony, which will take place during Hadassah's Centennial Convention in October 2012. We'll try to make sure the news media pays attention. But what matters more than anything else is that we'll be there.
Write to Nancy Falchuk at president@hadassah.org. To see her latest podcast, go to www.hadassah.org/president.