President's Column: Renewal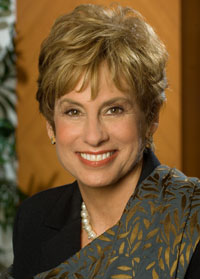 There is always serious work at a Hadassah convention, but delegates often leave feeling they have been on vacation, or at a spiritual retreat. Over the years, participants have held a candlelight vigil at the Lincoln Memorial in Washington and done yoga in New York's Central Park. They have sung country music in Nashville and the "Star Spangled Banner" at Baltimore Harbor—virtually on the spot where the anthem was composed. They have  danced on Navy Pier in Chicago and walked the ramparts of the Old City in Jerusalem.
If you have been to previous Hadassah conventions, you know they are unique. Individually, we embody the values and goals of this great organization, but nothing compares to the networking, the exchange of ideas, the inspiration, the energy and the adrenaline of more than 2,000 Hadassah women gathering in one place.
It has been two tumultuous years since our last convention, and nothing speaks louder of Hadassah's commitment to the future than the agenda of our upcoming convention in Hollywood, Florida, which begins July 25.
We have not yet fully recovered from the Great Recession, but our extraordinary work goes on. Our hospitals are centers of excellence. In treatment and in research, our physicians and scientists are world leaders. We do incredible work at Hadassah College Jerusalem and in our Youth Aliyah centers. Young Judaea remains one of the prime engines of Jewish continuity. Hadassah remains a dedicated, respected network of volunteers and activists.
In Florida, we will receive the latest news on our  projects, including an update on the Sarah Wetsman Davidson Tower, now rising on our Ein Kerem campus. When we dedicate the tower at our Centennial Convention in Jerusalem in 2012, it will be the most advanced medical facility in Israel. It will also be a tribute to your determination and to Hadassah's resilience.
Convention delegates will get firsthand reports on  Hadassah's health care diplomacy and how we build relationships with Israel's neighbors, even in the absence of peace. One example is pediatric cardiologists who treat Palestinian patients and have reached out to Palestinian hospitals to help them offer more advanced treatment.
One area in which we hope to increase our outreach involves breast cancer. Incidence rates are similar in Israel, Jordan and the West Bank, and no institution is better equipped to diagnose and cure across borders than the Hadassah Medical Center.
At the convention, we will hear from two of our leading physicians in these disciplines, pediatric cardiologist Dr. Azaria Rein and oncologist Dr. Tamar Sela. They will be among a delegation who will brief us personally on the work of our medical center.
We will also be welcoming our newest partner in health care diplomacy, the Susan G. Komen Foundation, the global leader in the fight against breast cancer. Hadassah will be the convening NGO for the foundation's first-ever Race for the Cure event in Jerusalem this coming October.
Israel faces grave challenges, even as it flourishes in so many ways. In Florida, we'll hear from experts on the security threats. We'll also get an incisive look at Israel's stunning success in high technology, provided by Dan Senor, coauthor of the best-selling Start-up Nation: The Story of Israel's Economic Miracle (Twelve). We'll hear from Rabbi Yechiel Eckstein, founder of the International Fellowship of Christians and Jews, who has been a major force in mobilizing Christian moral and financial support for Israel.
So come join us at the Westin Diplomat Resort & Spa in Hollywood, Florida, July 25 to 29. We will discuss serious issues, to be sure, but we will also have a good time. Bring your family if you can. We will have the beach, shopping and spa, golf, tennis, fishing and jet skis. You never know which moment of inspiration or recreation will go into your bank of Hadassah convention memories.

Write to Nancy Falchuk at president@hadassah.org. To see her latest podcast, go to www.hadassah.org/podcast.