Cooking for Hanukka

Looking for culinary inspiration this Hanukka? Look no further: Spread your holiday table with recipes from our popular The Hadassah Jewish Holiday Cookbook: Traditional Recipes from Contemporary Kosher Kitchens
 (Rizzoli). Our lavishly illustrated cookbook features more than 20 recipes for Hanukka as well as novelties such as making gelt, a delightful way to bring the joy of the season home to your kitchen, and to your granchildren. Here a just a few selections from the array of recipe possibilites in the book.
Make Hanukka Gelt at Home

Combine in top of a double boiler:
1 pound confectioners' sugar
1 pound semisweet chocolate
1/2 cup unsweetened cocoa powder
1/4 teaspoon salt
6 tablespoons unsalted butter
1/4 cup milk
1 teaspoon vanilla extract
Place over simmering water and stir until smooth. Quickly spread onto a wax paper lined-cookie sheet. Let cool, then cut into circles. Wrap individually in foil and store in refrigerator.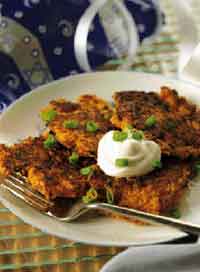 Carrot Latkes
Serves 4
1 pound carrots
2 eggs
1 scallion, finely chopped
1/2 clove garlic, minced
Salt and freshly ground black pepper to taste
1/2 to 3/4 cup matza meal
Oil for frying
Sour cream and chopped scallion greens for garnish
1. Clean carrots and grate finely. Transfer to a fine strainer or colander. Press carrots against sieve and allow liquid to drain for 10 minutes.
2. Beat eggs in a large bowl. Add drained carrots, scallion, garlic, and salt and pepper to taste. Add sufficient matza meal with frequent mixing until mixture is fairly firm and can hold the shape of a latke.
3. Heat oil in medium skillet over medium heat. Put about 2 tablespoons batter for each latke into hot oil and fry until golden on both sides, turning once. Remove from skillet to paper towels to drain. Garnish with sour cream and scallion greens.
Abe Koblin, Baltimore Chapter, Maryland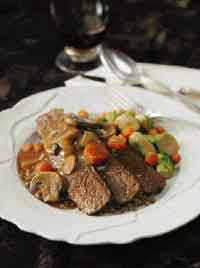 Holiday Brisket Pot Roast
Serves 8 to 10
5 pounds brisket
Salt and freshly ground black pepper to taste
1 clove garlic, crushed
Meat tenderizer (if needed for second-cut brisket)
3 tablespoons oil or shortening
3 carrots, sliced
1 cup onion, chopped
2 stalks celery, sliced with tops
1/2 cup ketchup
1/2 cup Concord wine (Shabbat wine; sweet kosher type wines are best)
12 ounces fresh mushrooms, sliced
1. Rub meat with salt and pepper to taste. Rub with crushed garlic. Heat oil or shortening in Dutch oven or roasting pan. Sauté onions and celery in oil. When onions are translucent, push to side and brown meat on both sides for about 20 minutes. Meanwhile, preheat oven to 350 degrees.
2. Combine ketchup and wine in measuring cup and pour over meat. Add sliced carrots. Roast, covered, for about 2 hours, basting occasionally with sauce.
3. When meat is almost tender and can be sliced, remove to cutting board and slice on angle into thin slices; keeping shape of meat intact, return to roasting pan.
4. With large spoon, baste meat and vegetables, making sure that juice runs between each slice of meat, and vegetables remain on top of roast. Add mushrooms.
5. Return to oven and roast for another half hour. Carefully remove roast from pan onto heated serving dish and spoon sauce and vegetables on top of meat slices.
Mildred Silverman, West Orange Chapter, New Jersey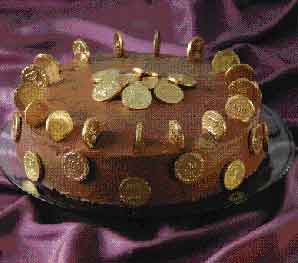 Hanukkah Gelt Chocolate Fudge Cake
Serves 12
1-3/4 cups all-purpose flour
2 cups packed light brown sugar
3/4 cup unsweetened cocoa powder
2 teaspoons baking soda
1 teaspoon baking powder
Pinch of salt
2 eggs
1/2 cup vegetable oil
1 cup strong coffee
1 cup buttermilk or plain yogurt frosting
1 cup (2 sticks) unsalted margarine or butter, softened
5 ounces unsweetened chocolate, melted and cooled
4 cups confectioners' sugar
1/4 cup whipping cream or milk
2 bags gold foil-covered chocolate coins (gelt)
1. Heat oven to 350 degrees. Grease 9-inch springform pan.
2. Stir together flour, brown sugar, cocoa, baking soda, baking powder, and salt in large bowl.
3. In another bowl, lightly whisk eggs. Add oil, coffee, and buttermilk; mix well. Add this mixture to dry ingredients. Using large wire whisk or electric mixer, beat two minutes.
4. Pour into pan (batter will be thin). Bake 45 to 55 minutes, or until cake tests done. Cake should be slightly puffed up in center and spring back when touched. Let cool to room temperature.
5. Make frosting: Beat margarine or butter until smooth; add cooled melted chocolate. Slowly blend in confectioners' sugar. Add enough cream or milk to make a thick, spreadable frosting; beat until light and fluffy. Frost cake; decorate with gelt.
Arlene Freedman, Chicago Chapter, Illinois