President's Column: Back to the Future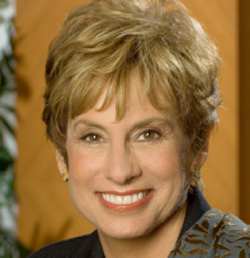 During Hadassah's July convention in Hollywood, Florida, a hotel staff member told me in an elevator that he had been in the auditorium during several sessions and was impressed by what he saw. When I asked what in particular impressed him, he said, "I've never seen people who care so much."
I felt gratified that our spirit and compassion were so visible to someone who did not know us. After a tough couple of years, this convention showed that we are not only alive but also flourishing.
As you will see in the convention report in Hadassah Magazine, a spirit of renewal is thriving at Hadassah. At dozens of sessions, delegates got the latest news on Hadassah's projects, from the construction of the Sarah Wetsman Davidson Tower to a report from a Hadassah physician who served on the Israeli medical team that went to earthquake-stricken Haiti last January. They also heard uplifting personal stories from students at our Youth Aliyah villages, from Hadassah College Jerusalem and from members of Young Judaea.
One session brought together specialists and activists in the fight against breast cancer, on which Hadassah scientists have focused for many years. The newest front in the battle is a partnership between Hadassah and Susan G. Komen for the Cure. This October, the partnership will bring Komen's Race for the Cure to Israel for the first time.
Delegates also looked beyond Hadassah's projects. They discussed Israel's greatest successes and biggest challenges. They heard about the scientific, cultural and educational roots of Israel's high-tech success. They talked about defendingIsrael against delegitimization and promoting Israel among younger Jews inclined to drop out of the Zionist discussion.
But it wasn't just substance that defined the Hadassah convention. It was also ruah. It was 1,000 Jewish women—and, for the first time, thousands more via live video feed—who came together to energize one another. We discussed, networked, laughed and cried. And as we do at all Hadassah conventions, we danced.
The convention spirit did more than make people feel renewed and better informed. It also saw Hadassah fund-raising return to a level not seen since the last economic boom. We honored Rabbi Yechiel Eckstein, president and founder of the International Fellowship of Christians and Jews, for his work in bringing Christians closer to Israel. At the end of his speech he returned the honor by presenting us with a check for $1 million.
That hotel staffer wasn't the only one who saw Hadassah's passion. "The convention reminded me of the Zionist spirit from 50 years ago," said Yossi Rosen, the new chairman of the board of the Hadassah Medical Organization, after returning toIsrael. "If I hadn't seen it with my own eyes, I wouldn't have believed it."
The convention also brought Hadassah friends from across Israel's political spectrum. Dalia Itzik, the Kadima member of Knesset and former Knesset speaker, called Hadassah "the epitome of all that is good in Jerusalem and Israel." Jordana Luks Cutler, an American-born aide to Israeli Prime Minister Benjamin Netanyahu, lauded Hadassah and also delivered a personal message: "Hadassah helped to create the environment that not only made Israel possible, but also enabled and encouraged people like me to live in Israel."
Progress is built into the human spirit, and it requires new dreams. But our values and traditions remind us that older dreams are important, too. And so Hadassah women came together and celebrated Zionism like it was 1967 and raised money like it was 2005.
Standing in 2010 and planning for the future turned out to be an inspiring formula for convention delegates. It impressed the people who already know us and those getting their first look.
Write to Nancy Falchuk at president@hadassah.org. To see her latest podcast, go to www.hadassah.org/podcast.