President's Column: Hadassah's Greatest Generation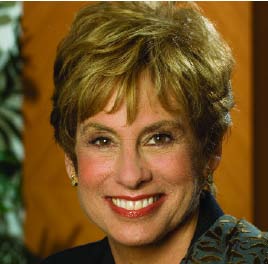 How did it happen? How did a group of Jewish women, mostly housewives, many without telephones in their homes, build the medical infrastructure and much of the education foundation of a nation that most of them would never set eyes on?
That's the story of Hadassah's Greatest Generation.
Hadassah is now just a year shy of its centennial, so it is not surprising that many of us are looking at our own history. The more I look at it, the more amazed I am. It's not just that our leaders and volunteers between 1912 and 1948—actually about a generation and a half—did so much. It's also that they did it all with so little. From the foundation of Hadassah to Israeli independence, they built a network of more than 130 hospitals, clinics, dispensaries and infant-welfare stations.
They also built the emerging nation's first nursing school (founded in 1922) and medical and dental schools (opened in the first years after independence). Hadassah opened Youth Aliyah schools and villages to shelter and educate refugee children from Nazi-occupied Europe, and the vocational schools that evolved into today's Hadassah College Jerusalem.
How did they do it? With intelligence and dedication; by joining to empower one another; and by working for a cause larger than themselves. Critical to Zionism's success in America was Henrietta Szold's concept of "practical Zionism," a combination of action and ideology. In January 1913, Hadassah sent two American nurses to Jerusalem to begin our transformative medical mission.
It is difficult to grasp today the medical challenges of the time and the handicaps our founders faced. Hadassah was established before American women had the right to vote. Hadassah's Greatest Generation was a gathering of women in a men's world. Few of them had university educations. Few worked outside the home. Many took the bus to their Hadassah meetings—or walked.
But recognition of Hadassah's expertise came quickly. After World War I, public health conditions in Palestine were even worse than what Henrietta Szold had witnessed just a few years before. When the Zionist Organization of America moved to set up a large-scale medical mission to Palestine, it asked Hadassah to head the effort. That modest mission of two nurses on the eve of the war had given Hadassah something that existed nowhere else in the Zionist movement—experience in medical mobilization.
During the Great Depression, Hadassah's development went into overdrive. Bolstered by a growing membership, the women of Hadassah crowned their health care network by building a flagship hospital on Mount Scopus. It was during the 1930s that Henrietta Szold accepted responsibility for Youth Aliyah, and Hadassah began sponsoring Young Judaea. We emerged from the Depression stronger than ever—a fact that has served as great inspiration during these past few years of economic turbulence.
Hadassah's founders not only had boundless energy, they also made wise choices. They were smart enough to see what a nascent state needed to grow and what Jewish women in America needed to feel connected to that state. They were caring enough to see that Jewish values could only be served if the new medical institutions treated everyone equally, regardless of religion or ethnicity.
That potent combination of values and action, building and connectivity, that is so central to our identity today comes straight from Hadassah's pioneers.
We have many more tools than the women of our founding generation. We have more education and greater financial resources. We have Blackberrys and the Internet. Most of us have made multiple trips to Israel and all of us can see Hadassah's work with the click of a mouse.
As we approach our centennial and embark on Hadassah's second century of service, may the example of our Greatest Generation continue to inspire us as much as it fascinates us. They did amazing things. Now it's our turn. H
Write to Nancy Falchuk at president@hadassah.org. To see her latest podcast, go to www.hadassah.org/podcast.