East Meets East for Jews on Christmas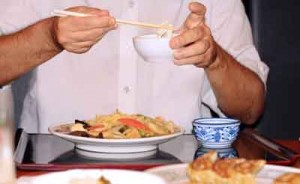 "I eat Chinese food on Christmas/ Go to the movie theater, too/ 'Cause there just ain't much else to do on Christmas/ When you're a Jew." —Brandon Walker, from the song "Chinese Food on Christmas."
In 2006, when Jewish singer-songwriter Walker came up with a playful ditty about his favorite Yuletide tradition, he clearly touched a nerve. Millions watched the accompanying video on YouTube, which showed Walker and his friends jamming amid the tables at a Chinese restaurant, snowflakes falling outside. It was all in good fun, but for many it codified a tradition that has become as American as, well, Kung Pao chicken.
All over the country, as tens of millions go to Mass, unwrap gifts and sit down to festive meals, Jews are heading to their local Chinese eateries and sitting down to platters of sizzling beef, bowls of wonton soup and heaps of camaraderie.
The lack of other social options only partially explains why the Chinese (and a movie) ritual is so enduring. An annual New York event organized by the 92nd Street Y at their TriBeCa location sells out quickly: Hundreds of hungry (mostly Jewish) cinephiles line up for a kosher Christmas Day Chinese buffet, followed by a movie screening with a Jewish connection. Last year's choice? Mel Brooks's Blazing Saddles.

According to Jennifer 8. Lee, author of The Fortune Cookie Chronicles: Adventures in the World of Chinese Food
 (Twelve), many restaurateurs report Christmas being their busiest day of the year—Jews making up the majority of their clientele. At the venerable (nonkosher) Shun Lee and Shun Lee Palace in New York, the restaurants host five Christmas-day seatings, feeding nearly 1,000 patrons. And kosher Chinese restaurants across the country also report heavy business on December 25.
This tradition isn't merely a cultural oddity; Jews have a long history of appreciating Chinese cuisine. Andrew Coe, food historian and author of Chop Suey: A Cultural History of Chinese Food in the United States
 (Oxford University Press), says that Jewish immigrants first discovered dishes like egg foo yung and orange beef as far back as the 1880s. After all, the Lower East Side, then heavily populated by Jewish East Europeans, is next to Chinatown.
As the Jewish population became less observant and more assimilated, Jews ventured over to sample the exotic, convenient and inexpensive offerings. Dining on Chinese food became cool. "It was what you did to stay current, go out on a date, be American," said Coe. As Jews settled in other cities and assimilated, cultures meshed and traditions cemented.
The Jews and the Chinese had more similarities than they may have realized. "They are the two largest, non-Christian immigrant groups in the United States," said Lee. "This created a cultural bond that may have been subtle, but brought them together."
Leah Mendelsohn, 32, a restaurant design executive in New York, recalls going to a Chinese restaurant in Los Angeles as a child, where her family would see many of their Jewish friends. "It was a scene," said Mendelsohn, "and my family still goes to that restaurant on Christmas." Among the many members of the tribe feasting on Christmas Eve were two nuns who volunteered at the hospital where Mendelsohn's mother worked. "They said it was their pre-midnight Mass tradition," said Mendelsohn.
The love of Yuletide Chinese food has even made its way to the highest echelons of legal power. During Elena Kagan's Supreme Court confirmation hearings last June, when asked where she was on Christmas in relation to a domestic-terror incident that occurred on the holiday, she quipped: "Like all Jews, I was probably at a Chinese restaurant."
The following recipe is a lightened take on two Chinese restaurant classics.

Spicy Orange-Broccoli Chicken
Serves 4.

2 oranges
4 TBs cornstarch
1 large egg white
1/2 cup chicken broth
3 TBs soy sauce
2 TBs honey
2 TBs rice wine vinegar
1 TB fresh grated ginger
2 cloves garlic, minced
1 tsp sesame oil
3 TBs canola oil
3 small whole dried chilies
1 pound boneless skinless chicken
thighs, pounded and cut into 1-inch strips (or substitute thin-cut skinless boneless chicken breasts)
1 large head broccoli, trimmed into
florets and very lightly steamed (about 5 cups)
1. Using a peeler, remove four 1-inch strips of zest from one of the oranges and reserve. Juice both oranges into a small bowl and reserve.
2. Whisk 3 TBs each of the orange juice and cornstarch plus the egg white in a large bowl. Add chicken pieces and toss to coat.
3. Combine remaining orange juice and cornstarch, broth, soy sauce, honey, rice wine vinegar, ginger, garlic and sesame oil; reserve.
4. Heat 2 TBs of canola oil in a large skillet or wok over medium-high heat. Cook chicken, stirring, until just cooked through, 3-4 minutes. Remove and reserve.
5. Add remaining 1 TB canola oil to skillet. Add orange peels and chilies and cook 1-2 minutes, until fragrant. Add orange-soy mixture and cook, stirring, until sauce thickens, 1-2 minutes. Add broccoli and chicken and cook until just heated through, 2-3 minutes. Remove orange peels and chilies. Serve with rice.