President's Column: Hadassah at Minus-One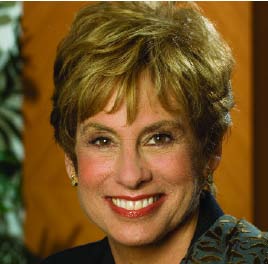 One hundred years ago, on March 25, 1911, newspapers around the world riveted their attention on the Triangle Shirtwaist Factory fire in New York, which killed 146 people. The factory was located on the 8th, 9th and 10th floors of a building near Washington Square. Managers had locked exit doors to prevent workers from leaving early and fire engine ladders reached only to the 6th floor. Many victims jumped to their death rather than be consumed by flames.
The Triangle fire was the worst industrial disaster in New York City's history and a catalyst for the formation of labor unions, the enactment of workplace safety rules and the reform of building codes. It was also a Jewish tragedy. Many of the victims were young immigrant Jewish women; the factory's owners were Jewish as well.
Given the details of the story, it's easy to conclude that any Jewish woman living in New York in 1911 gave the fire more than just a passing thought. One such woman was Henrietta Szold. The story is well told that she returned from Palestine in January 1910, dismayed by the poor living conditions she witnessed there and determined to work for the establishment of a Jewish state. And of course we know that on February 24, 1912, in the vestry room of Temple Emanu-El on Fifth Avenue, she convened the founding meeting of Hadassah.
As Hadassah enters the one-year countdown to its centennial, I find myself thinking of Henrietta Szold, and what she was doing in the days and months leading up to our founding. Her biographical details for 1910 and 1911 are sketchy, but the Triangle fire—whatever specific thoughts she might have had about it—fits into the context of her evolution into an activist and someone committed to a role for women in the public arena.
In 1910, Henrietta was elected secretary of the Federation of American Zionists. From her letters, it appears that much of her work consisted of clearing up the organization's "muddled affairs." In a letter to Solomon Schechter in November 1910, she wrote, "…the muddle has been cleared, but the hopelessness remains."
Another of her letters mentions that in 1911 she underwent surgery. We don't know the nature of the surgery, but she had a slow recuperation during the summer that, among other things, relieved her of her duties at the Zionist Federation. Late in the summer, still recovering, she received a visit from Gertrude Goldsmith, just returned from the 11th Zionist Congress in Basel. Over the next several months the two women worked together on the formation of a women's Zionist organization.
Henrietta Szold was 51 in 1911. She had spent much of her life as a woman in a man's world—as a pioneer of education for immigrants, an editor and translator, even as a seminary student. She lived in a time when educated women in particular were held down by a very low glass ceiling. In that world, any woman who managed to break through the barrier found herself alone at a table with men and—as Henrietta discovered in a string of leadership positions—designated as "secretary."
Did that hopelessness she gave voice to while working at the Zionist federation have anything to do with her status as a woman? We can't be sure. Did the Triangle fire highlight the powerlessness of women in the world? Without a doubt. Did Hadassah transform the role of women in Jewish life? We all know the answer to that.
Fast forward a century and we find ourselves in a different world. We still face challenges, as Jews and as women, but we have come so far. Israel is a living and thriving reality. In the Western world, women have served as presidents and prime ministers, rabbis, police officers and in every other conceivable position of leadership and authority.
One hundred years ago this month, Hadassah, the Women's Zionist Organization of America, was somewhere between a thought and a dream in the mind of a determined and inspired woman. Today, Hadassah, with its high profile on the Israeli landscape, is the standard by which Zionist building and activism are measured.
It may be difficult to put ourselves in the mind of Henrietta Szold. But we, her children, grandchildren and great-grandchildren, live very much in the dream she made a reality.