President's Column: Four Years in a Moment
The experience of high office doesn't always match the expectation. Maybe it's because anticipation is all about what you are going to accomplish or change, but the reality has more to do with the daily context of your work. My agenda when I became Hadassah's national president consisted of goals—like enhancing Hadassah's leadership in Israel and the Jewish world, continuing to build the Sarah Wetsman Davidson Hospital Tower in Jerusalem and bringing our spending in line with our income.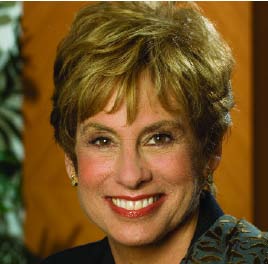 But as my term draws to a close, I realize that the context—the strength and talent of the women around me, the support I felt every day from all of you—has been just as important. It was the incredible Hadassah network that allowed me to face the organization's biggest financial crisis in 70 years and reach this day with Hadassah in a position of strength.
Hadassah saves lives, educates people and brings us together every day. We say this all the time, and it's true. But these past few years we have faced extraordinary challenges that not only demanded our attention but also threatened to overshadow the great work of our institutions. To cite just the most obvious changes, we cut expenditures on our projects and restructured our national organization. In a series of wrenching decisions, we laid off a large percentage of our staff. In all, we cut $60 million from our budget.
I have spoken many times to Hadassah groups about the tough choices we've had to make during this period. I wasn't afraid of making hard decisions, but I sometimes worried that the women around me would take my description of the challenges as a complaint, or at least a sign that I have not loved being Hadassah's president. Nothing could be further from the truth.
My experience as president is captured by a poem called "An Answered Prayer." I have seen many versions, but my favorite is by Ariela Jaffe. Here is an excerpt:
I asked for strength, and God gave me difficulties to make me strong.
I asked for wisdom, and God gave me problems to learn to solve.
I asked for courage, and God gave me dangers to overcome.
I asked for love, and God gave me people to help.
I asked for favors, and God gave me opportunities.
I received nothing I wanted. I received everything I needed.

Serving as your president has been humbling, but also inspiring. For every heart-rending decision, I have found enormous rewards.
Every time I visit our hospitals or schools, every time I meet with a group of Young Judaeans, I am reminded of how many people we touch. Every time I tour the construction site of the new hospital tower, every time I meet with new members or new chapter and region presidents, I renew my confidence in Hadassah's future.
One key indicator of Hadassah's dynamism is our ability to attract talented people. Marcie Natan, our incoming national president, is a leader of extraordinary ability and vision. Dr. Ehud Kokia, the newly appointed director-general of the Hadassah Medical Center, represents the best of Israeli medicine. With Hadassah's future in such hands, I am confident we will continue to flourish.
I am Hadassah's 24th national president, and I'm quite sure that every one of my predecessors felt as if her term passed quickly. As my tenure comes to an end, I feel like my office in Hadassah House was more like a microwave, from which I am emerging after what seems like moments.
Despite the speed of these past four years, I have learned many lessons. But just as important is what I have relearned. More than anything, being president reminded me that the greatest strength of this organization is the Hadassah volunteer. That's something that I'll always be.
My thanks to you all.