Cooking by the Book(s)
My Miso-Glazed Black Cod
From Geila Hocherman and Arthur Boehm's Kosher Revolution
. Serves 6.
New York's Nobu restaurant, 1985: Chef Nobu Matshushia's miso-glazed black cod. Me on first taste: Wow! I longed to make a kosher version of this great dish, but had to bide my time until kosher miso became available.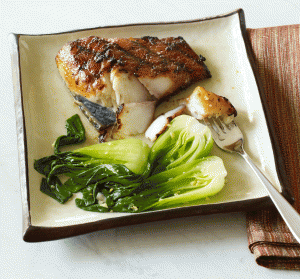 On that happy day I set to work—and here it is, a dish you'll enjoy often and that's baby-simple to make. All you do is marinate black cod in a simple miso-sugar mixture then broil or grill it. The caramelized skin is delightfully crispy, and really compliments the sweet, moist flesh. Served over sautéed spinach, and with a side of mashed potatoes—or by itself with any bitter green—this is stellar dining.
1/2 cup mirin
1/2 cup sake or dry white wine
1 1/4 cups white miso
2/3 cup sugar
6 black cod fillets (6 to 8 ounces each), skin removed
In a medium heavy-bottomed saucepan, combine the mirin and sake and bring to a boil. Boil for 1 minute (to cook off the alcohol), reduce the heat to medium, add the miso, and stir until dissolved. Add the sugar, increase the heat, and stir until the sugar is dissolved, about 5 minutes. Remove from the heat and cool to room temperature.
Dry the fillets with paper towels and put them in a gallon-size sealable plastic bag. Add the miso glaze, seal and refrigerate for 24 to 48 hours.
Bring the fillets to room temperature. Preheat the broiler or place a grill pan or heavy skillet over high heat. Wipe excess glaze from the fillets and broil or grill, turning once, until brown and glazed, about 8 minutes. Transfer to plates and serve.

Chicken with Grapes and Mushrooms
From Geila Hocherman and Arthur Boehm's Kosher Revolution
. Serves 4.
This was my first "wow" dish, invented while I was at college. I'd have at least ten guests to dinner on Friday nights, and I remember the pleasure of hearing the usual rambunctious crowd go silent after tasting it. They loved my cooking! The dish remains a family and crowd pleaser, enjoyed by kids and adults alike. A simple "bake," you can serve it straight from the oven, warm or cold. And it's flexible.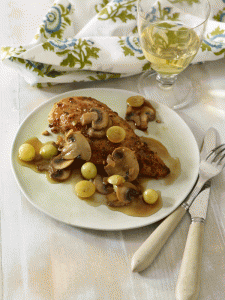 I've made it with a great variety of white-flour crackers, both plain and seasoned, whatever's in the house, and the dish scores every time.
11/2 cups cracker crumbs, any kind*
2 teaspoons dried tarragon
11/2 teaspoons kosher salt, plus more
1/4 teaspoon white pepper, plus more
4 boneless skinless chicken breasts, tenders removed
2 tablespoons extra-virgin olive oil
4 tablespoons grapeseed or canola oil
1 cup diced onion
3/4 cup white wine
3/4 cup chicken stock
2 cups mushrooms, sliced 1/4-inch thick
1 cup seedless green grapes
On a large plate or shallow bowl, combine the crumbs, tarragon, 11/2 teaspoons salt, and teaspoon white pepper, and spread evenly. Add the chicken and dredge on both sides.
In a large skillet, heat 1 tablespoon of the olive oil and 2 tablespoons of the grapeseed or canola oil over medium-high heat. Add the chicken and sauté, turning once, until brown, about 6 minutes. Transfer to a 9 x 12-inch baking dish.
Preheat the oven to 350ºF. Wipe out the skillet and heat the remaining grapeseed or canola oil over medium-high heat. Add the onion, sprinkle with a little salt (to help it release its moisture), and sauté, stirring, until translucent, about 4 minutes. Add 1/2 cup of the wine and 1/2 cup of the stock, bring to a boil to deglaze the pan, and pour over the chicken. Bake the chicken until just cooked through, about 10 minutes.
Transfer the chicken to serving plates, spoon the sauce, grapes and mushrooms over it, and serve.
* If I'm buying crackers for this, I get Manischewitz's Tam Tam crackers. To make the crumbs, pulse whole crackers in a food processor.

Vietnamese Beef and Noodle Soup
From Jamie Geller's Quick & Kosher: Meals in Minutes
. Serves 4.
This recipe is inspired by a Vietnamese soup called "pho." The meat isn't cooked on a stove but when it is served.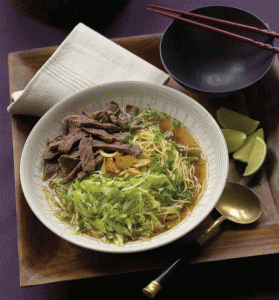 The boiling broth is poured over paper-think strips of beef and the heat of the broth cooks it. Freeze the meat until firm, about 1 hour, to make slicing easier.
1 (1-pound) box angel hair pasta
1 tablespoon canola oil
2 cloves garlic, sliced
1 (32-ounce) box Manischewitz All Natural Beef Broth
2 (32-ounce) boxes Manischewitz Reduced Sodium All Natural Chicken Broth
1 star anise
1/2 teaspoon ground cinnamon
1 cup frozen Gefen Crushed Garlic
1 cube frozen crushed ginger
1 pound boneless New York strip steak, frozen for 1 hour
2 cups shredded lettuce
1 jalapeno, seeded and minced
1/4 cup torn fresh cilantro leaves
Lime wedges
Prepare pasta according to package directions.
Heat oil in a 4- or 5-quart saucepan over medium-high heat. Fry garlic for about 1 minute until fragrant and golden. Transfer to a small bowl and set aside.
In the same pan, heat broths with star anise, cinnamon, and frozen garlic and ginger. Bring to a gentle boil and cook for 10 minutes.
While broth is cooking, slice beef: Using a mandolin or sharp knife, slice the steak across the grain, very thin (about 1/8 thick).
Evenly distribute pasta, lettuce, jalapeno, friend garlic, and beef among four large soup bowls. Pour broth into bowls, pushing beef into hot liquid so that is cooks. Top with cilantro and serve with lime wedges.

Jeweled Rice (Javaher Polo)
From Reyna Simnegar's Persian Food from the Non-Persian Bride
. Serves 8.
Persian women, in general, love jewelry. When I realized there was a rice recipe with the word "jeweled" in its name, it didn't surprise me at all! This rice really looks like a gastronomic jewelry box. It contains edible rubies (barberries), emeralds (pistachios), and onyx (currant raisins).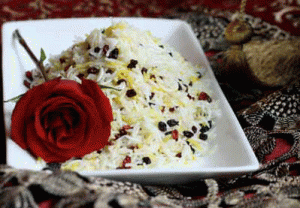 It is a gorgeous display of color and tastes. The good thing about it is that you can use a mixture of anything you might have on hand and make it into Javaher Polo.
To make the rice
3 cups basmati rice, checked and rinsed
8 cups water
2 tablespoons salt
1/8 teaspoon turmeric
1/2 cup canola oil
To make rice topping
The following are good choices for Javaher Polo
Yellow split peas, currant raisins, barberries, pistachios, fried slivered almonds, Barberries, orange peel, slivered carrots, caramelized onions, 1 tablespoon advieh (a mixture of ground spices, can substitute allspice; optional)
To steam and make tadig
Canola oil
2 tablespoons water
1/8 teaspoon turmeric and/or saffron powder
3 potatoes, peeled and sliced into 1/4-inch rounds
To make the rice
Fill a 6-quart nonstick saucepan with 8 cups water; add oil, salt, and turmeric. Cover and bring to a brisk boil over high heat.
When turmeric water boils, add rice and continue cooking, uncovered, over medium to high heat, stirring occasionally.
After 3-5 minutes, use a slotted spoon to scoop some grains from the water. Break one grain in half to make sure it is "al dente." Turn off heat and pour rice into colander to drain. Set aside.
To steam and make tadig
Place the empty 6-quart saucepan back onto the stovetop over medium heat. Add 1/4-inch canola oil and 2 tablespoons water. Add turmeric and/or saffron powder. Stir together.
Add sliced potatoes in a single layer. Add drained rice and shape it into a pyramid. Cover the pot and cook for 5–7 minutes until rice begins to steam. Uncover and place 2 paper towels (one on top of the other) over the rice. The ends will extend outside the pot. Replace the lid tightly.
Reduce the heat to low and simmer, covered, for 45 minutes. Turn off the heat and tilt the lid until ready to serve. In the meantime, prepare your choice of garnishes.
Serve on a shallow platter, mounding the rice into a pyramid and garnishing with the toppings of your choice. You can mix them into the rice or lay them in separate stripes over the rice.
Tricks of the trade
Don't worry about the oil in this recipe; it will be drained out before serving.
Make sure to have a colander ready in the sink to drain the rice.
When cooking the tadig, make sure the paper towels are safely away from the heat.
When cooking the dried fruit, keep the heat low and pay attention because these burn easily.
I often make this rice when I have leftover toppings in the fridge. It looks as if I labored for hours, but in fact everything was already made!
You can use potatoes for the tadig, or you can use some of the rice before mixing it with the toppings.

Sweet Potato Salad
From Efrat Libroind's Kosher Elegance
. Serves approximately 6.
This salad is an instant hit in every class I teach. It's great alongside a first course or as a first course on its own.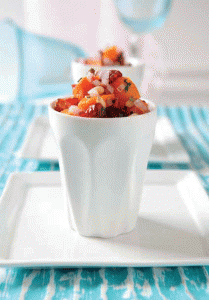 When serving it as a first course, I place it on a bed of triangular toast and garnish with greens. For perfect results, it's important to bake the sweet potatoes for exactly the right amount of time—long enough so that they're tender, but not so long that they're mushy and lose their shape.
Salad
2 medium-sized sweet potatoes
4 tablespoons olive oil
1 pinch salt
1/2 red onion
4 scallions
5 dates, pitted
4 tablespoons toasted pine nuts
Dressing
2 tablespoons oil
1/2 teaspoon prepared mustard
1 clove garlic, crushed
2 heaping tablespoons date syrup or honey
1 pinch black pepper
1 pinch salt
Preheat oven to 400°F.
Salad: Peel sweet potatoes and cut into small cubes. Transfer to a baking pan and season with olive oil and salt. Cover and bake until just tender. Cool sweet potatoes and transfer to a bowl. Dice onion very small, chop scallions, and add to bowl. Cut dates into small pieces (for easier cutting, freeze for half an hour first) and add to bowl. Add pine nuts and toss lightly.
Dressing: Combine ingredients in a small bowl, pour over salad, and serve.

Pretzel-Crusted Chicken with Honey Beer Mustard Sauce
From June Hersh's The Kosher Carnivore
. Serves 4.
In college in Philadelphia I learned that you can't have pretzels without mustard. Take these friends, partner them with chicken and beer, and you have turned stadium fare into a fun adult dinner.
For the chicken
4 (6- to 8-ounce) chicken cutlers
2 eggs
4 tablespoons beer
2 teaspoons grainy mustard
1 (8-ounce) bag sourdough pretzels
Vegetable oil for frying
For the dipping sauce
3 tablespoons beer
3 tablespoons grainy mustard
2 tablespoons honey
Preheat the oven to 350 degrees. Beat the eggs, 4 tablespoons of beer, and 2 teaspoons of the mustard in a bowl large enough to dip the cutlets. Process the pretzels in a food processor, using the metal blade. Process them in two batches: grind half the bag as fine as breadcrumbs, and the other half to a crumbly gravel-like texture.
Dip the cutlets in the fine pretzel crumbs, then in the egg mixture, then press them into the coarse crumbs until they adhere (it's fine if some drop off). If time allows, refrigerate the cutlets fore 15 minutes to help the breading adhere better. Heat about 1/4 inch of oil in a large skillet until simmering. Fry the cutlets until they are golden brown, 3 to 5 minutes per side. Remove them to a waiting baking sheet and put them in the preheated oven until the cutlets are fully cooked, 10 to 15 minutes. You might need to cut into one to check for doneness. The meat should be white with no traces of pink.
While the cutlets bake, prepare the dipping sauce by combining all 3 ingredients until well blended. You can use the sauce for dipping, or drizzle a little over each cutlet.