Cooking à la Jerusalem for Hanukka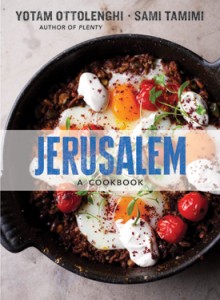 Everything about Jerusalem is "complicated": its political status, its soup-mix population of Arabs and Jews from wide diasporas, even its food. It is that last and most delicious quandary that popular London restaurateurs Yotam Ottolenghi and Sami Tamimi set out not to define, but rather to explore, in their new best-selling collaboration, 
Jerusalem: A Cookbook
 (Ten Speed Press).
Ottolenghi, owner of four London restaurants bearing his name as well as the fine dining spot Nopi, and Tamimi, Ottolenghi head chef, each hail from Jerusalem—the Jewish Ottolenghi from West Jerusalem, and Tamimi, a Palestinian Arab, from the Muslim east. Though they have lived in London for decades, they still can't help but consider Jerusalem home. "The flavors and smells of this city are our mother tongue," they write in Jerusalem's opening. "Everything we taste and everything we cook is filtered through the prism of our childhood experiences: foods our mothers fed us, wild herbs picked on school trips, days spent in markets, the smell of the dry soil on a summer's day, goat and sheep roaming the hills, fresh pitas with ground lamb, chopped parsley, chopped liver, black figs, smoky chops, syrupy cakes, crumbly cookies."
Their conclusion is to credit the city's complex, complicated history and demographics with the vibrant, flavorful, rich food they term local cuisine—local even if its origins lie in far-flung foodways from Yemen, Libya and Iran to Eastern and Western Europe, and beyond. (Ottolenghi's parents are European, his mother from Germany and his father from Italy.)
Ottolenghi and Tamimi pack Jerusalem with exotic, mouthwatering vegetable-based dishes such as Burnt Eggplant with Garlic, Lemon and Pomegranate Seeds; Roasted Sweet Potatoes and Fresh Figs; and Swiss Chard Fritters. Middle Eastern staples like kibbeh, shawarma, burekas and, of course, hummus, receive thorough treatment, but also covered are the less well-known Chicken Sofrito—a Sefardic slow braising and steaming meat dish for Shabbat—and Cod Cakes in Tomato Sauce, a Syrian Jewish specialty, plus scores of other Jewish and Arab classics that have taken roots in Jerusalem kitchens.
And while the chef-cum-authors (they previously published Ottolenghi: The Cookbook
, and Ottolenghi wrote the 2011 best seller, Plenty: Vibrant Recipes from London's Ottolenghi
) acknowledge that similarities between cooking traditions in Jerusalem's different ethnic neighborhoods may at first glance seem nonexistent, they argue that everybody, in every neighborhood, uses cucumbers and tomatoes in their Israeli (Arab) salad. That plus the near ubiquitous love of hummus might, in their estimation, be the recipe for more than just a meal's opening courses. Common food could lead to common ground.
With Hanukka just around the corner, what better source for cooking inspiration than a collection of recipes—not all of them kosher—hailing from the very city where the holiday miracle transpired? Ottolenghi and Tamimi, who largely ignore Ashkenazic cooking because "of our personal backgrounds and the types of flavors we tend to cook and eat," nevertheless did include a recipe for latkes, one with grated parsnip and chive joining the potatoes. For a main course, try their Roasted Chicken with Jerusalem Artichoke & Lemon and their Spice Cookies for dessert.
Latkes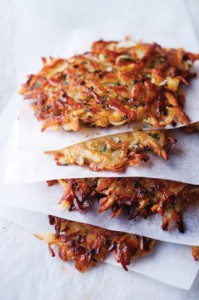 Serves 4; makes 12 latkes.
We would like to thank our friend Helen Goh, a true perfectionist if ever there was one, for perfecting this Ashkenazic Hanukkah specialty for us. Don't save latkes just for holidays though; they are truly marvelous and a good way to start any meal, or to accompany roasted beef. Latkes are also often served sweet. To do this, remove the chive and reduce the salt. Serve warm with sour cream and sprinkled with superfine sugar.
5 1/2 cups peeled and grated fairly waxy potatoes such as Yukon Gold
2 3/4 cups peeled and grated parsnips
2/3 cup chives, finely chopped
4 egg whites
2 tbsp cornstarch
5 tbsp unsalted butter
6 1/2 tbsp sunflower oil
salt and freshly ground black pepper
sour cream, to serve
Rinse the potato in a large bowl of cold water. Drain in a colander, squeeze out any excess water, and then spread the potato out on a clean kitchen towel to dry completely.
In a large bowl, mix together the potato, parsnip, chives, egg whites, cornstarch, 1 teaspoon salt, and plenty of black pepper.
Heat half the butter and half the oil in a large frying pan over medium-high heat. Use your hands to pick out portions of about 2 tablespoons of the latke mix, squeeze firmly to remove some of the liquid, and shape into thin patties about 3/8 inch thick and 3 1/4 inches in diameter. Carefully place as many latkes as you can comfortably fit in the pan, push them down gently, and level them with the back of a spoon. Fry over medium-high heat for 3 minutes on each side. The latkes need to be completely brown on the outside. Remove the fried latkes from the oil, place on paper towels, and keep warm while you cook the rest. Add the remaining butter and oil as needed. Serve at once with sour cream on the side.
Roasted Chicken with Jerusalem Artichoke & Lemon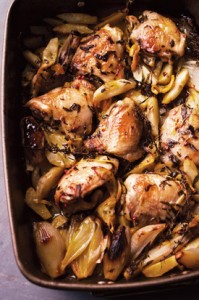 Serves 4.
1 lb Jerusalem artichokes, peeled and cut lengthwise into 6 wedges, 2/3-inch thick
3 tbsp freshly squeezed lemon juice
8 skin-on, bone-in chicken thighs, or 1 medium whole chicken, quartered
12 banana or other large shallots, halved lengthwise
12 large cloves garlic, sliced
1 medium lemon, halved lengthwise and then very thinly sliced
1 tsp saffron threads
3 tbsp olive oil
2/3 cup cold water
1 tbsp pink peppercorns, lightly crushed
1/4 cup fresh thyme leaves
1 cup tarragon leaves, chopped
2 tsp salt
1/2 tsp freshly ground black pepper
Put the Jerusalem artichokes in a medium saucepan, cover with plenty of water, and add half the lemon juice. Bring to a boil, lower the heat, and simmer for 10 to 20 minutes, until tender but not soft. Drain and leave to cool.
Place the Jerusalem artichokes and all the remaining ingredients, excluding the remaining lemon juice and half of the tarragon, in a large mixing bowl and use your hands to mix everything together well. Cover and leave to marinate in the fridge overnight, or for at least 2 hours.
Preheat the oven to 475°F. Arrange the chicken pieces, skin side up, in the center of a roasting pan and spread the remaining ingredients around the chicken. Roast for 30 minutes. Cover the pan with aluminum foil and cook for a further 15 minutes. At this point, the chicken should be completely cooked. Remove from the oven and add the reserved tarragon and lemon juice. Stir well, taste, and add more salt if needed. Serve at once.
Spice Cookies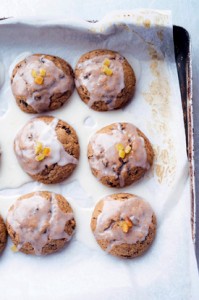 Makes 16 cookies.

3/4 cup plus 2 tbsp currants
2 tbsp brandy
scant 2 cups all-purpose flour
1 1/2 tsp best-quality cocoa powder
1/2 tsp baking powder
1/4 tsp baking soda
1/2 tsp each ground cinnamon, allspice, ginger, and nutmeg
1/4 tsp salt
5 oz good-quality dark chocolate, coarsely grated
1/2 cup unsalted butter, at room temperature (or margarine)
2/3 cup superfine sugar
1 tsp vanilla extract
1/2 tsp grated lemon zest
1/2 tsp grated orange zest
1/2 large free-range egg
1 tbsp diced candied citrus peel
Glaze
3 tbsp freshly squeezed lemon juice
1 1/3 cups confectioners' sugar
Soak the currants in the brandy for 10 minutes. Mix together the flour, cocoa powder, baking powder, baking soda, spices, salt, and dark chocolate. Mix well with a whisk.
Put the butter, sugar, vanilla, and lemon and orange zest in a stand mixer fitted with the beater attachment and beat to combine but not aerate much, about 1 minute. With the mixer running, slowly add the egg and mix for about 1 minute. Add the dry ingredients, followed by the currants and brandy. Mix until everything comes together.
Gently knead the dough in the bowl with your hands until it comes together and is uniform. Divide the dough into 1 3/4-oz chunks and shape each chunk into a perfectly round ball. Place the balls on 1 or 2 baking sheets lined with parchment paper, spacing them about 3/4 inch apart, and let rest in the fridge for at least 1 hour.
Preheat the oven to 375°F. Bake the cookies for 15 to 20 minutes, until the top firms up but the center is still slightly soft. Remove from the oven. Once the cookies are out of the oven, allow to cool for only 5 minutes, and then transfer to a wire rack. While the cookies are still warm, whisk together the glaze ingredients until a thin and smooth icing forms. Pour 1 tablespoon of the glaze over each biscuit, leaving it to drip and coat the biscuit with a very thin, almost transparent film. Finish each with 3 pieces of candied peel placed at the center. Leave to set and serve, or store in an airtight container for a day or two.
Recipes extracted from Jerusalem: A Cookbook
by Yotam Ottolenghi and Sami Tamimi (Ten Speed Press, $35). Photography: Jonathan Lovekin.