Smitten With Deb Perelman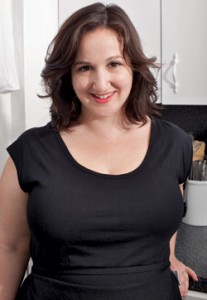 If you regularly turn to the Internet for fresh recipe ideas, updates on classics or confirmation on just how long to set your oven timer for that standing-rib roast, then chances are you have already stumbled across Deb Perelman and her award-winning Smitten Kitchen blog, which claims millions of unique views a month. Well, Perelman's culinary fame keeps growing: The Smitten Kitchen Cookbook
 (Knopf) has been a New York Times and Amazon.com best seller since it was released late last year.
Perelman is the intrepid New York City home cook and photographer operating out of a tiny apartment kitchen whose cooking sensibility perfectly pairs "gourmet foodie" with "down-to-earth comfort." She is your girlfriend in the kitchen, serving up charming or—often—hilarious opening anecdotes to her recipes. (From her Roasted Eggplant with Yogurt-Tahini Sauce and Cumin-Crisped Chickpeas: "Becoming a mom made me an expert on roasting vegetables. What, you thought I was going somewhere else with that? That maybe I'd have become an expert on Tantrum Management, or Getting Child to Sleep Through Night or Love Turnips? Ha. No, I save my expertise for crisping vegetables for easy release.")
Flipping through the pages of The Smitten Kitchen Cookbook
, your mouth will water over breakfast concoctions like Peach and Sour Cream Pancakes and Big Breakfast Latkes; lunches of Ratatouille Subs and Wild Rice Gratin with Kale, Caramelized Onions, and Baby Swiss; dinners featuring Harvest Roast Chicken with Grapes, Olives, and Rosemary, and Roasted Baby Roots with Sherry-Shallot Vinaigrette.
And while Perelman's cooking is not kosher, her Jewish upbringing and palate are evident as you hungrily devour the cookbook: Fig, Olive Oil, and Sea Salt Challah; Maya's Sweet and Sour Holiday Brisket and Roasted Fingerling and Carrot Coins; Rhubarb Hamantaschen (try them next month for Purim, they are delish!); and Alex's Chocolate Raspberry Rugelach (which Perelman describes as rugelach "with 'the works,'" nuts, cinnamon, chocolate and jam). Some precious samples of Perelman's re-inspired Jewish classics appear below as well as her meaty take on the quintessential Israeli street food, falafel: Sesame-Spiced Turkey Meatballs and Smashed Chickpea Salad.
Fig, Olive Oil, and Sea Salt Challah
Yield: 1 large loaf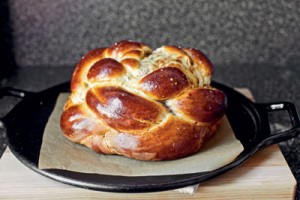 The terrain of updating old, beloved recipes is fraught with land mines. People don't travel by planes, trains, and automobiles, and sit in three- hour traffic jams on Thanksgiving afternoon because they're secretly hoping their mother decided to make not their family's favorite stuffing this year, but a new one she clipped from a gourmet food magazine. And my people haven't been sitting down to Friday night and High Holiday dinners with a braided loaf of egg bread for thousands of years with the nagging suspicion in the back of their minds that it really could use an update—perhaps with some imported sea salt?
Because of this, I always try to tread carefully when making old-school dishes, yet usually fail because my curiosity gets the better of me. This time, I wasn't sorry at all. I took my favorite recipe for challah and replaced the vegetable oil with olive oil, the sugar with honey, the raisins I might use in a sweeter loaf with a fig paste cooked with orange zest, and then I finished it with sea salt and proceeded to watch a table full of carb-eschewing people fall upon it like a pride of hungry lions. This challah gets requested by name.
Leftovers, should they survive the dinner table, make some fine French toast, especially when drizzled with warm honey and served with a dollop of fresh ricotta.
Bread
2 1/4 teaspoons (1 packet—1/4 ounce or 7 grams) active dry yeast
1/4 cup (85 grams) plus 1 teaspoon honey
1/3 cup (80 ml) olive oil, plus more for the bowl
2 large eggs
2 teaspoons flaky sea salt, such as Maldon, or 1 1/2 teaspoons table salt
4 cups (500 grams) all-purpose flour
Fig Filling
1 cup (5 1/2 ounces or 155 grams) stemmed and roughly chopped dried figs
1/8 teaspoon freshly grated orange zest, or more as needed
1/2 cup (120 ml) water
1/4 cup (60 ml) orange juice
1/8 teaspoon sea salt
Few grinds of black pepper
Egg Wash
1 large egg
Coarse or flaky sea salt, for sprinkling
To make dough with a stand mixer
Whisk the yeast and 1 teaspoon honey into a cup warm water, and let it stand for a few minutes, until foamy. In a large mixer bowl, combine the yeast mixture with remaining honey, 1/3 cup olive oil and eggs. Add the salt and flour, and mix until dough begins to hold together. Switch to a dough hook, and run at low speed for 5 to 8 minutes. Transfer the dough to an olive-oil-coated bowl (or rest the dough briefly on the counter and oil your mixer bowl to use for rising, so that you use fewer dishes), cover with plastic wrap, and set aside for 1 hour, or until almost doubled in size.

To make dough by hand
Proof the yeast as directed above. Mix the wet ingredients with a whisk, then add the salt and flour. Mix everything together with a wooden spoon until the dough starts to come together. Turn the mixture out onto a floured counter, and knead for 5 to 10 minutes, until a smooth and elastic dough is formed. Let rise as directed above.
Meanwhile, make fig paste
In a small saucepan, combine the figs, zest, water, juice, salt, and a few grinds of black pepper. Bring to a simmer over medium heat, and cook, stirring occasionally, until the figs are soft and tender, about 10 minutes. Season with salt and pepper to taste. Remove from heat, and let cool to lukewarm. Process fig mixture in a food processor until it resembles a fine paste, scraping down the sides of the bowl as necessary. Set aside to cool.
Insert figs
After your dough has risen, turn it out onto a floured counter and divide it in half. Roll the first half of the dough into a wide and totally imperfect rectangle (really, the shape doesn't matter). Spread half the fig filling evenly over the dough, stopping short of the edge. Roll the dough into a long, tight log, trapping the filling within. Then, gently stretch the log as wide as feels comfortable (I take mine to my max counter width, about three feet) and divide it in half. Repeat with remaining dough and fig filling, creating four ropes.
Weave your challah
Arrange two ropes in each direction, perpendicular to each other, like a tight tic-tac-toe board. Weave them so that one side is over, and the other is under, where they meet. So now you've got an eight-legged woven-headed octopus. Take the four legs that come from underneath the center, and move them over the leg to their right—i.e., jumping it. Take the legs that were on the right and, again, jump each over the leg before, this time to the left. If you have extra length in your ropes, you can repeat these left-right jumps until you run out of rope. Tuck the corners or odd bumps under the dough with the sides of your hands to form a round.
Transfer the dough to a parchment-covered heavy baking sheet or, if you'll be using a bread stone, a baker's peel. Beat egg until smooth, and brush over challah. Let challah rise for another hour, but 45 minutes into this rise, preheat your oven to 375 degrees.
Bake your loaf
Before baking, brush loaf one more time with egg wash and sprinkle with coarse salt if you're using it. Bake in middle of oven for 35 to 40 minutes. It should be beautifully bronzed; if yours starts getting too dark too quickly, cover it with foil for the remainder of the baking time. The very best way to check for doneness is with an instant-read thermometer—the center of the loaf should be 195 degrees.
Cool loaf on a rack before serving. Or, well, good luck with that.
Rhubarb Hamantaschen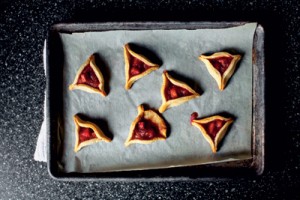 Yield: thirty 2-inch hamantaschen
I like a lot of things about rhubarb, the first being that it's still relatively new to me. I don't remember hearing a thing about it growing up but have been making up for lost time since a co-worker introduced me to it several years ago. She said it grew almost uncontrollably in her backyard in Seattle (a place I've since imagined as a veritable rhubarb wonderland; please do not tell me if this is incorrect), so she quickly learned how to cook with it. I like that it's a vegetable masquerading as a fruit. I like that it's shiny and pearly and fuchsia and green at once, and can hardly think of another thing in nature that pretty. Unlike the color of so many purple carrots and the swirly pink cranberry beans I fall for at the market, rhubarb's blush holds up once it's cooked. I like the way it may seem mundane, but every time you eat it you're living on the edge: The leaves at the top of those alluring stalks are actually, well, deadly. And I like the fact that it's kind of a grandma thing; rhubarb pies have an old-time-y thing going on, something people have baked for generations before you. I'm all for grandmas.
Hamantaschen are traditionally brought out during the Jewish holiday of Purim, which is an early-spring festival. (It is often considered the Jewish Halloween, but without TP-ed houses and wicked pumpkins, I'm sorry, it's just not the same.) Early spring, if you're real lucky, will provide you with rhubarb, one of the first things to emerge from the defrosted winter ground, and that is why it makes the very best cookie filling possible.
Also, it's pink, which, if you tell me doesn't charm you, well, I won't believe you.
I learned the rhubarb cooking technique you see here from Good to the Grain, one of the very best baking books I've bought in this decade. From Kim Boyce, I learned that you could simply cook fruit dry—no liquids, no water—over low heat, coax out its juices within, and make the kind of fruit filling that doesn't run all over the place from you when it hits the oven. I doubt she was dreaming of hamantaschen when she made it, but it's saved me from burned jammy puddles every time.
Filling
1 pound (905 grams) rhubarb stalks (to make 3 cups chunks)
2/3 cup (130 grams) sugar
Cookie
1/2 cup (50 grams) finely ground almonds, almond meal, or heaping 1/2 cup sliced almonds
2 cups (250 grams) all-purpose flour
1/3 cup (65 grams) sugar
3/4 teaspoon table salt
4 ounces (115 grams or 1 stick) unsalted butter, chilled, cut into small pieces
1 large egg
1/8 teaspoon almond extract
Make filling
Trim any rough ends from rhubarb. If a stalk is on the thick side, cut in half lengthwise. Cut rhubarb into 1/2-inch segments; you should have about 3 cups. Place them in a medium saucepan with sugar, stir to combine, turn heat to medium-low, cover, and cook for 15 minutes. No need to stir at this stage. Increase the heat to medium, remove cover, and cook, stirring occasionally, for another 15 minutes, until rhubarb is broken down and mixture is thick enough so that briefly running a spoon across the bottom of the pot leaves a clear line. Pour compote out onto a large plate to cool.
To make dough in a food processor
If using sliced almonds, first grind them in the work bowl of your food processor until nearly powdery. Use only 1/2 cup (50 grams) of what you ground, returning it to the work bowl. Add flour, sugar, and salt, and run the machine for another minute, which will help the nuts grind further without turning them into almond butter. Add chunks of butter, and pulse the machine in short bursts until the mixture resembles small pebbles. Add egg and extract, and pulse until the dough starts to come together. Turn dough out onto counter, knead once or twice, and divide into quarters.
To make dough by hand
Mix ground almonds, flour, sugar, and salt together in a large bowl. Using a pastry cutter, two forks, or your fingertips, work butter into flour until it resembles cornmeal. Add eggs and extract, and combine the dough with a wooden spoon. Turn dough out onto counter, and knead until mixture is uniform. Divide into quarters.
Shape the cookies
Place one-quarter of the dough on a well-floured counter, and flour the top of it generously as well. Roll the dough to a 1/8-inch thickness, and cut out circles with a 2 1/2- to 3-inch round cutter or drinking glass. Using a measuring spoon, dollop 1 teaspoon of the cooled rhubarb filling in the center of each circle. Fold edges up in three places to form a triangular cookie and gently pinch seams together to form corners. Transfer cookies to a parchment-lined baking sheet, and place entire tray in freezer for 30 minutes before baking. Repeat with remaining dough.
Preheat your oven to 375 degrees. Bake cookies for 15 to 17 minutes, until golden at edges. Transfer to racks to cool.
Sesame-Spiced Turkey Meatballs and Smashed Chickpea Salad
Yield: serves 4
I'd like to tell you that I'm just brimming with self-awareness, but, alas, there's just so much evidence to the contrary—pretty much every boyfriend I had from eighteen to twenty-seven and a shiny orange duvet that burned our eyeballs for six weeks before I admitted what a bad purchase it was and stuffed it in a closet where it still lives today—that I won't bother.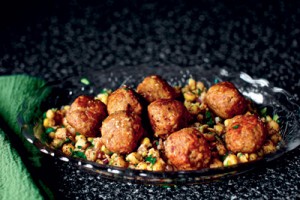 And I'd like to tell you that at the wise old age of "But didn't we just celebrate your thirtieth birthday last year?" I've become much more insightful as to my motives in and out of the kitchen, but here are these meatballs, telling me otherwise. I pulled the idea out of what I thought was thin air: tiny, intensely spiced turkey meatballs with a crisp edge. I knew they needed cumin, and coriander, and Aleppo pepper. I thought toasted sesame seeds would add a light crunch and nutty flavor. And I knew that, above all else, they'd sit on a bed of crushed chickpeas dressed with lemon and garlic and spices…. Maybe you'd even serve them in pitas. And it took me weeks, longer even, until I was going over the recipe and photos, to realize that, duh, "thin air" was actually a falafel stand. I turned one of the most beloved vegetarian meals on the planet into meatballs.
You know, mostly. But what I really think we should talk about is this salad. I've had my share of chickpea salads, most of which are, you know, chickpea- flavored, but this one, one I devised mostly as a complement to spicy meatballs, became my instant favorite. Sumac is a dark-red ground powder that tastes almost like a sour paprika and is used a lot in Middle Eastern cooking. Here, it's dreamy, and adds an extra dimension to the tart lemon-garlic dressing.
1 pound (455 grams) ground turkey
2/3 cup (40 grams) fresh breadcrumbs (from 1 to 2 slices sandwich bread)
1/4 cup (60 ml) water
1 teaspoon table salt
1 large egg
2 garlic cloves, minced
1/2 teaspoon ground cumin
1/2 teaspoon ground coriander
1/2 teaspoon Aleppo pepper
Pinch of cayenne pepper, or 1/4 teaspoon
Aleppo red pepper flakes
2 tablespoons (15 grams) sesame seeds, toasted
Olive oil, to coat pan
Form meatballs
Preheat your oven to 400 degrees. Combine all of the meatball ingredients in a medium bowl with a fork, breaking up the clumps of meat until the ingredients are evenly distributed. Form turkey mixture into 1 1/2-inch, or golf-ball-sized, meatballs, and arrange them on a tray. I find wet hands make it easier to form the meatballs and keep them from getting sticky.
Cook meatballs
Heat a generous slick of oil in a large ovenproof sauté pan with a lid. Brown the meatballs in batches, being careful not to crowd the pan or nudge them before they are nicely browned. These meatballs are soft, so use a gentle hand. Transfer the meatballs to a paper-towel-lined tray, and continue cooking in more batches until they are all browned.
Discard the oil, and wipe all but a thin layer from the pan. Return all of the meatballs to the pan, and transfer to preheated oven. Bake until a thermometer reads an internal temperature of 160 to 165 degrees, or about 10 to 15 minutes.Serve with smashed chickpeas.
Smashed Chickpea Salad with Lemon and Sumac
Yield: about 2 cups salad
1 3/4 cups (440 grams) cooked chickpeas, drained and rinsed
Handful of pitted, halved, and very thinly sliced green olives
1/2 teaspoon ground sumac, plus more for garnish
Chopped fresh parsley
2 tablespoons (30 ml) freshly squeezed lemon juice
1 small garlic clove, minced
Pinch of cayenne pepper
1/4 teaspoon table salt
Olive oil
Mix everything but the olive oil in a small to mid-sized bowl. Very lightly smash the chickpea mixture with the back of a fork or a potato masher. You're not looking for a hummuslike purée, but something closer to a coarse chop, with a few smaller bits to hold it together. Dress the chickpeas with a drizzle of olive oil and stir to combine. Adjust seasoning to taste.
All recipes and photos excerpted from THE SMITTEN KITCHEN COOKBOOK by Deb Perelman. Copyright © 2012 by Deb Perelman. Excerpted by permission of Knopf, a division of Random House, Inc. All rights reserved. No part of this excerpt may be reproduced or reprinted without permission in writing from the publisher.