Just Desserts
Most people return from Paris with flowery descriptions of the spectacular art, architecture and fashion of the city. But the Paris I love to visit is an adventure into rich dark-chocolate mousses and shiny glazes, layers of crisp pastry and toasted nut fillings and purées of every fruit imaginable. On my most recent trip to France's capital, at least five times a day I tasted something new and unusual. I marveled at a fusion of flavors in an éclair, the stunning decorations on a layer cake and the crunchy, creamy texture of a perfect macaron. Even after I declared myself done for the day, I found yet another shop where the chocolate fragrance compelled me to buy one more truffle.
Paris is a culinary challenge for kashrut-observing pastry lovers: The city boasts 80 kosher patisseries, so how does one track down all those delicious breads, cakes and cookies? The French-language Web site Mangercacher (www.mangercacher.com) and its companion app can help. It allows viewers to easily locate the shops; Mangercacher (eat kosher) maintains a list of its top 15 patisseries.
Still, Parisian Jews have their favorites. Local baker Karine Amiel's is Damyel. She loves their "special chocolates for each Jewish holiday, such as a chocolate hanukkiya, and [they] will customize candies and chocolates for births, bar mitzvas and weddings."
As a French-trained pastry chef, I was eager to discover some of those favorites on my tasting tour. Along the way, I learned how diverse Jewish immigration—from Eastern Europe, North Africa, the Ottoman Empire, Morocco and Tunisia—left its imprint on the food scene. Many contemporary Parisian pastries can be traced to those origins.
No longer is the historic Marais district—including parts of the second and fourth arrondissements—considered the main Jewish area; the community is scattered throughout the city and its outskirts. But Korcarz—in the heart of the artsy Marais area north of the Île St.-Louis, the quaint island in Paris's center—is the perfect place to start your tour.
The oldest kosher pastry shop in Paris, Korcarz was the first bakery opened after World War II, by Joseph Korcarz and Polish-born Helena Boas (who met in Auschwitz); Korcarz was among the 2,500 (out of the 17,000) deported Parisian Jews who returned after the war. Their son, Alain, runs the shop today.
There is a thriving community of more than 300,000 Jews in Paris; 75 percent are Sefardim, 25 percent Ashkenazim. Korcarz's pastries reflect that multifaceted character: Ashkenazic and Sefardic; classic and contemporary. "Jews in Paris assimilate with our food," said Alain Korcarz.
Korcarz's pastry includes classic French mini-tarts—lemon with thick swirls of toasted meringue, glazed fruit or thin, crisp cookie crusts; and chocolate tarts abutting layer cakes filled with coffee and vanilla creams. You can also find East European mainstays: flaky rugelach, crisp mandelbrodt, poppy seed Danish and meringues. Korcarz bakes nearly 70 percent of the hallas sold in Paris. Alain's wife, Irene, sent me home with brownies, cookies and soft halla rolls, ensuring a sweet Shabbat.
The bakery also sells dairy desserts, which I learned was an exception to the rule. When I ordered a cappuccino elsewhere, for example, I discovered that only soymilk is served because most shops are dairy-free. Unique among the shops I visited, Korcarz has an attractive eating area where you can enjoy a flaky almond cream-filled croissant and cappuccino with real milk.
For years, I have said that pareve pastries can look and taste as good as dairy equivalents. In Paris, I found proof. Today, asserted Alain Korcarz, you can make any pastry pareve with high-quality ingredients.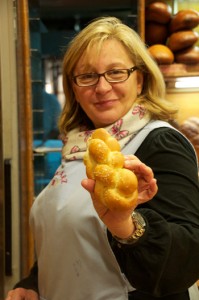 What is true at Korcarz is also true at other places of indulgence. For instance, the 20-year-old Contini is a French-pastry lover's paradise. (The shop also offers pizza, sandwiches and sorbets.)
When I arrived there on a Sunday morning, the dessert case was a little bare. There were plenty of vienoisserie (breakfast pastries such as pain au chocolat and almond croissants) and fancifully decorated cakes: chocolate with flowers, shards of praline, buttons of brightly colored icing, chocolate ribbons and fruit glazes. I recognized the frasier, a two-layered cake with vanilla cream and strawberries in between; a mille feuille (napoleon) with caramelized pastry layers; and classic apple and strawberry tarts. Contini's versions were works of art—with both bold and subtle strokes.
I started with a perfectly crumbly outside and gooey inside pain au chocolat and espresso. While I sat there, the owner's daughter, Sandrine Berdah, a Tunisian Jew, filled the shelves with increasingly extravagant desserts. Two lovely Sefardic women who entered the store assured me that I had indeed found the best kosher pastry shop in Paris.
As I waited for the shelves to be restocked, I took in the local scene: Men wearing kippot came in carrying their motorcycle helmets. Mordecai, a 10-year-old boy on a scooter, zipped in and sold me a raffle ticket for a trip to Israel to help raise his share of money for his yeshiva.
Once the shelves were full, it was difficult to choose from the rows of baba au rhum topped with a mountain of whipped cream; chocolate and vanilla mousse layer cakes; pink macarons with strawberries and vanilla cream; the classic mont blanc (a cake with chestnut cream "spaghetti" swirled on top); and mini- frasiers.
There were also caramelized mille feuilles and flavored éclairs—vanilla, coffee, chocolate, caramel, pistachio, cassis—each with brilliantly hued icing that corresponded to the flavors. Most impressive were the exquisite details on both the large cakes and their miniature versions. I bought a mini St.-Laurent cake covered in a thick layer of shiny, dark chocolate glaze with a swirl of white cream. Inside was crunchy vanilla meringue and hazelnut mousse.
Neither of Contini's locations is central, but they are schlepp-worthy.
For traditional Sefardic desserts, head to Zazou, on rue du Faubourg Montmartre, in a neighborhood that has been Jewish since the mid-1800s.
In the 1960s, owner Alain Azria's family came from Tunisia where they had a pastry shop. Today, Zazou sells French pastries, sandwiches and mandelbrodt but is best known for its large selection of North African and Middle Eastern desserts: baklava, cigars stuffed with nuts and powdery Turkish delights. The desserts are filled with pistachios, almonds, sesame or dates; the pastry glazes are flavored with honey, rose- or orange-blossom water.
Around the corner from Zazou is one of five Damyel locations. In business for 14 years, Damyel is the premier pareve kosher chocolate and confectionery shop—competitive with any fancy chocolate shop in Paris. Chocolate candies come in 25 flavors—sea salt, mango, caramel, coffee, cassis, pistachio and chestnut, among them. There are also truffles, dragées (candy-covered almonds) and chewy nougat candy. I tasted raspberry baguettes de chocolat—long skinny chocolate sticks decorated with pretty pink designs.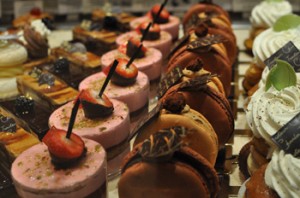 Damyel is also known for its macarons—praline, pistachio, mango, raspberry, coffee, caramel, vanilla, citron and cassis.
Damyel has lovely gifts including a chocolate Eiffel Tower and candies in cardboard tefilin boxes. I tried the praline casques—they look like a baseball helmet and are filled with creamy hazelnut-chocolate praline—that are arguably the best chocolate candy I had tasted in Paris.
One of the top kosher caterers is Charles Traiteur, with six shops in the city. The one in the 16th arrondissement had one long counter of French pastries and another with desserts from North Africa and the Middle East, all pareve. Among those: shebakia, a pie dough with rose water and sesame; debia (Libyan pastry flowers); Cornet pistache (Moroccan sesame cones of chopped pistachios); and cigars with almonds. My favorite was rose, a puff-pastry dough made into a flower, deep fried, then glazed with honey.
A shop whose name reflects the gustatory experience is La Délicieuse, which has two locations. It features classic and contemporary French desserts with a few Sefardic offerings: éclairs; baba au rhum; religieuse (like an éclair, but with one ball of éclair dough atop a larger one, both filled with cream and glazed with icing to match the flavor within); mango mousse layer cake; colorful, extra-large macarons the size of a cake filled with fruit and cream or mousse; and the mini macarons that no Parisian pastry shop would be without. I sampled four French desserts: sucré noisette, a crisp hazelnut macaron base with hazelnut cream inside; a layer cake featuring dark-chocolate mousse; a tart mango mousse with a bruléed top; and a velvety chocolate mousse sandwiched between chocolate macarons.
Last but not least, I was drawn to the ultra-hip kosher restaurant Osmose because of its crème brûlée—it is pareve and reputedly fabulous. Ranked among the top restaurants in Paris, Osmose is noted for its creativity. The interior is modern with a stark-white décor.
I concentrated on the desserts.
I chose dark-chocolate molten cake with vanilla coconut ice cream; strawberry tart with sugar-cookie crust, vanilla cream, strawberries and caramelized pistachios; and the crème brûlée with a thin, burned top and smooth custard. Also on the dessert menu—which Chef Yoni Saada changes often—were orange blossom and almond ice cream and fig pie.

Formulating a pareve crème brûlée is difficult. Chef Saada uses coconut milk; he served it with red fruit sorbet, an inspired combination of tart and sweet. He also makes his own soy and almond milks for creams and ice creams to avoid processed whipped creams.
Gourmet pareve pastries are being celebrated in the patisseries of Paris. So when you visit the city, enjoy the art at the splendid museums and view the haute couture designs in high-end boutiques. But don't forget to make time to discover new and old Jewish neighborhoods as well as Paris's edible masterpieces.
Paula Shoyer is the author of The Kosher Baker: Over 160 Dairy-free Recipes from Traditional to Trendy
 (Brandeis) and the forthcoming The Holiday Kosher Baker: Traditional & Contemporary Holiday Desserts
 (Sterling Press). Visit her at www.paulaspastry.com.
Chocolate Amaretto Truffles
Makes 35 truffles.
2/3 cup slivered almonds
10 ounces bittersweet chocolate, chopped
1/2 cup whipping cream
2 teaspoons almond-flavored liqueur such as Amaretto
2 tablespoons unsweetened cocoa
1. Preheat oven to 325° F. Line large jelly roll pan with parchment paper. Spread almonds on pan and toast for 20 minutes, stirring after 10 minutes. When done, slide parchment off pan and let cool 5 minutes. Place almonds in a food processor with a metal blade and process until ground.
2. Melt chocolate in a double boiler or in microwave in 15-second increments, stirring between cycles, until smooth. Heat cream on stove or in microwave until hot but not boiling. Whisk into melted chocolate in four parts. Add almonds and almond liqueur and mix well.
3. Line a cookie sheet with parchment or waxed paper. Pour the mixture onto paper and spread about 1/3-inch thick. Freeze 25 minutes.
4. Slide the paper off the pan and line with new paper. Scoop up teaspoons of the chocolate and roll into balls. Place them back on pan and freeze for 10 minutes.
5. Pour cocoa into a medium-size bowl and roll the truffles in the powder. Place candies in a sieve to shake off extra coating.
6. Place each truffle in a mini candy paper cup. Store in airtight container in the refrigerator for up to five days or freeze for up to three month
Chocolate Macarons
Makes 45 macarons.
Cookie
1 cup almond flour (can grind 1 1/2 cups slivered almonds in coffee grinder)
1 3/4 cups confectioners' sugar
1/4 cup unsweetened cocoa
4 large egg whites, at room temperature for two hours
1/4 cup sugar
Chocolate Ganache Filling
5 ounces semisweet or bittersweet chocolate, finely chopped
1/2 cup whipping cream
1 tablespoon confectioner's sugar
1. For the cookie, the egg whites must be out at room temperature for 2 hours. Separate eggs when cold and put yolks in the fridge. Place the almond flour, confectioners sugar and the cocoa in a food processor fitted with a metal blade. Process for 3 full minutes. Sift into another bowl, discarding any large pieces.
2. In a large bowl, beat the egg whites on high speed until stiff. Turn the speed to low, add the granulated sugar slowly and then turn up the speed to high for another 3 minutes. Line 2 cookie sheets with parchment that is cut to fit perfectly. Add the almond, cocoa and sugar mixture and mix on low speed to mostly combine. Finish mixing by hand.
3. Place the batter into a pastry bag fitted with a 1/4-inch round tip. Squeeze a little batter under the corners of the parchment to "glue" the parchment to the cookie sheet. Hold the pastry bag straight up about 1/4-inch over the paper and squeeze out the batter slowly until you have a 1-inch circle. Repeat, leaving two inches of space between each circle. Let sit at room temperature for 1 hour.
4. To prepare the ganache, in a small saucepan, bring the cream to a boil. Add the chopped chocolate and let sit five minutes. Add the confectioners' sugar and whisk well. Place in the fridge for one hour to firm up.
5. To bake the macarons, preheat the oven to 300ºF. Bake for 20-22 minutes, until the cookies have puffed up, switching the cookie sheets on the racks halfway through baking and turning them around. They are done if when you peel a cookie off the sheet, it comes off and sticks just a little. Slide the parchment off the sheet and let cool. Peel the parchment away from the cookies to separate them.
6. To fill cookies, arrange pairs the same size. Using a knife or pastry bag with a 1/2-inch round tip, place about 1 to 1 1/2 teaspoons of the ganache into the center of the bottom of one cookie, place the other on top so the tops face outside, and then press gently so you can see the filling from the sides. If the ganache gets too hard, melt it in the microwave for a few seconds and stir and if too soft, place back in the fridge until it firms up. Store in the fridge for up to three days or freeze for up to three months.
Finding Kosher Patisseries in Paris (All Web sites are in French).
Charles Traiteur www.charlestraiteur.fr; 89 avenue Raymond Poincare, 011-33-1-45-00-27-77; 47 rue Jouffroy d'Abbans, 33-1-47-63-66-04; 244 boulevard Voltaire, 33-1-43-73-70-00; 12 avenue Corntin Cariou, 33-1-42-05-17-41; 135 rue Manin, 33-1-42-49-34-47; 23 avenue de la porte de Vincennes, 33-1-48-08-44-90
Contini www.contini-paris.fr; 116 rue Simon Bolivar, 33-1-42-00-70-80; 81 avenue Wagram,
33-1-48-88-98-16
Damyel www.damyel.com; 35 rue Richer; 246 boulevard Voltaire; 93 avenue de Villiers; 149 rue Manin;
86 avenue Paul Valery, 33-1-42-46-19-44
Korcarz www.korcarz.com; 29 rue des Rosiers, 33-1-42-77-39-47
La Délicieuse www.mangercacher.com/restaurant-cacher/la_delicieuse_voltaire.php; 2 rue Commines; 234 boulevard Voltaire, 33-1-40-24-26-26
Osmose Restaurant www.osmose-paris.com; 31 avenue de Versailles, 33-1-45-20-74-12
Zazou 20 rue du Faubourg Montmartre, 33-1-45-23-02-22