Main Dishes: What's Cooking at Hadassah
Healthy, easy and refreshingly gourmet fish, burger, chicken and steak dishes—plus Korean short ribs and skirt steak!—are great go-to's for summer grilling season.

Razzle Dazzle Salmon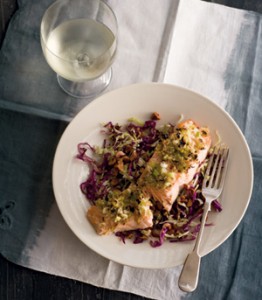 From Who Made That? A Collection of Recipes by State College Hadassah, State College, Pennsylvania.
6 tablespoons olive oil
1/4 cup orange juice
3 tablespoons lemon juice
2 tablespoons soy sauce
1 tablespoon lime juice
1/4 fennel bulb or crushed fennel seeds
1/2 small red onion, thinly sliced
2 cloves garlic, sliced and crushed
1/2-inch piece fresh ginger, peeled and crushed
1 sprig fresh thyme or sprinkle of dried thyme
1 bay leaf
1/8 teaspoon crushed peppercorns
2 pounds salmon
Trim, core and thinly sliced fresh fennel bulb crosswise. Combine all ingredients, except salmon, in glass or ceramic bowl; mix well. Add salmon and coat with marinade. Leave skin side up. Cover and set aside or refrigerate for 30 minutes. Remove salmon from marinade. Grill about 5-10 minutes on the flesh side, then turn over and grill skin-side down another 5-10 minutes depending on thickness. Or you can broil in the oven or bake at a very high heat, 450 to 475. (I like to put the onions and fennel in a foil pan or foil wrap and grill them as well, we like the veggies with the salmon.)
Baked Cod with Tomato and Black Olives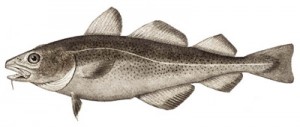 From A Dash of Love: Culinary Favorite's Presented by Daytona Beach Hadassah, Daytona Beach, Florida, contributed by Marlene Epstein. Can substitute scrod, haddock, halibut or snapper.
1 teaspoon vegetable oil
1 medium onion, chopped
2 cloved garlic, chopped
1 (about 15 ounces) can crushed tomatoes, packed in puree
3/4 cup black olives, packed in water, drained, pitted and chopped
1 tablespoon grated lemon zest
1/4 teaspoon salt
1/4 teaspoon pepper
1/2 cup packed basil leaves or 1 tablespoon dried
1 1/4 pounds cod fillets
2 tablespoons sliced almonds, toasted
Heat oil in medium nonstick pan. Add onions, cook over low heat covered, stirring occasionally, until softened, about 5 minutes. Add garlic, cook 1 minute. Add tomatoes, olives, lemon zest, salt and pepper. Bring to boil, then lower heat, simmer uncovered until thickened, about 20 minutes. Cut basil and stir into sauce.
Preheat oven to 425. Place fish in single layer in baking dish. Cover evenly with tomato mixture. Bake 15 to 20 minutes, depending on thickness of fish or until fish is opaque in center and begins to flake. Cut into 4 equal portions. Garnish with almonds.
Grilled Chinese Chicken Burgers with Hoisin Sauce
From B'te Avon III: Tasteful Treasures from North Boundary Hadassah, Chicago, Illinois, contributed by Arlene S. Levin.
1 pound ground chicken or turkey
1 (8 ounce) can water chestnuts, drained and finely chopped
1/2 cup cilantro, chopped fine
1 green onion, minced
1 teaspoon five-spice powder
1/4 cup bread crumbs, ground fine
1/3 cup hoisin sauce, divided
In a large bowl, place chicken, water chestnuts, cilantro, onion, five-spice powder, bread crumbs and 2 tablespoons hoisin sauce. Mix until just combined. Form into 4 patties of equal size. Grill until done and brush with hoisin sauce.
Turkey Burgers with Grated Zucchini and Carrots
From Simply the Best: Light and Luscious Kosher Recipes, Hadassah of Greater Philadelphia, Pennsylvania. Lean ground turkey tends to be dry; the mushrooms in this recipe add moistness to these burgers. While the recipe has a lot of ingredients, it is easy to make. Serves 4.
1 pound lean ground turkey
1 medium carrot, grated
1 medium zucchini, grated
1/2 cup finely chopped mushrooms
1/2 cup finely chopped onion
2 cloves garlic, minced
1 tablespoon barbecue sauce
1 teaspoon Worcestershire sauce
3/4 teaspoon dried thyme
3/4 teaspoon salt
1/4 teaspoon pepper
1 large egg, beaten
1 tablespoon olive oil
1. In a large bowl, combine all ingredients together, except oil. For mixture into 4 patties.
2. Heat olive oil in a large skilled over medium heat. Cook patties, turning once, until no trace of pink remains, 4 to 5 minutes per side.
Chicken Florentine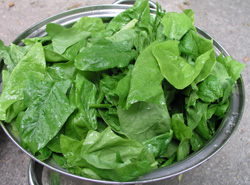 From Regency Hadassah Cooks: Treasured Family Recipes From our Membership, Monroe, New Jersey.
2 teaspoons olive oil
4 (3 ounce) thin sliced skinless chicken breasts
1/2 teaspoon salt
1/4 teaspoon freshly ground pepper
1 small onion, thinly sliced
1 (10 ounce) bag washed spinach, torn
1/4 cup dry white wine or chicken broth
In a large nonstick skillet, heat the oil. Saute the chicken until golden brown, about 3 minutes. Turn over and sprinkle with the salt and pepper; sauté until cooked through, about 3 minutes. Transfer the chicken to a plate. In the skillet, sauté the onion until tender, about 3 minutes. Add the spinach, in batches if necessary; cook, stirring, until wilted, about 2 minutes. Add the wine; cook until most of the liquid evaporates, about 1 minute. Return the chicken to the skillet and cook for 1 minute.
Korean-Style Short Ribs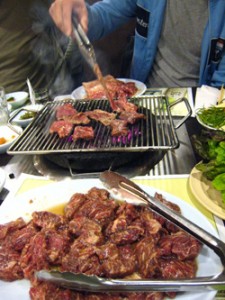 From Regency Hadassah Cooks: Treasured Family Recipes From our Membership, Monroe, New Jersey, contributed by Steffi Altbaum.
1/4 cup soy sauce
1/2 cup water
1/4 cup sliced green onions
2 tablespoons toasted sesame seeds
2 tablespoons sugar
2 cloves garlic, crushed
1/2 teaspoon pepper
4 pounds short ribs, cut between the bones.
In a mixing bowl, stir together the soy sauce, water, onions, sesame seeds, sugar, garlic and pepper. Pour over the ribs and marinate in the refrigerator overnight. Grill or broil for 15 to 20 minutes until cooked to desired doneness.
Skirt Steak with Honey and Herbs
From From the Heart Cookbook: A Collection of Treasured Recipes, Hadassah Chapter of Marlboro, New Jersey. Serves 6.
1/2 cup soy sauce
1/2 cup olive oil
4 1/2 tablespoons honey
6 large minced garlic cloves
3 tablespoons fresh rosemary or 1 tablespoon dried
1 1/2 tablespoons coarsely ground black pepper
1 1/2 teaspoons salt
2 1/2 pounds beef skirt steaks or other flat meat
Mix all ingredients, except steak, in 13x9x2-inch glass baking dish. Add steak and turn to coat. Cover and refrigerate for 2 hours, turning occasionally. Prepare barbecue (medium-high heat) or preheat broiler. Remove meat from marinade; discard marinade. Grill steak to desired doneness, about 4 minutes per side for medium rare. Transfer steak to work surface. Let stand for 5 minutes. Cut across grain into thin strips. Arrange on platter and serve.