Soups and Salads: What's Cooking at Hadassah
As the food editor at Hadassah Magazine, my desk is piled high—think deli corned-beef sandwich high—with cookbooks, most hardcover and professionally, stunningly photographed. But, since late last year when I issued a call for cookbooks, there has been a new, ever expanding column of mostly paperback, spiral-bound books in my corner of the office, this one dedicated to Hadassah chapter and regional cookbooks.
These tomes are the labors of love of hundreds of Hadassah members, and each one is a treasure. Not surprisingly, the titles contain hundreds of similar dishes, from every kind of kugel you can imagine to apple cakes, tzimmes, hummus, latkes…you get the idea. But it was not difficult to find something unique in each, or a particularly good representation of a comfort classic: It is those gems I want to highlight, with an emphasis on healthful summer cooking and seasonal produce, since warm weather is just around the corner.
Tomato-Zucchini-Basil Soup
From A Dash of Love: Culinary Favorite's Presented by Daytona Beach Hadassah, Daytona Beach, Florida, contributed by Roberta Feldman.
3 tablespoons olive oil
2 onions, minced
6 cloves garlic, minced
5 tomatoes, peeled and cut up or 3 cans diced tomatoes and juice
2 cups sliced or cubed zucchini
8 cups vegetable stock
1/2 cup minced parsley (1/4 cup dried)
1/2 cup fresh chopped tarragon (1/4 cup dried)
1/2 cup fresh chopped basil (1/4 cup dried)
1 teaspoon dried thyme
1 bay leaf
1/2 cup grated Swiss cheese
Pepper to taste
Heat olive oil and sauté the onions until golden. Add the garlic and stir. Add the tomatoes, zucchini and stock. Cover and simmer for 10 minutes. Add the herbs. Cover again and simmer for 15 minutes. To serve, sprinkle grated cheese over the top.
Peach Gazpacho
From From Generation to Generation, Metulla Hadassah Cookbook, Greater Atlanta Region, Georgia, contributed by Barbara Shoulberg.
1/2 cup orange juice
8 ripe peaches, peeled and pitted
1 medium cucumber, peeled and seeded
1 garlic clove, minced
1 tablespoon sherry or white wine vinegar
2 tablespoons olive oil
Salt and pepper to taste
1 avocado
In a blender, combine orange juice, 7 peaches, cucumber and garlic. Puree. Add vinegar and olive oil and puree again. Taste and adjust for seasonings, adding more vinegar if needed. Thin with orange juice if needed. Chill at least 4 hours. When ready to serve, dice remaining peach and garnish soup with diced avocado and peach.
Horseradish Dill Potato Salad
From B'te Avon III: Tasteful Treasures from North Boundary Hadassah, Chicago, Illinois, contributed by Dave's Specialty Foods.
3 pounds red potatoes
1/4 red onion, peeled and diced
4 stalks celery, clean and diced
1/2 red pepper, diced
1/2 cup mayonnaise
1/4 cup Dijon mustard
1/4 cup sour cream
2 tablespoons fresh dill, chopped fine
1 pinch salt and pepper
2 tablespoons horseradish
Simmer potatoes in water until tender. Do not overcook. Drain and set aside. Place the rest of the ingredients in a large bowl and mix very well. Add hot, cut up potatoes and stir to incorporate. The salad will keep, refrigerated, up to one week.
Greek Picnic Salad
From From Generation to Generation, Metulla Hadassah Cookbook, Greater Atlanta Region, Georgia, contributed by Stephanie Pure.
2 cups uncooked rice
1 cup boiling water
3/4 cup sundried tomatoes
1 1/2 tablespoons olive oil, divided
8 cups spinach
2 garlic cloves, minced
2 cups (8 ounces) feta cheese, crumbled
1/4 cup pitted, chopped Kalamata olives
1 teaspoon dried oregano
1/2 teaspoon salt
1/2 teaspoon black pepper
1 (15-ounce) can garbanzo beans, rinsed and drained
3 tablespoons pine nuts, toasted
Cook rice according to package directions, omitting fat and salt. Cool to room temperature. Combine boiling water and sundried tomatoes in a bowl and let stand for 30 minutes or until soft. Drain and cut into 1-inch pieces. Heat 1 1/2 teaspoons oil in a large skillet over medium high heat then add spinach and garlic. Saute for 3 minutes until the spinach wilts. Combine rice, tomatoes, spinach mixture, cheese, olives, oregano, salt and pepper. Drizzle with remaining olive oil and toss to coat. Sprinkle with pine nuts.
Fresh Corn Salad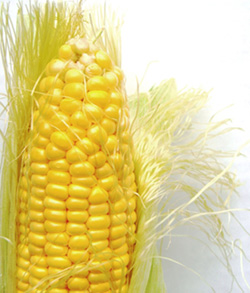 From Cooking with Oceanside Chapter of Hadassah, Oceanside, New York, contributed by Sharon Guskin.
5 ears of corn
1/2 cup small diced red onion
3 tablespoons cider vinegar
3 tablespoons olive oil
1/2 teaspoon kosher salt
1/2 teaspoon freshly ground black pepper
1/2 cup julienned basil leaves
In a large pot of boiling water cook the corn 3 minutes. Drain and immerse in ice water to stop the cooking and to set the color. When the corn is cool, cut the kernels off the cob, cutting close to the cob. Toss the kernels in a large bowl with the red onion, vinegar, olive oil, salt and pepper. Just before serving, toss in the fresh basil. Taste for seasoning and serve cold or at room temperature.
Bok Choy Salad
From Regency Hadassah Cooks: Treasured Family Recipes From Our Membership, Monroe, New Jersey, contributed by Sara-Ann Wallerstein.
1 head bok choy, coarsely chopped
4 scallions, finely chopped
1 package ramen noodles, chopped (do not use the spice packet)
3/4 cup sunflower seeds or pine nuts
3/4 cup slivered almonds
1 (11 ounce) can mandarin orange segments, drained
Combine all above ingredients in a large salad bowl
Make the dressing:
1/3 cup sugar
1/2 cup olive oil
3 tablespoons soy sauce
1/3 cup vinegar
3/4 teaspoon ground ginger
Combine all dressing ingredients in a saucepan. Boil for 1 minute. Pour sauce over the bok choy and toss thoroughly. Makes 6 servings. To use as a main course, add diced cooked chicken.
Middle Eastern Beet Salad
From Who Made That? A Collection of Recipes by State College Hadassah, State College, Pennsylvania, contributed by Lynn Schlow.
2 bunches fresh beets
1/2 cup olive oil
1/4 cup balsamic vinegar
3 tablespoons honey
1 teaspoon cumin
chopped cilantro
Simmer beets until fork tender. (Canned beets may be used but fresh are preferred.) Combine olive oil, balsamic vinegar, honey and cumin. Pour over beets and let sit for at least half an hour. Salt and pepper to taste. Garnish with chopped cilantro. Keep refrigerated but bring to room temperature before serving.
Israeli Vegetable Couscous Salad
From Simply the Best: Light and Luscious Kosher Recipes, Hadassah of Greater Philadelphia, Pennsylvania. Use vegetable broth and eliminate the chicken bouillon to make this pareve. Serves 6.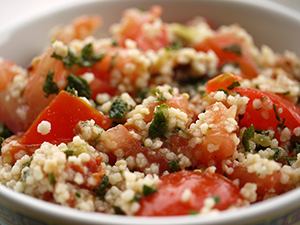 1/4 cup balsamic vinegar
1 teaspoon Dijon mustard
2 garlic cloves, minced
1/3 cup olive oil plus 1 tablespoon, divided
1/4 teaspoon salt
1/4 teaspoon freshly ground black pepper
1 green zucchini, peeled and cut into small pieces
12 grape tomatoes, halved
1/2 cup finely chopped red onion
20 ounces low sodium chicken or vegetable broth
1 teaspoon powdered chicken bouillon (optional)
1 tablespoon light pareve margarine
1 (8 ounce) package Israeli couscous
1. To make marinade, combine the vinegar, mustard, garlic, 1/3 cup olive oil, salt and pepper. Whisk vigorously do the mixture emulsifies and is well combined.
2. In a separate bowl, combine the zucchini, tomatoes and onion. Pour half of the marinade over the vegetables and let stand at room temperature for 15 minutes.
3. In a pot, heat the broth and then add the powdered bouillon (if using). Keep warm.
4. In a large pan, melt the margarine over medium heat. Add 1 tablespoon olive oil and then add vegetables and the marinade. Saute for about 7 minutes. Remove the vegetables with a slotted spoon, leaving some of the marinade in the pan.
5. Add the couscous to the pan with the marinade and toast for 3 to 4 minutes or until lightly golden brown. Cover the couscous with the hot broth, and bring to a boil. Lower to a simmer and cook, covered, about 8 to 10 minutes, or until couscous is tender and liquid is absorbed.
6. Stir in the vegetables and toss with remaining marinade. Serve this at room temperature.