Summer Eats and Reads from Overseas
Summer reading usually means light-hearted genre fare, favorites like mystery novels, romances and science fiction. But what is more escapist and transporting to read—and ogle over, thanks to beautiful, vibrant photography—than cookbooks? Here is one-half of a roundup of kosher cookbooks from the past year—these ones from South Africa, England and Israel—that deserve, if not a beach read (after all, these tomes are quite heavy), then a post-beach, cocktail-on the-deck perusal to answer this season's perennial question, "What should we barbecue tonight?"

Stella's Sephardic Table: Jewish Family Recipes from the Mediterranean Island of Rhodes
 (The Gerald and Marc Hoberman Collection) by Stella Cohen
This trove of recipes doubles as a stunning coffee table collection of photographs, history and memories from a Sefardic family—now in South Africa—that traces its ancestry to Rhodes, the Mediterranean island near Greece. Cohen's potato salad and chicken kebabs pair well, just throw together a green salad and dinner is served.
Potato, Egg, Olives and Fresh Herb Salad
This tasty citrusy-flavored potato salad, redolent with fragrant herbs and tossed with black olives, capers and quartered hard-boiled eggs, makes a fabulous accompaniment to grills or roasts.
2 1/4 pounds baby potatoes, scrubbed
2 teaspoons salt
2 hard-boiled eggs, quartered
1 small red onion, thinly sliced lengthwise
1 cup caper berries, drained, or 1 teaspoon capers, preferably salt-packed, and rinsed
1/2 cup brined or oil-cured black olives, pitted
1/2 cup roughly chopped flat-leaf parsley (use leaves and tender stems)
1/4 cup roughly chopped fresh dill
For the Dressing:
1/2 cup extra-virgin olive oil
1/2 cup fresh lemon juice or white wine vinegar
1/2 teaspoon sugar
1 teaspoon Dijon mustard
Sea salt
Pinch freshly ground black pepper
1. Put the unpeeled potatoes in a large pan and cover them with water. Add the salt and bring to a boil over medium-high heat. Reduce the heat and simmer until knife tender, 20-25 minutes. Drain the potatoes and peel when cool enough to handle (or leave skins on if you prefer) and cut them in half. Transfer to a salad bowl.
2. Whisk all the dressing ingredients together in a small bowl.
3. Pour the dressing over the potatoes while they are still warm. Add the eggs, onion, capers, olives and herbs, and toss through gently until the potatoes are evenly coated with the dressing. Cover with plastic wrap and let stand for about an hour to absorb flavors. Taste for salt. Serve at room temperature.
Chicken Kebabs
Cubes of chicken, made tender and flavorful in a lemon-garlic marinade and then grilled on skewers, makes a perfect addition to your barbecue repertoire.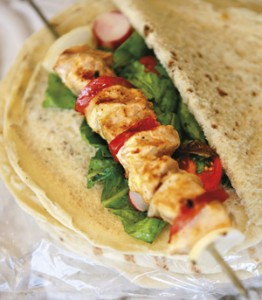 2 pounds boneless, skinless chicken breasts, cut into 1-inch cubes
2 small red onions
2 ripe tomatoes
2 yellow bell peppers
For the Marinade:
2 tablespoons olive oil
2 garlic cloves, finely grated
2 tablespoons fresh lemon juice
1 teaspoon paprika
1/2 teaspoon sea salt
1/4 teaspoon freshly ground black pepper
For Basting:
1 tablespoon olive oil
Sea salt
1. Combine all the marinade ingredients in a large bowl. Add the cubed chicken, turning the pieces over so they are well coated. Cover and refrigerate for 2 hours.
2. Cut the onions into wedges and the tomatoes and yellow peppers into 1-inch squares.
3. Remove the chicken from the fridge and let it come to room temperature. Drain the marinade and thread the chicken cubes onto 8 skewers or rosemary sticks, alternating with the vegetables. Be careful not to cram them too tightly to ensure that they cook evenly.
4. Preheat a barbecue or ridged cast-iron griddle pan until very hot.
5. Brush the kebabs with oil and season lightly with salt. Cook the kebabs for 6 minutes, turning frequently until the chicken is nicely charred on the outside and cooked through but still moist. Serve immediately.

Jewish Traditional Cooking: Over 150 Nostalgic & Contemporary Recipes
 (Kyle) by Ruth Joseph and Simon Round
At first glance, this recipe collection seems like your usual grouping of chicken soup, kugel and kreplach. But it isn't. Joseph and Round are British Jews, and their renditions of Jewish classics—Ashkenazic and Sefardic—feature unexpected British twists. For instance, their peach cobbler is topped with scone-like dough, and curry—a staple in England thanks to British imperialism—is found in this eggplant dish.
Spicy Eggplant and Coconut Curry (Serves 4-6)
2 medium eggplants
2 tablespoons sunflower oil
1 large onion, roughly chopped
1 teaspoon ground coriander
1 teaspoon ground turmeric
1 teaspoon garam masala Indian spice blend
1 green chile (left whole for a milder taste or finely chopped for extra heat)
1 garlic clove, peeled and minced with 1 teaspoon salt
1 medium cauliflower, cut into florets
Pinch of saffron strands, steeped in 1/2 cup hot water
1, 14-oz can light coconut milk
12 curry leaves
1/2 cup fresh cilantro, finely chopped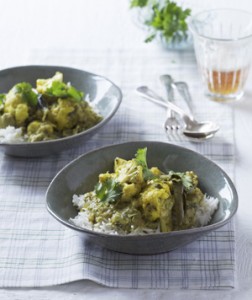 1. Preheat the oven to 350 degrees. Cut the eggplant into rough chunks, place in a roasting pan, and drizzle with 1 tablespoon sunflower oil. Bake in the oven for 40 minutes until nicely charred and tender. (You can always do this in advance.) Set aside.
2. Heat the remaining tablespoon of oil in a large pan with a tight-fitting lid. Add the onion and cook gently over low heat until soft but not colored. Stir in the ground coriander, turmeric, garam masala and chile, and cook for a minute or so to release their aroma.
3. Now add the garlic, eggplant, cauliflower, and saffron water. Bring to a boil, stirring gently, put on a lid, and turn down the heat to low. Simmer gently for about 10 minutes, then add the coconut milk, curry leaves and half of the chopped cilantro. Give everything a quick stir and leave to simmer for another 15 minutes, with the lid off, until fragrant and creamy. Garnish with fresh cilantro and accompany with basmati rice.
Easy Delicious Peach Cobbler (Serves 6)
6-8 fresh peaches or nectarines
1 cup canned peaches in juice
1 tablespoon cornstarch
2 1/4 cups self-rising flour
1/2 teaspoon baking powder
2 tablespoons light brown sugar
Pinch of salt
2 heaping teaspoons vanilla sugar
1/2 teaspoon ground cinnamon (optional)
4 tablespoons butter (or margarine)
1/3 cup milk (or soy milk)
1 egg, beaten
Grated zest of 1 lemon
Dusting of superfine sugar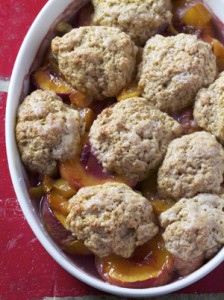 1. Preheat the oven to 350 degrees. Pit (and peel, if desired) the fresh peaches or nectarines and combine them with the canned peaches and juice in a glass bowl. Microwave on high for 10 minutes or until the fruit is just tender. Leave to cool slightly. Strain the peaches through a fine sieve set over a bowl to catch the juice.
2. Blend the cornstarch with 2 tablespoons cold water in a separate bowl. Gradually pour in the hot peach juice, whisking all the time prevent lumps. Pour into a 1.5-quart baking dish, and stir in the cooked peaches.
3. To make the cobbler topping, sift the self-rising flour and baking powder into a large mixing bowl. Sift in the brown sugar (brown sugar often has lumps), salt, vanilla sugar and cinnamon (if using). Rub in the butter or margarine with your fingertips to form breadcrumbs.
4. In a small bowl, combine the milk with half the beaten egg and the lemon zest. Make a well in the center of the dry ingredients, pour in the milk and egg mixture and combine carefully to form a soft, sticky dough. You may need a little more flour if the mixture is very sticky.
5. Gently roll out the dough on a floured work surface to about 1-2 inches thick, and cut into circles using a 2-inch fluted cutter. Layer the dough circles over the peach mixture to form a decorative pattern and brush with the reserved beaten egg. Sprinkle with sugar and bake in the oven for 15-20 minutes or until golden brown.
Cook in Israel: Home Cooking Inspiration (self-published) by Orly Ziv
The only book here from Israel, Ziv's debut offering is a general and very thorough overview of Israeli classics, from hummus to shakshuka to borekas. A longtime cooking instructor and culinary tour operator, Ziv focuses largely on vegetarian dishes, with some excellent fish creations thrown in (her fish baked in tahini sauce, inspired by an Arab mainstay, is delicious). For summer, I wanted to share Ziv's take on Baba Ghanoush, a perfect start to a casual, hot-weather meal, and tabouleh, packed full of fresh herbs as well as her unique additions—pomegranate seeds, radish and a hint of cinnamon and allspice. Yummy.
Baba Ghanoush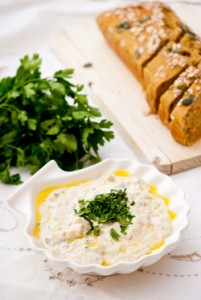 2 medium eggplants
1/2 cup pure tahini
1/2 cup yogurt or buttermilk (Ziv prefers goat milk yogurt)
Juice of 1 lemon, or more to taste
1-2 cloves garlic, finely chopped
Salt
Chopped parsley and mint
Olive oil
1. Grill the eggplants over a flame, turning with tongs until soft and evenly charred. Alternately, roast the eggplants under a broiler.
2. Cut a slit at the bottom of the eggplants and place in a sieve placed over a bowl. Leave to drain and reserve the liquid.
3. Once drained and cool enough to handle, remove the peel, stem and dark seeds. Roughly chop the pulp.
4. In a large bowl, combine the tahini, yogurt, lemon juice, garlic, salt and some of the reserved eggplant liquid (taste first to make sure it is not too bitter) and mix well.
5. Add the eggplant pulp to the tahini mixture and mix thoroughly. Taste and season with additional lemon juice or salt as necessary. Mix in some chopped parsley and mint.
6. Drizzle with olive oil and garnish with additional parsley and mint before serving.
Tabouleh

Variations: Substitute the bulgur with couscous; for gluten-free tabouleh, use shredded cauliflower instead of bulgur.
1/2 cup fine bulgur
1/2 cup hot water
1/2 cup lemon juice, plus more to taste
4-5 scallions, sliced
2-3 tomatoes, finely diced
1 cucumber, finely diced
Finely diced radish (optional)
3 cups finely chopped flat-leaf parsley
1/2 cup finely chopped mint
5 tablespoons olive oil
Salt and pepper
Za'atar, sumac, or cinnamon and allspice
Pomegranate seeds (optional)
1. Soak the bulgur in hot water and lemon juice for about 20 minutes. Drain and put in a serving bowl.
2. Add the scallions, tomatoes, cucumber, radish (if using), parsley, mint, olive oil and lemon juice to taste, salt and pepper. Sprinkle with za'atar or sumac, or a mixture of cinnamon and allspice.
3. Taste for seasoning and add more olive oil or lemon juice if needed. If it's too dry add more lemon juice. Toss well, cover and let sit for an hour or two at room temperature (don't refrigerate as the freshness of the herbs will be lost).